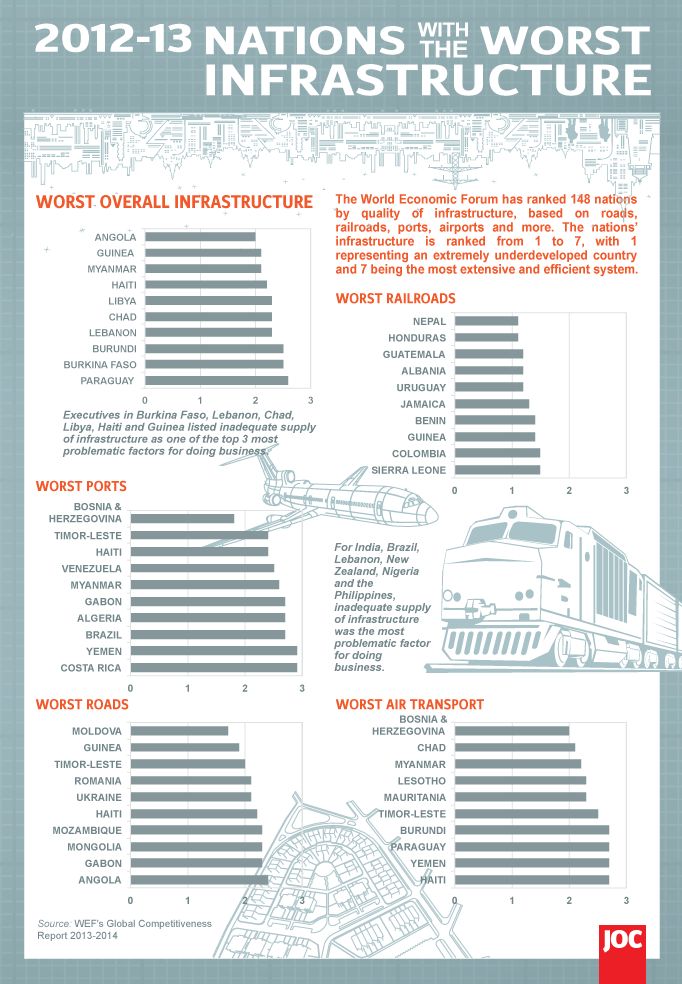 The ranking of 148 nations by the World Economic Forum reflects how critical infrastructure is for ensuring the effective functioning of an economy.
Infrastructure determines the location of economic activity and the kinds of activities or sectors that can develop within a country. Effective modes of transport, including quality of roads, railroads, ports and air transport, enable businesspeople to get their goods and services to market in a timely and secure manner. As a result, nations with well-developed infrastructures can connect more easily to outside markets that are farther away, as good infrastructure lowers shipping costs. An extensive infrastructure system can also help reduce income inequalities by exposing less-developed communities to more core economic activities, which spurs new commerce.
The WEF ranking is based on its Executive Opinion Survey, which is a major component of the Global Competitiveness Report. Survey respondents were asked to rate their nations' infrastructure on a scale from 1 to 7, with 1 reflecting significant underdevelopment and 7 indicating the most extensive and efficient network.
Leading the rankings, as illustrated by JOC's infographic Nations With the Best Infrastructure, were developed nations such as Switzerland, while poorer economies predictably fared worse. In terms of overall infrastructure, the bottom-ranked nations were Myanmar, Guinea and Angola, with the latter coming in 148th out of 148. Business executives from Angola and Guinea both listed corruption at the most problematic factor for doing business, while leaders from Myanmar said access to financing was the most challenging.
Interestingly, the four BRIC nations — Brazil, Russia, India and China — which were all listed in the 10 top nations for best gross domestic product at purchasing power parity per capita by WEF, were the bottom four out of those 10 in terms of infrastructure.
Our infographic highlights the bottom performers in infrastructure, spotlighting the quality of their roads, railroads, ports and airports.
Contact Grace M. Lavigne at glavigne@joc.com.