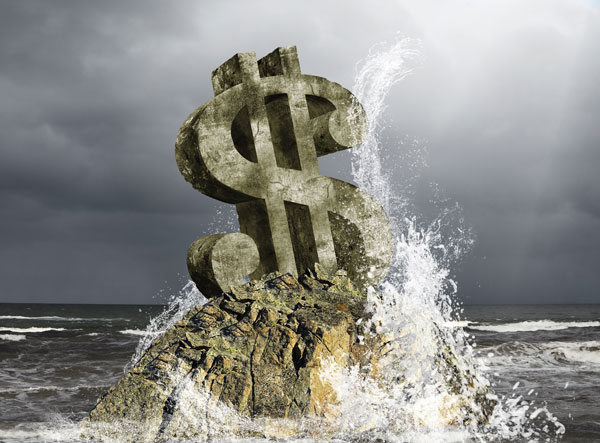 When ocean shippers look at the fourth quarter, they see good news and bad news: It's good news for them, and bad news for the container lines.
The good news for shippers is that freight rates are unlikely to rise on any of the major trade lanes, east-west or north-south.
The bad news is that without rate increases, carriers may have to reduce some services to reduce costs on routes where they are losing money, and this could disrupt supply chains. Compounding the bad news is that some carriers are in such bad financial straits that they're at risk of going out of business.
When the P3 Network among Maersk Line, Mediterranean Shipping Co. and CMA CGM launches next spring — assuming regulatory approval — it will make it even harder for smaller carriers to compete because they don't have the fleet of large fuel-efficient ships that the world's three largest carriers will deploy on their joint east-west service network. "P3 will just accelerate the problem for smaller carriers," said a large European shipper who asked not to be identified. "Given what I know, I can't see that some of them will be around in a year."
But he's enthusiastic about what the P3 Network will mean for him. "I will be able to pay MSC prices and still get my cargo on a Maersk ship," the shipper said.
For the fourth quarter of this year, shippers expect to continue basking in the warm glow of low freight rates, plenty of vessel space and the repeated failure by carriers to nail down the general rate increases they've been attempting on an almost monthly basis. The problem for carriers is that they have too much vessel capacity chasing too little shipper demand, and shippers know it. Shippers, meanwhile, are getting impatient with the steady stream of GRIs that forces them to do more paperwork by signing off on contract amendments that allow GRIs on any cargo volume in excess of guaranteed levels.
"I am getting tired of all the different rate increases the carriers are announcing every month, whether they call them GRIs, or RRIs or peak-season surcharges. Then at the end of the month they cancel them," said Pat Moffett, vice president of global logistics at Voxx International, which imports audio speakers from China into U.S. East and West Coast ports. He said the pattern of GRIs every month has been occurring since January. "September's was just dismissed at the end of August. Now I'm waiting for October's to be dismissed."
Not all shippers pay attention to GRIs, however. "I get the GRI notices and hit the delete button whenever I see them coming in," said the European shipper, whose annual contracts are at fixed rates that don't provide for any GRIs. "It's a non-problem for us."
Several carriers belonging to the Transpacific Stabilization Agreement, a discussion group among lines in the Asia-U.S. trade, plan to raise rates in October, including Cosco, which announced an Oct. 15 GRI of $400 per 40-foot container on the eastbound lane.
But this may be the carriers' last chance to raise rates this year. "If they don't get the GRIs for October, it's really silly to think that they would have a chance to get any rate increase until February of next year because they will have missed the peak season," said Geoffrey Giovanetti, who is retiring as managing director of the Wine and Spirits Shippers Association.
The outlook for U.S. import demand is picking up, according to September's Port Tracker Report, published by the National Retail Federation and Hackett Associates. The report expects import volume at the major U.S. retail container ports to increase 5.1 percent in September over the same month last year as retailers head into the holiday season. "Retailers are making up for the slow imports seen earlier in the year," said Jonathan Gold, the NRF's vice president for supply chain and customs policy. "It's too early to predict holiday sales, but merchants are clearly stocking up."
Cargo import numbers don't correlate directly with retail sales or employment because they count only the number of cargo containers brought into the country, not the value of the merchandise inside them. But the NRF said the amount of merchandise imported does provide a rough barometer of retailers' expectations.
"The U.S. economy is on the road to sustained growth," Hackett Associates Founder Ben Hackett said. "Second quarter GDP was well above expectations and surprised most forecasters, the unemployment picture is improving, and we believe consumer confidence will translate into increased sales during the fourth quarter."
Trans-Pacific carriers got an increase of $250, or 62.5 percent, of the $400-per-FEU GRI they sought on Sept. 1, but lost much of that increase a week later. "We expect these gains to erode in the coming weeks as pricing continues to reel under pressure from the excess capacity prevalent on the trade," said Drewry Shipping Consultants, which tracks average spot rates.
Although ships were sailing reasonably full at about 90 percent of capacity in the Asia-Europe and trans-Pacific trades in mid-September, there was still more than enough capacity to accommodate demand, shippers said. One of the reasons the peak season has fallen short of expectations is that shippers have moved their shipments up earlier in the year to avoid the crunch that used to prevail in the months leading up to the end-of-year holidays in Europe and North America.
This has created a problem for the European shipper, which is finding its global inventories overstocked because of its determination not to get caught short, as happened in 2010 in the trans-Pacific. "Carriers derailed the gravy train in 2010 when they laid up 10 percent of their fleet and started rolling our cargo," he said. "Importers like us said, 'Never again,' so now we are overstocked in the U.S., because we didn't expect a peak season and wanted to spread out shipments."
The shipper expects even less of a peak season in Europe. "I'm totally pessimistic on Europe because I don't think there will be a peak season, even though the European economy is picking up," he said.
Spot container rates from Asia to Europe measured by the Shanghai Containerized Freight Index suffered their steepest weekly declines since mid-April in the week ending Sept. 6. Rates have been decreasing for the past five weeks in these lanes, and this sixth drop indicates ocean carriers failed to achieve any of the general rate increases proposed for Sept. 1. CMA CGM, Hapag-Lloyd, Maersk, MSC, NYK Line, OOCL and United Arab Shipping had announced increases ranging between $300 and $650 per 20-foot-equivalent unit.
"It's not going to give us a roaring quarter four," the European shipper said. "And even if it did, overcapacity is so huge that it wouldn't mean a lot unless carriers laid up vessels at the same time, and the possibility that carriers would lay up vessels when they get the first opportunity to fill them is really low."
Contact Peter Leach at pleach@joc.com and follow him at twitter.com/petertleach.