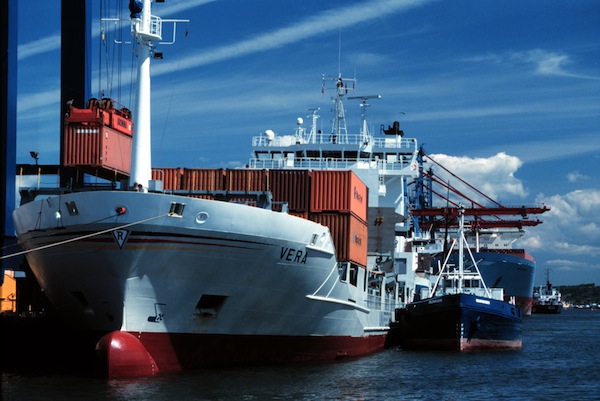 Shippers who hoped the advent of big new fuel-efficient container ships would cut their fuel surcharges are being disappointed.
Those big new ships burn substantially less fuel than smaller ships, but most carriers are keeping their bunker surcharges at levels prevailing for the smaller ships, according to Drewry Maritime Research.
"Bunker surcharges should, proportionately, have been reducing faster than fuel prices because of the deployment of more efficient ships, but this does not appear to have happened for most carriers," Drewry said in its weekly Container Insight.
Only Maersk Line, which has been deploying its new 18,000-TEU ships on the Asia-Europe trade this year, did cut its bunker adjustment factor in June, which brought overall fuel surcharges down. But even though other carriers have been deploying vessels with up to 13,000 20-foot-equivalent units of capacity, they have not reduced their surcharges proportionately, Drewry said.
As a result big shippers in Europe and North America are likely to question the way carriers calculate their surcharges and keep up the pressure on them to cut them.
But carriers will likely resist such attempts. "The fact that ocean carriers' freight rates have been loss-making for much of this year should not cloud the issue of inflated BAFs, as this is due to other factors, even though it is easy to see why ocean carriers may see the picture differently," Drewry said.
The pace of the introduction of the big, more fuel-efficient ships has been picking up. The average size of vessels deployed between Asia and Northern Europe increased by 8 percent in the 12 months through the third quarter of 2012 and by another 9 percent in the next 12 months, up to over 10,800 TEUs.
The change in the trans-Pacific was slightly less, where the average size increased to 6,264 TEUs by 7 percent in the 12 months between the third quarters of 2011 and 2012 to 6,264 TEUs, but only 1 percent between the third quarter of 2012 and the third quarter of 2013, up to 6,320 TEUs.