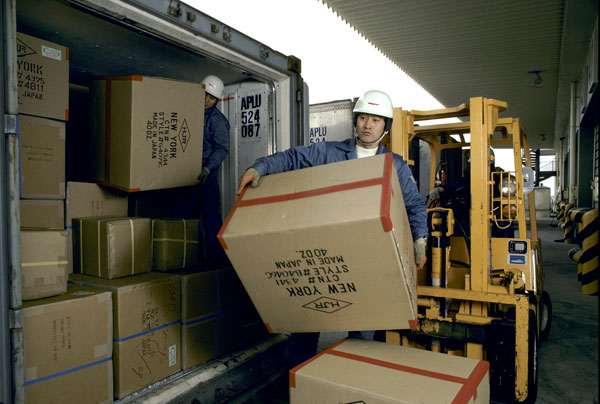 A subcommittee of the International Maritime Organization will decide this week whether to move forward with proposals to introduce new rules making it mandatory to weigh loaded containers prior to shipment.
Shippers argue that 100 percent checks would hamper supply chain efficiency by causing delays at ports and driving up costs.
Lined up against them is a formidable "who's who" of shipping bodies, including the International Transport Worker's Federation, the International Association of Ports and Harbors, the World Shipping Council and BIMCO, alongside government representatives of Denmark and the U.S. They claim the proposed rule changes to the International Convention for the Safety of Life at Sea (SOLAS) are needed to improve vessel, crew and port safety.
The emphasis on verifying box weights, they believe, can largely be shifted away from shippers and onto terminals. "The technology to weigh containers in port facilities exists," said leading shipping line representatives and member states in a joint submission to IMO. "Many ports already have weigh scales at their 'in gates' and increasingly, they have them on container repositioning and lifting equipment. In some locations, like the United States, mandatory export container weighing has been implemented for years without undue cost or impairment of efficient port operations."
The ITF, which not only wants mandatory weighing of all containers loaded but also for ship masters to be empowered to refuse to load undeclared or misdeclared containers, estimates a fifth of all containers are shipped with incorrectly declared weights. Although there is little supporting data available to confirm ITF figures, even shippers admit the current system, based mainly on self-regulation by shippers and their transport partners, is flawed.
Misdeclared overweight containers damage equipment, and they can cause yard or vessel stacks to collapse and throw stowage and storage plans into disarray, creating stability and stress difficulties for vessels.
"That presents a major health and safety risk to dockers loading and unloading in ports, to seafarers onboard cargo vessels, and to drivers transporting containers on the roads," said ITF president Paddy Crumlin.
In 2011 the containership Deneb capsized in the port of Algeciras. The misdeclaration of container weights and inaccurate information transference between port, shippers and lines were blamed for the loss.
Indeed, the actual weight of 16 of the 168 containers on the Deneb's load list exceeded the declared weight, and some boxes were more than seven times heavier than declared by the shipper. A report on the incident by the European Maritime Safety Agency found that in the space of just 30 seconds as Denebwas being loaded "the vessel went from floating upright, to lying on the pier with an approximate heel angle of 45°".
Two crew members were injured but did not require hospitalization. After an investigation APM Terminals, the port operator, was ordered to carry out more effective weighing of containers prior to loading to ensure actual box weights matched the weights supplied to the ship and listed in bills of ladings.
Rather than regulatory reform, shippers have called on the IMO to work within existing mechanisms to reduce the number of misdeclarations. "We believe that better communication amongst the different players in the supply chain, a clear deadline, improved IT capability at major gateways, increased use of intelligence to match the actual weight and the declaration would make an immediate difference to reducing the number of misdeclarations of containers blamed for some high profile accidents," said a joint statement from the European and Asian shippers' councils.
The decision on whether the proposed reforms should move forward at IMO will be made by the Sub-Committee on Dangerous Goods, Solid Cargoes and Containers (DSC), which meets 16-20 September. If the subcommittee gives the changes the green light, a final decision then rests with the Maritime Safety Committee, which next meets in May 2014.
Although shippers have been vocal on the issue in recent weeks, they might be hard-pressed to make their case at IMO. Members states and a lengthy list of shipping NGOs will all have their say in London this week. Not a single shipper representative is listed among those with consultative status.
Contact Mike King at mikeking121@gmail.com.