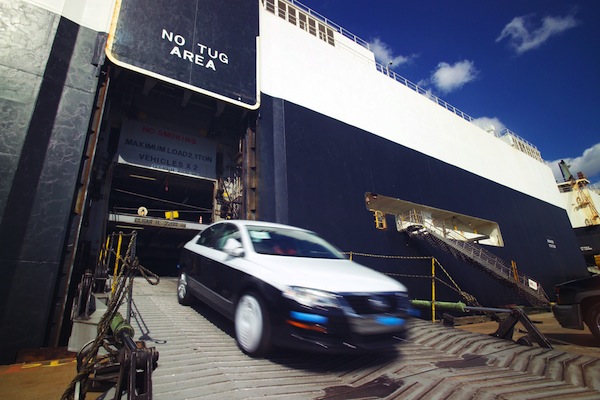 The outlook for roll-on, roll-off shipping is suddenly looking brighter with its key European market showing signs of emerging from its deepest and longest recession in 50 years, encouraging major industry players to accelerate consolidation of a fragmented niche sector.
The deep-sea ro-ro market is looking healthier, too, as growth in imports among emerging markets more than offsets sluggish sales in traditional Western markets.
Europe's economic health is key to ro-ro shipping — the region accounts for as much as 40 percent of the global market, and the fact that the ro-ro ocean shipping market has attracted investment in expensive new vessels through the recession reflects the industry's confidence in its long-term future.
The European Union expects its 27 member states to emerge from recession in the fourth quarter, with GDP growth accelerating to 1.4 percent in 2014. Three major ro-ro markets — the U.K., Ireland and Germany — are forecast to post the strongest gains, while even Italy, Spain and Portugal could see growth in 2014 for the first time in several years.
This is good news for ro-ro carriers about to bring a new generation of larger vessels into the market in the next two years.
Atlantic Container Line will introduce five of the world's biggest ro-ro/container ships into the Europe-North America trade in 2015. Each ship will have a capacity for 764 ro-ro units, 3,800 20-foot-equivalent container units and 1,307 cars.
Also in 2015, Italy's Atlantica di Navigazione will bolster its Mediterranean network with five ro-ro vessels it acquired from Hong Kong-based Pacific Basin for just over $200 million. Ignazio Messia, another Italian carrier, will boost capacity with four 45,000-deadweight-ton ro-ro ships.
Naples-based Grimaldi, ACL's owner, will take delivery of three multipurpose container/ro-ro ships in 2014, and the capacity of Nordana's Mediterranean-America service will jump 35 percent when the Danish line takes delivery of three new ships.
Improving market conditions are starting to impact the industry's bottom line, but the recovery remains fragile and competition is intensifying on key high-capacity routes. Denmark's DFDS, one of Europe's biggest ro-ro operators, hailed higher freight volumes on the North Sea as a "turning point" that boosted its second quarter operating profit by 5 percent to 307 million kroner ($54.4 million) on a modest 3 percent rise in revenue to 3.0 billion kroner.
"The U.K. economy is now emerging from recession, and freight volumes are increasing in several of the markets linked to the North Sea. However, price pressure is still widespread," DFDS CEO Niels Smedegaard said. "In Russia, demand is slowing, which leads to lower volumes on the Baltic route network."
The slowdown in previously buoyant Russian shipments is hitting carriers that focus on Baltic routes. Finnlines' first half revenue declined more than 8 percent to 283.6 million euros ($377 million) from 309.6 million euros, and operating losses widened to 10 million euros from 100,000 euros, prompting the Helsinki, Finland-based carrier to sell one of its newer ships to Grimaldi, its majority owner. 
Underscoring the uncertain short-term outlook on North Sea and Baltic routes was the stalled sale of Scandlines following the failure of its owners, the U.K.'s 3i group and Allianz Capital Partners of Germany, to achieve their 1.4 billion-euro asking price. After several companies, including DFDS, dropped out of the auction, the remaining bidder, U.S. private equity fund TPG, reportedly offered 1.3 billion euros. If the companies can't cut a deal, 3i and Allianz, which acquired Scandlines for 1.5 billion euros in 2007, are expected to refinance the company and attempt to sell it next year.
A.P. Moller-Maersk, meanwhile, said this month it was selling its 31.5 percent stake in DFDS in a deal that should help the Danish shipping giant raise about 1.7 billion kroner.
Traffic is growing again on the cross-channel route between the U.K. and France, the world's busiest ro-ro trade lane, but carriers face increased competition: Eurotunnel, the operator of the subsea rail link between the two countries, entered the shipping market in 2012 with a new line, MyFerryLink.
Eurotunnel already was taking market share from the two main ro-ro operators, P&O Ferries and DFDS Seaways, before last year's $100 million acquisition of three ships from SeaFrance, the bankrupt shipping unit of French state-owned railway SNCF. The company increased the number of trucks it transported through the 30-mile-long tunnel by 16 percent to 1.5 million units in 2012, increasing its total cross-channel market share by 5 percentage points to a record 43.5 percent. The truck market grew 2.5 percent in 2012 but still languishes some 10 percent below its pre-recession peak in 2007.
The shipping lines got a break in June when U.K. competition regulators ordered Eurotunnel to cease its sea service, saying it would increase the company's cross-channel market share above 50 percent, lead to higher freight rates and likely force either P&O Ferries or DFDS Seaways to quit the route. Paris-based Eurotunnel is appealing the ruling.
The ro-ro sector also could benefit from the European Union's bid to simplify customs formalities for approximately 80 percent of sea voyages between its member states that currently are classified as international journeys, while truck and train services between the same destinations are viewed as customs-free domestic transits.
Critics say the simpler customs regime, scheduled to take effect in 2015, will have only a minimal impact on ro-ro shipping. The EU's motorways-of-the-sea program has launched relatively few shipping services despite generous subsidies because trucks remain the cheapest and most flexible form of trans-European transport.
Ro-ro carriers are more worried about a new regulation requiring all ships operating in the Baltic, North Sea and the English Channel to use oil with a maximum 0.1 percent sulfur content starting Jan. 1, 2015. This will increase the cost of fuel and sea transport significantly.
"This could potentially lead to freight being forced onto European roads and result in an increase in road congestion and other environmental problems," DFDS said. 
The deep-sea ro-ro sector is cautiously optimistic that the global automotive market is about to emerge from a troubled period dominated by a slump in European sales and imports to historic lows. It took 93 voyages by ro-ro vessels with a capacity of 6,500 cars each to transport 1.3 million automobiles from Japan and South Korea to Europe in the first half of 2008. By contrast, automobile exports totaled just 700,000 in the first half of 2013, requiring about 51 vessels to ship them to Europe.
Global automobile sales increased about 2 percent year-over-year in the second quarter, driven primarily by a strong performance in North America and China. Russian sales slumped 8 percent in the period, and western European sales remained at historic lows after decreasing 4 percent from a year earlier. 
Japanese and South Korean exports declined 4.4 percent in the second quarter, but this was partly offset by rising shipments out of China and Thailand.
"The short-term outlook in the car carrier market is still uncertain with a yet unproved recovery in the European market, possibility for a further de-acceleration of growth in the BRIC countries and recent labor unrest (at) Korean car manufacturers," Norwegian Car Carriers said.
The longer-term outlook remains positive, with most industry analysts forecasting accelerated growth in seaborne auto shipments and a recovery in the key European market in 2014.
The industry's confidence was highlighted by a recent order placed by Sweden's Wallenius Lines for two ships capable of carrying 8,000 automobiles, with an option for two more. This followed a similar order by Wilh. Wilhelmsen, its Norwegian partner in Wallenius Wilhelmsen Logistics, one of the world's biggest car carriers.
This confidence has enabled the industry to take in stride investigations launched by competition regulators in Europe, the U.S., Canada and Japan a year ago into suspected price-fixing activities by carriers, including WWL, Japan's Big Three — NYK, "K" Line and MOL — and Korea's Eukor that have already triggered class-action lawsuits in the U.S. and Canada. 
Contact Bruce Barnard at brucebarnard47@hotmail.com.