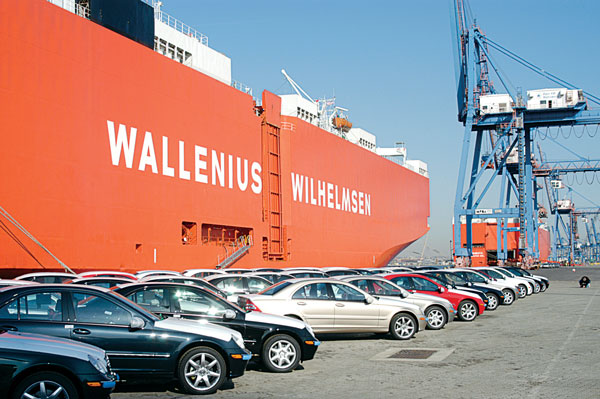 Roll-on, roll-off shipping has begun the 16-month countdown to an uncertain future of sharply higher operating costs, lower traffic, bankruptcies and shotgun mergers in their core markets.
That's the grim forecast of the potential impact of a tougher environmental regime that will envelop shipping in the Baltic, North Sea and English Channel on Jan. 1, 2015.
Ships operating in these areas will be obliged to use oil with a maximum sulfur content of 0.1 percent, a massive reduction from the 1 percent sulfur oil commonly used today.
The European Shipowners' Association believes the new rules could affect as many as 2,500 ships operating in the targeted northern European waters.
Shipowners and shippers have pressed their governments to postpone the introduction of the new measures until 2020 to give more time for refiners to increase the supply of low-sulfur fuel and develop technologies to help remove sulfur from ship emissions. But they were no match for the more politically powerful environmental lobby and have accepted the 2015 deadline.
There's little doubt the tougher regime will impact short-sea shipping, with forecasts outdated by volatile fuel prices and a deep European recession that would have seemed unthinkable when the lower sulfur limit was set.
The European Shippers' Council says up to 30 percent of short-sea traffic could switch to trucks because ship fuel costs are likely to rise by as much as 40 percent. High-volume, low-profit cargoes such as ore and forest products will be most affected.
DFDS, one of Europe's largest ro-ro operators, said the new regulations would be of "crucial significance" not only to shipping in the Baltic, North Sea and English Channel but also to "the entire northern European transportation network."
DFDS has bitten the bullet and is investing 400 million kroner ($72 million) in new technology that can filter sulfur from ship emissions.
The Danish company is fitting 12 of its vessels with 70-ton scrubbers that can remove exhaust gases produced by ship engines and is evaluating whether 10 other vessels are suitable for scrubber systems. The new regulations allow for alternative solutions that have the same environmental impact as using low-sulfur fuel.
Not all shipping companies are able to make the major investment in scrubber installation, and only half of all ships are suitable for scrubbers, according to DFDS. And the much-discussed liquefied natural gas propulsion is only a viable solution for new ships.
"Therefore, we must quickly find solutions and preferably transition rules for the many ships that are not suitable for scrubber installation, possibly through temporary exemptions, if shipping companies contribute to investments in solutions where possible," DFDS Chief Executive Niels Smedegaard said.
The EU still could defer the introduction of the new sulfur regulation if a large number of ships are forced out of business. But as of now, there's no sign of a more lenient approach from Brussels. 
Contact Bruce Barnard at brucebarnard47@hotmail.com.