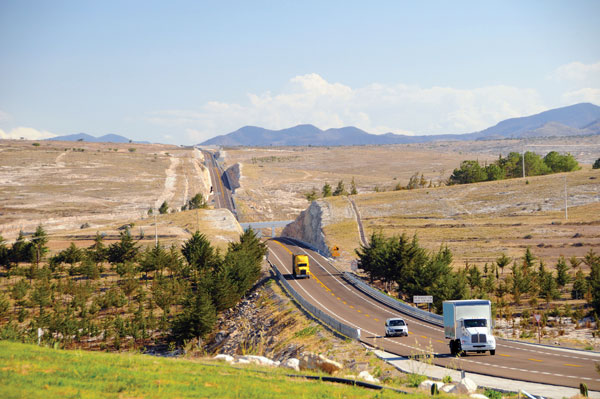 Inland ports aren't just a U.S. phenomenon. Industrial real estate developments anchored by intermodal connections and access to highways are expanding in Mexico and Canada, too.
One such initiative is in Monterrey, Mexico, where seven developers and investors are working to position a 3,300-acre site as a hub in the northeastern state of Nuevo Leon. The inland port, situated at a nexus of major highways, will have a short line connecting to the intermodal lines of Ferromex and Kansas City Southern de Mexico. 
Some 70 million people reside within a 560-mile radius of Monterrey, allowing shippers to reach Dallas-Fort Worth and Mexico City, said Silvano Solis, CEO of Interpuerto Monterrey. The closest ports to Monterrey are in Altamira (350 miles) and Brownsville, Texas (200 miles). From the west coast, Lazaro Cardenas (803 miles away) and Manzanillo (750 miles) are the closest seaports to Monterrey. 
The Monterrey region is already a hub of aerospace, automotive, machinery, and food and beverage production. The region is growing rapidly as manufacturers move production south of the U.S.-Mexico border for generally more affordable and stable labor, and lower real estate costs.
"With the rising middle class, Mexico is becoming a market into itself, and a lot of companies are taking more strategic logistics locations," said Solis, formerly a senior vice president and head of Mexico operations for ProLogis, the world's largest industrial property developer.
Steel pipe manufacturer Tubacero and Mondelez International, a food and beverage producer, are the first two companies to set up shop at the inland port. The latter, a Kraft subsidiary, will have the largest cookie factory in the world when a 1.4 million-square-foot facility opens later this year. Both companies have purchased the land at Interpuerto Monterrey, a rarity in Mexico because most industrial parks don't sell land to companies. Those that do attract premium prices, Solis said. The inland port also is seeking foreign trade zone status.
Durango is developing its own inland port on a 4,000-acre site to capitalize on manufacturing and distribution growth in the Mexican state of the same name, said Esteban Rosas, the state's deputy minister of economic development. An intermodal terminal connecting to Ferromex lines, stretching northeast and southeast, via a short line opened in January.
Rail access to the western port of Mazatlan doesn't exist, but a nearly $2 billion highway to the port will open in late October, allowing trucks to drive up 70 mph and carry 40-foot containers. The major engineering feat, a key part of Mexico's major infrastructure investment push, will allow trucks to make the 200-mile journey in three hours, instead of eight. The inland port already has attracted a textile factory and two undisclosed industrial tenants, Rosas said.
Canada is developing inland ports in Calgary and Winnipeg. Calgary's efforts got a boost this year when Canadian National Railway opened a $100 million logistics park with an intermodal terminal and capacity for more than 2.5 million square feet of industrial space. Canadian Pacific Railway in June launched faster intermodal rail service between its Calgary terminal and Toronto. CP's intermodal terminal is adjacent to a 200-acre industrial park.
From a highway perspective, Calgary, a city of about 1.4 million, is at the intersection of the Trans-Canada and CANAMEX highway systems, giving shippers access to markets as far as Alaska and Mexico. Shippers will be able to bypass most of the city's urban area via a provincial ring, with the southeast portion slated for completion by October, according to reports. The Calgary International Airport complex — where UPS opened a $30 million hub in 2010 — gives shippers, including those in the oil equipment industry, an expedited option.
U.S. retailers' movement into the Canadian market has been the largest driver of industrial real estate activity in Calgary in recent years, said Tom Dixon, business development manager for real estate and logistics for Calgary Economic Development. Target, Wal-Mart, Home Depot and Costco have scooped up distribution space in the city, and Dixon hopes Nordstrom will do the same.
Meanwhile, CentrePort Canada, a 20,000-acre port in Winnipeg and Rosser, Manitoba, is developing a common-use rail facility it hopes to open in two years. Shippers could continue to stage their own cargo at their facility for pickup and delivery by CN, CP and BNSF Railway trains, CentrePort CEO Diane Gray said. The Canadian-based railroads have intermodal terminals in the area, and BNSF has a transloading facility nearby.
"Winnipeg has long been a transport hub in Canada," she said. The city "is the only place east of Vancouver served by three Class I railroads."
A four-lane freeway, set to open later this year, will allow inland port shippers to avoid urban congestion and get to the Perimeter Highway in five minutes. The $212.5 million highway connects to Manitoba Highway, which runs to the Emerson border crossing, the busiest commercial port of entry in western Canada. From the Perimeter Highway, shippers also can access the east-west TransCanada Highway and Manitoba Highway 6 to reach the northern part of the country.
CentrePort began marketing the site in 2009, even though more than 500 companies, including Boeing, Magellan Aerospace and Bison Transport, already were located there. Since 2009, CentrePort has attracted 30 more companies and developed 150 more acres of greenfield, Gray said.
Winnipeg has weathered the global economic shocks well, thanks to a diversified industrial base, and the good times aren't expected to end any time soon because more energy and mining projects are on the way. The city also has carved out a niche role in the distribution of fresh and frozen food, with grocers Safeway and Sobeys using the area as a distribution hub.  
Contact Mark Szakonyi at mszakonyi@joc.com and follow him at twitter.com/szakonyi_joc.