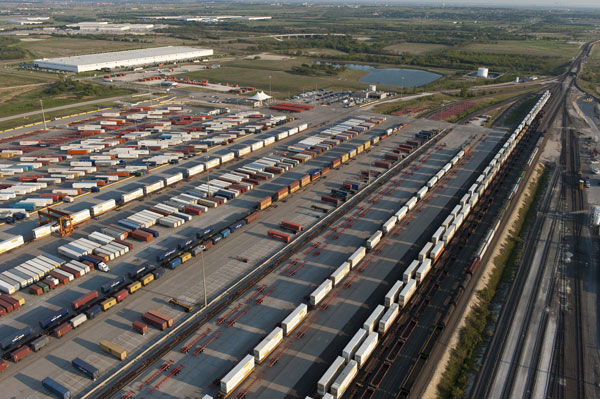 With consumer demand moderate at best three years after the deepest recession in decades, major U.S. shippers aren't rushing to add distribution and warehousing space at the clusters of distribution centers around coastal seaports.
Amid a slow and steady industrial real estate recovery, however, momentum appears to be accelerating at inland ports, or, as Jones Lang LaSalle's Bob Silverman calls them, "intermodal locations on steroids."
It's easy to see why. As transportation costs rise, more shippers are looking to locate their distribution centers closer to their end markets and reduce long-haul trucking costs by using intermodal rail.
That means smaller markets such as Kansas City, Mo., and Greer, S.C., are attracting attention from shippers. In other words, there are increasing opportunities in the distribution landscape for smaller nodes, not just at the top freight hubs of Chicago, Dallas-Fort Worth, Memphis and Columbus, Ohio.
The timing appears to be right for the second wave of inland ports. Many shippers' transportation networks are dated. The once-dominant and not-so-distant model of operating only several distribution centers, after all, usually comes with steep transportation costs.
With warehousing rates steady and energy prices escalating, it's often more cost-effective for shippers to operate more but smaller DCs, said Silverman, executive vice president of supply chain and logistics solutions for King of Prussia, Pa.-based Jones Lang LaSalle. That means shippers can serve larger markets with a 300,000- to 500,000-square-foot facility and smaller markets with a distribution center in the 150,000- to 300,000-square-foot range.
"One million-square-foot distribution centers get a lot of press, but not everyone needs them," he said.
Demand for 500,000-square-foot DCs and larger still exists, evidenced by a pickup in speculative building, but "demand has become more widespread across size segments," Dain Fedora, research manager of Americas industrials at JLL, wrote in an August study. The largest net absorption rates in the second quarter were at the inland ports of Chicago, Southern California's Inland Empire, Atlanta and Dallas-Fort Worth, followed by smaller inland ports such as Indianapolis and Kansas City, according to JLL research.
Although the heavy hitters are leading the way in absorption and speculative building, that activity is trickling down to smaller markets, including Kansas City. The inland port was getting a lot of attention from shippers before the recession hit, and interest is returning, said Chris Gutierrez, president of Kansas City SmartPort, a nonprofit organization that promotes and aims to enhance the region as an inland port.
Click image to enlarge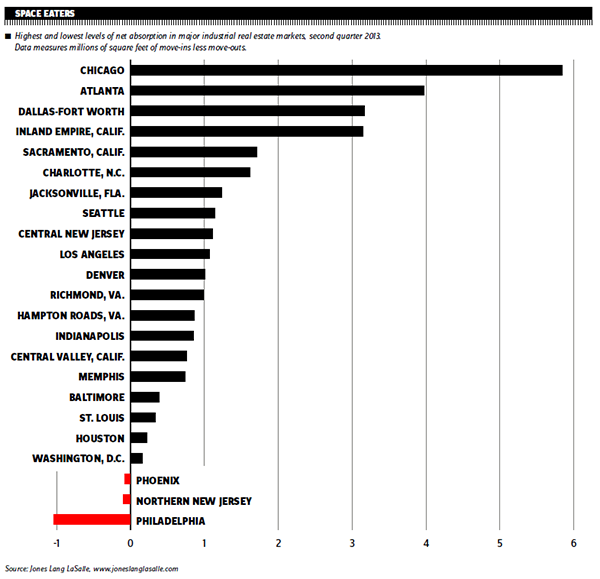 A big part of that interest is coming from BNSF Railway, which will open a 433-acre intermodal terminal alongside a 9,000-acre logistics park later this year. The railroad's enhanced intermodal footprint joins three other major logistics centers in the area.
A Kansas City Southern Railway terminal anchors CenterPoint Properties' 1,000-acre project, while the 2,200-acre Northland Park is served by Norfolk Southern Railway and connects to the railroad's Triple Crown Intermodal Network. Developer Trammel Crow offers 690 acres to shippers, and Blount International, a manufacturer of outdoor products, lawnmowers and industrial equipment, became the park's first tenant through its lease of a 350,000-square-foot distribution center.
Kansas City, the nation's largest freight hub by tonnage, is also well-positioned thanks to more than 17.6 million square feet of foreign trade zone space. More trade by volume moves through Kansas City's FTZ than through FTZs in Chicago, Dallas, Denver, Minneapolis and St. Louis, Gutierrez said.
Connections to five Class I railroads and an international airport further enhance the city's attractiveness to shippers. The Kansas and Missouri rivers run through the city, allowing shippers to tap the cheapest mode of travel: barges. More than 30 major shippers, including Home Depot, Kohl's, Wal-Mart and Pure Fishing, already have established a presence in the region, which is accessible to 85 percent of the U.S. population in two days via Interstates 35, 70, 29 and 49.
"We are also in the nation's breadbasket, so we are a natural hub for consolidation and transloading of agriculture exports," Gutierrez said. 
Feedstuff and grain exporter DeLong plans to capitalize on just that through a nine-acre transloading facility at the BNSF Logistics Park Kansas City in Edgerton, Kan., about 30 miles southwest of Kansas City and adjacent to Interstate 35 and State Highway 56. DeLong plans to sell unused capacity to fellow tenants, an example of the efficiencies shippers and transportation providers can gain by clustering around an intermodal terminal.
A concentrated labor pool and a logistics-focused education program are other key ingredients to creating a successful logistics cluster, said Yossi Sheffi, a professor at the Massachusetts Institute of Technology and director of the school's Center for Transportation and Logistics. Kansas City has both, Gutierrez said.
Nearly 1,000 miles southwest, an inland port is emerging around Union Pacific Railroad's planned intermodal terminal outside of Santa Teresa, N.M. The $400 million intermodal ramp — with an annual capacity of 250,000 lifts — and fueling station will open next year, said Scott Moore, UP's vice president of public affairs. Similar intermodal terminals have spurred development of millions of square feet of industrial space, according to the railroad.
Aside from functioning as hub for intermodal loads coming from the West Coast, the inland port's four-mile proximity to the Mexican border will allow it to tap growing U.S.-Mexico surface trade.
Pancho Uranga, Foxconn's corporate vice president for Latin America, this year heralded the UP inland port as key to the development of Santa Teresa as a larger freight port of entry. Foxconn builds Dell computers as its plant across the border in San Jeronimo.
The growth of intermodal and its drivers, including tightening truck capacity and higher fuel costs, also make inland ports that are several hundred miles from seaports more feasible. The Virginia Inland Port was one of the first, and is being joined by projects in Greer, S.C., and Cordele, Ga.
The latter two allow their connecting seaports, Charleston and Savannah, respectively, to protect their existing business by providing intermodal access to inland industrial space and potentially grab business from competitors. Distribution center and warehousing lease rates also tend to be cheaper inland than near seaports.
The Greer inland port, set to open in mid-October, will allow shippers in the booming manufacturing and distribution hub avoid a roughly 200-mile dray to Charleston through the Norfolk Southern Railway line. BMW is moving its South Carolina export operations into a 413,000-square-foot facility at the 220-acre inland port, located near the Interstate 85 corridor. BMW said operations at the new site would begin in January 2014 and forecast intermodal volume to hit more than 9,000 containers in 2014.
Jim Newsome, president and CEO of the South Carolina Ports Authority, expects the inland port to handle 40,000 unit moves in its first year, and said capacity can be enlarged to 100,000 units.
On a smaller scale, the inland port in Cordele allows shippers to place their shipments on a rail line, instead of paying for the more costly 190-mile dray to Savannah.
The project — jointly marketed by the Georgia Ports Authority, the state of Georgia and terminal operator Cordele Intermodal Services — aims to aid existing agriculture exporters and attract others from as far as eastern Alabama. The inland port plans to handle at least 5,000 units this year and aims to more than double that in 2014.
Other inland ports on the East Coast that are still in the infancy stage include projects in Nassau County, Fla.; Lehigh Valley, Pa.; and Syracuse, N.Y. Their success hinges on whether they can attract enough shippers so it makes sense for the railroads to stop there.
The size and geography of inland ports is changing, but having intermodal access is still paramount.  
Contact Mark Szakonyi at mszakonyi@joc.com and follow him at twitter.com/szakonyi_joc.