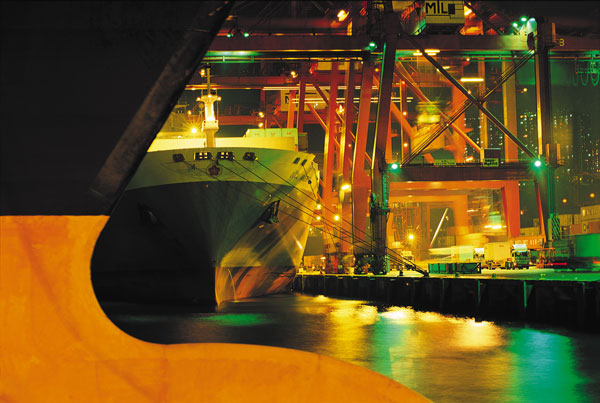 Global container shipping capacity is increasing at twice the rate of demand, according to a Drewry director, and this indicates that equilibrium between supply and demand in the major east-west trade lanes will not be reached until 2015 at the earliest.
It also appears that continued downward pressure on freight rates will result from this overcapacity, Philip Damas, director of Drewry Supply Chain Advisors, told the South Carolina International Trade Conference this week.
Indeed, carriers in the Asia-Europe and trans-Pacific trades this year announced almost monthly general rate increases, only to see those rates collapse. "This is the nature of the market," Damas said.
In the past three years, the global container fleet has increased about 7 to 8 percent annually, after allowances are made for the scrapping of older vessels. Although the intra-Asia trade is relatively healthy, the trans-Pacific has been increasing at only about 2 to 3 percent per year, and growth in the Asia-Europe trade has been flat to negative.
Shipyards have been launching large vessels with capacities of 8,000 to 18,000 20-foot containers at a steady pace. Some 42 percent of the vessels on order have capacities of 12,000 TEUs or greater, Damas said.
The biggest vessels begin service in the Asia-Europe trade, and start a cascading effect in which vessels of 8,000- to 13,000-TEU capacity are redeployed in trans-Pacific services to the West Coast. More recently, vessels of up to 9,000-TEU capacity have been introduced on all-water services to the East Coast via the Suez Canal.
Because carriers appear unable to sustain their rate increases, their main avenue to profitability is to reduce their operating costs through alliances and mega-alliances.
The danger in this approach is that it can lead to commoditization of the container shipping industry on the water side of their operations, so carriers seeking to differentiate themselves are attempting to do so with superior service on the land side, Damas said.
Economist Paul Bingham said there are indications that U.S. economic growth is picking up, and this could lead to an increase in containerized imports in the next few years. Over the longer term, export growth should also accelerate.
Bingham, economics practice leader at CDM Smith, said the economic recovery in the U.S. is now in its 51st month. Growth is accelerating from sluggish to moderate.
Housing and autos, two sectors that are important to the container trades, are leading the U.S. recovery. Bingham said continued growth in these sectors could lead to sustained growth in imports of 4 to 6 percent a year, he said.
Also, the European Union seems to be experiencing the beginnings of an economic recovery, and China anticipates faster growth in the coming months than it has for more than a year. These developments will help to shake U.S. exports out of the lethargy they have been in the past two years.
Headwinds facing the U.S. in its attempts to recover are reduced government spending, with the threat of further sequestration. These forces have probably cost the economy 0.5 percent growth in GDP, Bingham said.
Also, job creation will continue to increase at a painfully slow pace. The unemployment rate will not be back down to 5.5 percent until 2017, Bingham said.
Contact Bill Mongelluzzo at bmongelluzzo@joc.com and follow him at twitter.com/billmongelluzzo.