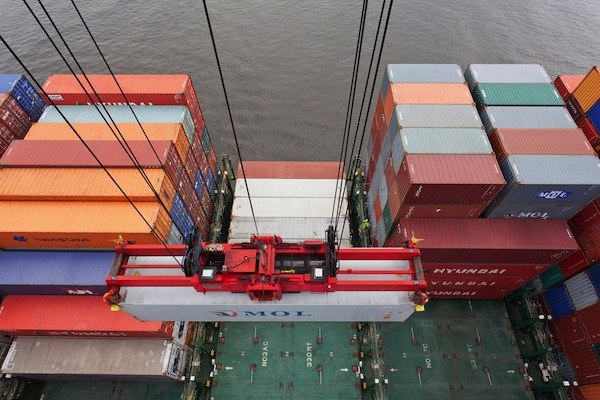 After a strong start in the first quarter, container volumes in the trans-Atlantic trade have declined, and average vessel utilization has dropped sharply, eroding freight rates.
As a result, container lines are likely to start canceling vessel sailings in October, according to Drewry.
Overall westbound trans-Atlantic container volumes dropped 1 percent in the first half of 2013, while vessel capacity remained relatively flat.
"This is surprising as there is much talk of rising house prices and new car sales in the U.S., so presumably much of the cargo involved has either been shipped in bulk or on ro-ro vessels," Drewry Maritime Research said in its weekly Container Insight.
Despite the decline in containerized cargo volume, carriers ramped up capacity by 2.1 percent between July and August. Carriers increased capacity by tinkering with service frequencies and the number of canceled sailings. One sailing was canceled in July, but none in August.
"Another factor behind ocean carriers' inactivity is said to be uncertainty over P3's intentions after the second quarter," Drewry said. "In order for Maersk Line, MSC and CMA CGM to join forces, they will have to extract themselves from their current vessel-sharing arrangements, which, presumably, means existing partners having to combine forces in some way, including the complicated business of fighting over berthing windows in the key ports."
The decline in container traffic on the trans-Atlantic eastbound leg was caused by the European recession, which resulted in a 3 percent decline in European imports from North America between the first and second quarters of the year. This brought the year-to-date levels to a standstill.
At the same time, the 4.2 percent decline in North American imports of beverages from Europe helped erode volumes on the trans-Atlantic westbound leg.
While average vessel utilization in the first quarter rose from 83 percent to 89 percent in the first quarter as volumes rose 9 percent, the decline in volumes since then has eroded that utilization figure. Average vessel utilization on the eastbound leg fell from 80.5 percent in May to 76.2 percent in June, which undermined carriers' efforts to boost freight rates.
As a result, "Serious sailing cancellations are likely to resume in October to better match supply and demand during the winter season," Drewry said.