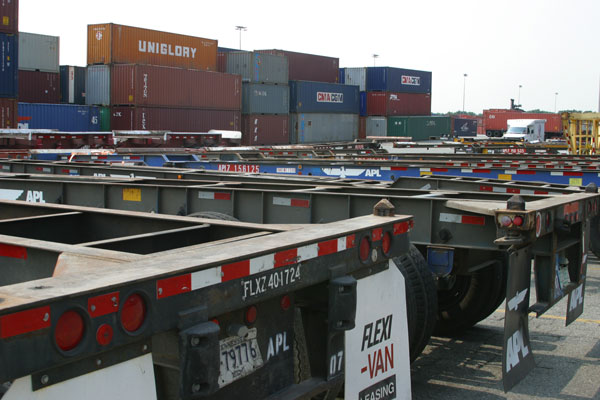 The International Longshoremen's Association said it has dropped plans for mid-September enforcement of a contract provision allowing the union to refuse to handle chassis pool equipment that is maintained or repaired in port areas by non-ILA workers.
The ILA and United State Maritime Alliance had warned in an Aug. 6 letter that the union would insist on retaining its jurisdiction over chassis that truckers lease from equipment providers that have historically used ILA labor for maintenance and repair.
The letter said the union would refuse to handle the chassis in question at ILA ports effective Sept. 16, or "when any affected port returns to normal operation," unless the union performs the M&R work.
The letter raised concern among truckers, leasing companies and cargo interests. They wondered how ILA workers would be able to determine which chassis are leased. Some truckers had discussed the possibility of a legal challenge.
ILA spokesman James McNamara said the union decided to seek a less confrontational way to ensure that companies aren't circumventing union jurisdiction over maintenance and repair. He said discussions toward that goal were continuing.
The new ILA-USMX coastwide contract contains a provision allowing the union to refuse service at ports to any chassis pool equipment that has been maintained or repaired in port areas by non-ILA-represented workers. The clause does not apply to chassis owned by shippers and truckers.
Although major leasing companies aren't signatories to the coastwide master contract, the three main lessors — TRAC Lease, Flexi-van and Direct ChassisLink Inc. — have pledged to continue to use ILA labor for their M&R work.
The ILA raised the chassis issue after this summer's congestion at New York-New Jersey port terminals caused shortages of chassis and forced truckers to use chassis from any source available.
Chassis have traditionally been provided by container lines that are signatories to the ILA's coastwide master contract, which commits them to employ ILA labor for M&R work. As carriers have shifted their chassis to leasing companies, ILA President Harold Daggett has insisted that the union retain its jurisdiction.
USMX President David Adam said earlier this month that he'd seen no attempt by companies to circumvent the ILA, and that the letter was mainly designed to clarify the coastwide contract's language on chassis jurisdiction.
Contact Joseph Bonney at jbonney@joc.com and follow him at twitter.com/JosephBonney.