The acquisition of 3PD Holding by XPO Logistics seems a detour from the fast-growing logistics company's relentless pursuit of truck freight brokerage business. But XPO Chairman and CEO Bradley S. Jacobs says 3PD, a last-mile delivery logistics operator, not only complements XPO's freight brokerage business but will open new routes deeper into shipper customer supply chains. 
"Our main focus will continue to be truck brokerage, and I love the long-term dynamics of truck brokerage," Jacobs said. "We're going to continue to buy truck brokers and cold-start brokerage operations, but we're also going to pay close attention to what customers want."
As e-commerce grows in leaps and bounds, what customers want, Jacobs said, is better control over the "final mile" of the business-to-consumer supply chain. That includes the delivery of appliances, furniture, cabinetry and other heavier products increasingly purchased online and shipped not via package carrier but by truck.
The $365 million 3PD acquisition — XPO's largest purchase since Jacobs became CEO of the company in 2011 — is part of a broader acquisition and growth strategy aimed at quickly building a multibillion-dollar transportation organization.
"We've been looking at a handful of last-mile providers for awhile," Jacobs said. Last-mile delivery "is a close relative of truck brokerage, but the part of the supply chain they deliver is downstream from us. They're picking a shipment up where we're leaving it off, at a DC or store, and taking it to a home, business or job site."
The last-mile delivery business also bears some resemblance to XPO's expedited transportation business, Express-1, which operates using owner-operators and also handles a wide variety of freight often delivered directly to the end-user.
Since 2011, XPO has acquired seven companies, including freight brokers Continental Freight Services, Kelron Logistics, Bird Dog Logistics, Turbo Logistics and Covered Logistics. Before the purchase of 3PD, Turbo Logistics, acquired in October 2012, was the XPO's transaction, valued at $50 million. Turbo Logistics had $124 million in trailing 12-months revenue at the time. 3PD, acquired last month, had trailing revenue of $319 million in the 12 months that ended May 31, 2013.
Based in Atlanta, 3PD focuses on last-mile delivery for retail shippers, handling high-volume repeat business and single transactions, as well as providing dedicated last-minute delivery fleets. The company focuses on heavy goods. For example, 3PD says it delivers approximately 46,000 doors and windows to retail stores, distributors, job sites and homes each week. In 2012, the company delivered more than 4.3 million appliances to 2.4 million addresses throughout North America. 3PD also handles electronics from televisions to server racks and ATM machines.
The company has more than 500 locations and 2,000 branded contractor teams, making it one of the largest and most complex businesses XPO has acquired.
3PD "has been growing like a weed," Jacobs said. "They had 36 percent EBITDA growth on a year-over-year basis year-to-date," he said. "The goal is to double their profitability through 2016. The e-tailing trend is benefiting this space heavily."
The potency of e-tailing was evident in the second quarter, when online retail sales jumped 18.5 percent year-over-year to $64.8 billion, according to data released by the U.S. Commerce Department on Aug. 15. That compares with a 4.7 percent increase in total retail sales over the same period to
$1.126 trillion. E-commerce sales accounted for 5.8 percent of total retail sales in the second quarter. The 18.4 percent increase was the largest quarterly gain for online retail sales since 2007. According to Forrester Research, 10 percent of all retail sales will take place online by 2017.
"This e-commerce trend is what's driving the amazing fast growth of last mile," Jacobs said. "Only about 30 percent of the last mile is going to 3PLs. That's going to increase." He wants 3PD, and XPO, to be on the receiving end of that increase.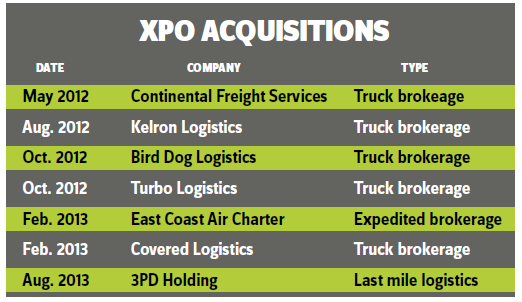 XPO increased revenue 151.4 percent in the second quarter to $137.1 million, registering a net loss of $17.4 million. Both revenue gains and loss reflected the benefits and costs of acquisitions and long-term investment in technology. The company is headed toward an annual revenue run-rate in excess of $1 billion by the end of 2013, according to Jacobs, who became CEO in 2011 after making a $150 million investment in what was then Express-1 Expedited Solutions.
"Now that we offer final-mile logistics, the only area we don't check the box on is managed transportation, the 4PL space. That's what Transplace and Ryder and Penske do," He said. "That is something customers ask for — can you come in and manage our transportation spend for us? Right now we don't, and there's nothing immediate" — such as an acquisition — on the horizon for that," Jacobs said.
Between acquisitions and organic growth through cold-starts, XPO plans to hit a billion-dollar revenue run-rate by the end of 2013. Last year's target was a $500 million run-rate, and the company had reached $550 million by July.
"We're less than 2 years old, and we've made an enormous investment in the infrastructure of the company," Jacobs said. "I'm proud of that achievement."  
Contact William B. Cassidy at wcassidy@joc.com and follow him at www.twitter.com/wbcassidy_joc.