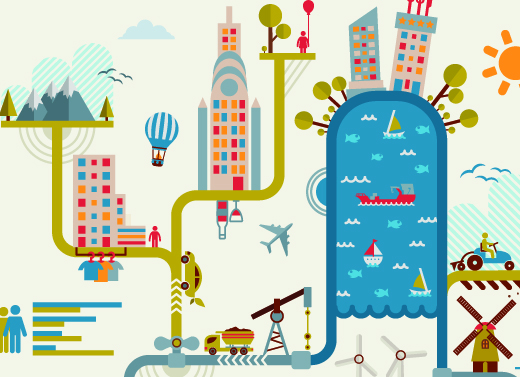 Shippers and third-party logistics providers have embraced numerous strategies to reduce emissions and lower costs in an effort to improve supply chain sustainability. These include carbon mapping, mode shifting, collaborative distribution, routing optimization, use of alternative fuels and hybrid vehicles, and recycling and packaging.
Yet emissions reduction is only one part of corporate sustainability agendas that have expanded to include human rights, labor practices, business ethics, anti-corruption, charitable contributions and humanitarian relief. In the wake of catastrophic fires at garment factories in Bangladesh and widespread reports of poor and unsafe working conditions throughout the developing world, global companies are well aware of the risks to brands and operations by failing to monitor the upstream supply chain, especially suppliers.
At Intel, human rights and worker safety are as critical to supply chain sustainability as carbon mapping and water conservation. The Santa Clara, Calif.-based semiconductor giant's 2012 Corporate Responsibility Report describes a supplier-related "environmental and social footprint."
The company frames sustainability as a value proposition with four key components: value through licenses to operate and build new facilities worldwide, business efficiencies, brand value and revenue. Accountability reaches to the highest level. Many of Intel's business groups have dedicated teams for managing social responsibility issues. They report to management review committees comprised of senior management responsible for sustainability and social responsibility activities across the company.
The supply chain group reports annually to Intel's board of directors, which has broad oversight over corporate responsibility and sustainability. "Corporate social responsibility is an enterprise-wide focus and a value proposition for our company," said Michael Jacobson, director of Intel's Corporate Responsibility Office.
Intel has formally integrated environmental metrics into supplier report cards, which include metrics on cost, quality, technology and customer satisfaction, and are among several tools the company uses to evaluate its suppliers. 
Suppliers must adhere to Intel's Third Party Code of Conduct, which includes robust legal compliance, ethics and social responsibility requirements. Comprehensive oversight processes and quality improvement programs are in place, and auditing and training are proactive and ongoing. Intel and its top tier suppliers collaborate on a broad range of initiatives. 
Ranked seventh on the Gartner Supply Chain Top 25, Intel has a complex supply chain that includes 11 fabrication facilities and five assembly and test factories spread among seven countries and approximately 30 global warehouses. Although it has more than 16,000 suppliers in more than 100 countries, some 87 percent of Intel's production materials, capital equipment and logistics spending is with 75 of its 250 Tier 1 suppliers.
Intel's tiered supply structure rests in part on the pragmatic principle that you have the most influence where you spend the most money. More investment means more risk, to supply chain performance and potentially to brand and reputation, making the case for transparency and accountability even more compelling, said Gary Niekerk, Intel's director of corporate citizenship.  
For many companies, sustainability moves along a maturity curve that starts with awareness and compliance, before evolving into an understanding of sustainability as a value proposition. "Ultimately, that kind of understanding should be second nature," Jacobson said.
Despite a recession and shaky recovery, shippers understand that reducing emissions is aligned with operating efficiency and lower costs, and they've remained committed to sustainable supply chain initiatives, said Sarah Flagg, global head of green logistics at Damco.  "We are seeing a really big increase in the number of customers interested and aware of potential benefits of green supply chains," she said.
The biggest barrier to new initiatives is a lack of awareness of the business case for sustainability. Shippers understand efficiency and have long used mode shifting, routing optimization and distribution center bypass. The challenge is to capture the carbon benefit, a complex process that can vary greatly by company, industry and geography.
Damco, a subsidiary of A.P. Moller-Maersk, has about 50 green logistics experts worldwide who help companies integrate sustainable practices for removing waste, carbon, cost and inefficiencies from the supply chain. Modal shifts and network redesign are common after companies learn to factor carbon reduction into their strategic planning, and understand its contribution to business efficiency, cost savings and good will.   
Damco's sustainable supply chain strategy consists of five components: environmental performance, responsible procurement, carbon footprint, collaboration and a greener product portfolio. Keys to a more efficient supply chain include network optimization, equipment utilization, packaging, and carrier and mode selection.
Damco provides carbon visibility through SupplyChain CarbonCheck, which uses Greenhouse Gas Protocol methodologies. In 2012, Damco introduced the Global SupplyChain CarbonDashboard, an expansion of its existing SupplyChain CarbonDashboard that is designed to give customers visibility into their entire supply chain, not just the Damco portion.
"When we deliver global dashboards, we ask customers what they want to measure and why," Flagg said. "We want to help build internal capabilities and awareness." 
Managing 2.5 million 20-foot-equivalent-unit containers and 110,000 tons of air freight annually, the company set a target of reducing its own carbon emissions by 30 percent between 2009 and 2014. So far, emissions have been reduced by 15 percent, with a 5.5 percent reduction in 2012.
Sustainability is becoming a much bigger factor in network redesign in Europe, California and other places where emissions cap and trade rules are expected or in place. INSIGHT, a provider of supply chain technology for transportation planning, network design and strategic and tactical planning, has modified its optimization tools to accommodate cap and trade and other sustainability measures, said Jeffrey Karrenbauer, president and founding director.
In general, most companies are in the monitoring and measuring stage of green supply chain building. Karrenbauer can't recall a single request for proposal in the last three to four years that did not require carbon monitoring and other sustainable supply chain management capabilities that INSIGHT provides through its optimization engines.
When it comes to implementing measures to reduce emissions on a consistent basis, INSIGHT clients, which include Fortune 500 companies in multiple industries, are all over the map. Some ignore it or use it as public relations in their annual reports, while others are committed to it regardless of cost.
Commitment can be fickle, spiking when fuel costs rise as shippers stampede from less-than-truckload and parcel to consolidation and mode shifting. As soon as prices fall, however, consolidation goes out the window and the phones start ringing at FedEx and DHL. "There's nothing like a perceived emergency to get people galvanized," Karrenbauer said. "It's a little cynical, but that's how people behave."
Shifting to a culture of sustainability isn't an easy process for a 3PL. It's like undertaking a lean or Six Sigma initiative for the first time, said Deni Albrecht, leader of sustainability for Kenco, a Chattanooga, Tenn.-based 3PL. 
Sustainability is one of many competing priorities. Albrecht is the entire sustainability department at Kenco. One of his first jobs is to grab the low-hanging fruit from routing and consolidation in ways that benefits customers. A bigger, longer-term challenge, given the breadth and variety of business profiles within the company, is to develop a vision for green logistics that can be accepted all the way to the C-suite. 
"We have been dancing around the culture of sustainability for a while," Albrecht said. "The establishment of like-minded goals is the key to success."
In June, Kenco rolled out a new sustainability dashboard for displaying progress in meeting key metrics. The dashboards track usage of electricity, natural gas and water, and monitor labor costs and measure the output of landfill waste and recyclable materials.
Baseline data on each metric is monitored to set goals toward lowering costs, reducing energy use, and producing less waste in customer warehouses managed by Kenco. "We measure 13 metrics that we believe provide a good assessment of site-specific sustainability," Albrecht said.
Kenco undertook a pilot program with the dashboards in 2012 at several sites the company manages for a major manufacturer in the health care industry. The program's success led Kenco to expand use of the dashboards across the distribution networks of six additional customers.
With more than 100 facilities in 28 states, the company is retrofitting some distribution centers with energy-efficient lighting and is exploring the use of solar panels at facilities in Southern California.  
Contact David Biederman at inexdb@comcast.net.