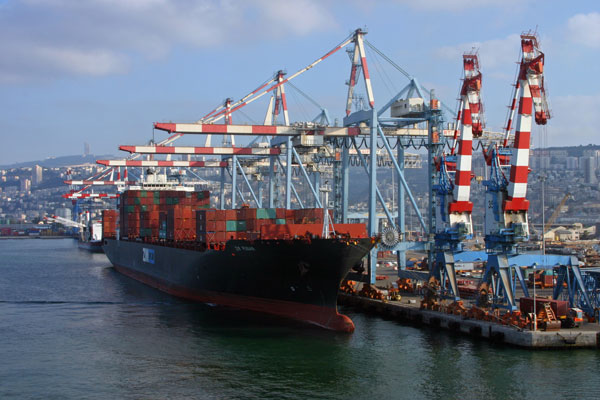 Zim Integrated Shipping Services reported a $72 million net loss for its second quarter, up from a $47 million loss in the same period of 2012, but an improvement on the $110 million deficit in the 2013 first quarter. Efficiency gains offset the impact of a weakening global container market.
The Israeli carrier's operating loss shrunk to $5 million from $47 million in the first three months of 2013 as revenue rose 6 percent during the period to $976 million.
The second quarter losses excluded a one-time charge of $24 million for employees' early retirement.
Zim said it posted earnings of $36 million before interest, tax, depreciation and amortization, compared with a negative EBITDA of $6 million in the first quarter despite difficult market conditions and further declines in freight rates.
The higher revenue was driven by a 5 percent increase in traffic from the first quarter to 631,000 20-foot-equivalent units, which outweighed a 3 percent decline in average freight rates to $1,246 per TEU from $1,282 in the seasonally weakest first quarter.
Zim's operating results were in line with the industry average for the 10th consecutive quarter, reflecting an "intensive" transformation from three years ago when they were 10 percent below the average, said Gay Eldar, chief financial officer. This is an improvement of $400 million.
Zim "has got back in line with the market in the past three years," he said.
The carrier, a unit of Israel Corp., said it enjoys "the continuing support of all creditors, including the vessel and container lenders, (charter) shipowners, shipyards, unsecured lenders and bond holders."
Lenders have agreed to waive some of the financial covenants during negotiations to restructure its debt and to further delay , to the third quarter of 2015, deferred amounts that were due to be paid at the end of 2014.
Shipowners have agreed to extend reductions in charter rates averaging more than 20 percent until the end of the year and to postpone repayment of the cuts to the third quarter of 2015.
Zim carries $2.7 billion of debt, excluding off balance sheet debt, which boosts the total to $4 billion, Eldar said.
Eldar said Israel Corp.'s plan to split its holdings into two, with Zim joining other units, including Tower Semiconductor, IC Power and Qoros Automotive, in a new entity, would have no impact on the carrier's operations.