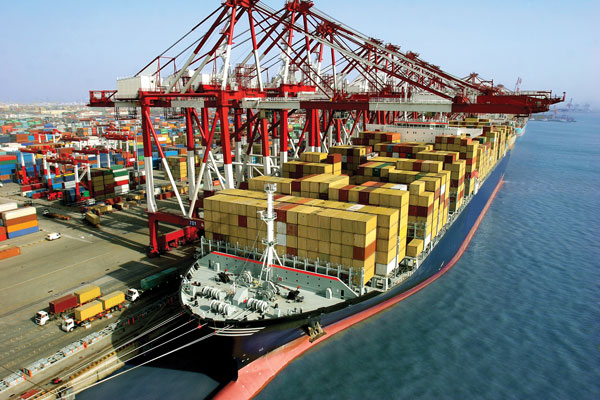 Global port activity as measured by The Journal of Commerce's Top 50 container ports in 2012 demonstrates the importance of macroeconomic trends on container shipping. The fastest-growing ports last year were located in those regions with the most vibrant economies.
Asia's ports again experienced the greatest growth. U.S. ports were basically flat, reflecting the slow economic growth in the country, and European ports experienced declining container volumes because of the deep recession in the European Union.
When the Top 50 port rankings are combined with the first-ever JOC Port Productivity rankings published last month, another trend is apparent: The largest and fastest-growing ports in each region last year were also ranked among the most efficient in terms of vessel berth productivity.
In other words, the world's top container ports have deep harbors capable of handling mega-ships with capacities of 8,000 20-foot-equivalent units and larger. Frequent calls by big ships generate huge container volumes, and the busiest ports handle those vessels more efficiently than second-tier ports.
Shanghai in 2012 was again ranked as the top container port in the world, reflecting the strong manufacturing economy in the Shanghai-Ningbo-Zhoushan region. Not coincidentally, Ningbo had the second-highest vessel berth productivity and Shanghai ranked third in the world last year on that measure.
China's fastest-growing ports in 2012 were clustered in the north. Qingdao registered growth of 11.4 percent in container volume over 2011, Dalian's container volume increased 26 percent, and Tianjin's volume increased 6.1 percent. The Bohai Bay region of China is experiencing strong growth in manufacturing.
By contrast, South China, which for many years was labeled the world's factory, is slipping. Hong Kong's volume declined 5.2 percent from 2011, Shenzhen was up 1.6 percent and Guangzhou grew 2.2 percent. The modest growth figures call into question the rush to expand container terminal capacity in South China over the past decade.
Modest to strong growth in Singapore, Malaysia, Indonesia, the Philippines and Vietnam indicates that some production from China has shifted to Southeast Asia. This is especially true in Vietnam, where container volumes at the Port of Ho Chi Minh, No. 26 on the Top 50 ranking, increased 14.4 percent.
Continued growth is projected for Southeast Asia and its container ports. Labor-intensive industries are seeking alternatives to China, where increasing labor costs are hurting the country's competitiveness. The Footwear Distributors and Retailers of America in mid-August published its annual sourcing survey, in which it stated that, although China will dominate U.S. footwear imports for years to come, Vietnam would experience faster growth.
Four Middle Eastern ports made the Top 50, demonstrating the importance of being located on the busy Asia-to-Europe trade lane. Although the Middle East does not have large populations compared to Asia and Europe, the modern ports in the United Arab Emirates, Saudi Arabia and Oman are built to handle today's mega-ships efficiently, so they serve as busy transshipment hubs on that major east-west trade lane.
Transshipment activities, however, can hurt vessel berth productivity because of the many smaller vessels involved in a regional trade. Singapore, for example, consistently ranks as the second-busiest port in the world in terms of container volume. Singapore is the world's busiest transshipment hub, and therefore generates a good deal of double counting of containers being unloaded from feeder vessels and loaded onto larger mother ships.
In the JOC Port Productivity rankings published last month, however, Singapore didn't make it into the Top 20 container ports globally, or even the Top 20 ports in Asia.
Rotterdam consistently ranks among the busiest container ports in the world, and last year it held the No. 11 spot. Hamburg ranked 14th; Antwerp, 15th; Bremen-Bremerhaven, 21st; Valencia, 31st; Algeciras, 34th; and Felixstowe, 36th.
The European ports struggled last year due to declining imports, however. Container volumes were down compared to 2011 in Rotterdam, Hamburg and Antwerp. Container volumes increased 3.4 percent in Bremen-Bremerhaven, 3.3 percent in Valencia, 13 percent in Algeciras and 5.6 percent in Felixstowe.
Los Angeles, Long Beach, New York-New Jersey and Savannah were the only U.S. ports to make it into the Top 50 world ports, and their container volumes were uninspiring. Los Angeles, which ranked 16th among the top ports, registered growth of 1.7 percent. Long Beach's volume declined 0.3 percent, New York-New Jersey was up 0.5 percent, and Savannah (Georgia Ports) increased 0.7 percent. Combined, Los Angeles-Long Beach would rank 9th in the world.
Big ships have been calling at the Southern California ports for more than five years, with vessels of 8,000- to 10,000-TEU capacity now common. Last year, Mediterranean Shipping Co. began to deploy 13,000-TEU vessels to Long Beach. Mega-ships also are calling at East Coast ports.
The 2012 rankings, however, don't reflect the increased calls by big ships occurring this year as Maersk Line and the G6 Alliance carriers are operating mega-ships on the Suez Canal route from Asia to the East Coast. This is a taste of what East Coast ports will experience when the Panama Canal expansion product is completed in 2015.
This development highlights the growing importance of marine terminal productivity at U.S. ports, and how an onslaught of mega-ships can place a significant strain on vessel, yard and gate activities. Total Transportation Inc.'s Long Beach terminal struggled to handle 13,000-TEU ships last year. And Maher Terminals' facility at New York-New Jersey has been congested for weeks this summer; some vessel calls had to be diverted to other terminals. 
The need for improved productivity is seen in the port productivity rankings, as Long Beach and New York-New Jersey were the only U.S. ports to make it into the Top 20. Those were also the only U.S. ports to rank in the Top 5 in the Americas in vessel berth productivity. Prince Rupert and Vancouver, British Columbia, and Lazaro Cardenas, Mexico, were also in the Top 5 ports in the Americas.
On an individual terminal basis, none of the ports in the Americas ranked among the Top 20 container terminals in the world.
Ocean carriers deploy their largest vessels first in the Asia-Europe trade lane, so ports in the U.S., Canada and Latin America don't have as much experience handling the mega-ships. That's changing rapidly, however. Carriers have saturated the Asia-Europe trade with mega-ships, and they're cascading 8,000- to 10,000-TEU ships to the Americas.
The port productivity rankings demonstrate the need for ports in the U.S., Mexico, Canada and South America to deepen their harbors and build larger, more efficient container terminals so they can operate on a par with the European and Asian ports. This will become even more evident as big ships are deployed in services between North and South America.
Shipping lines again this year are reporting poor financials because of vessel overcapacity and cut-throat pricing. In its Aug. 8 newsletter, industry analyst Alphaliner noted it's almost impossible for carriers to sustain freight rate increases. They are therefore using every means possible to cut costs. A modern mega-ship can reduce per-unit carrying costs by several hundred dollars, and carriers plan to deploy ever-larger vessels on global trade lanes.
In the first seven months of 2013, carriers took possession of 147 vessels with a total capacity of 938,500 TEUs, according to Alphaliner. Twenty-four of those ships are greater than 13,000-TEUs, with 10 more scheduled for arrival by the end of the year. Carriers also continue to sign contracts for construction of 16,000 to 18,000 TEUs.
Even as this building and ordering occurs, however, the slow recovery from the 2008-09 global economic recession has resulted in excess terminal capacity in China and on the U.S. West Coast. The problem has become so pronounced in Oakland that five terminal operators left the port in recent years.
The glut of terminal capacity could grow more severe if operators invest extensively in automation, including double-hoist quay cranes, automated guided vehicles to shuttle containers to the stacks and automated stacking cranes. Automation allows a terminal operator to reduce labor costs while increasing the volume of containers that can be handled on the same footprint.
For example, Orient Overseas Container Line and its terminal operating affiliate are building a fully automated terminal in Long Beach. At full build-out, the Middle Harbor terminal will have annual throughput capacity of 3 million TEUs, almost 50 percent of the entire container volume handled last year at the Port of Long Beach.  
Contact Bill Mongelluzzo at bmongelluzzo@joc.com and follow him at twitter.com/billmongelluzzo.