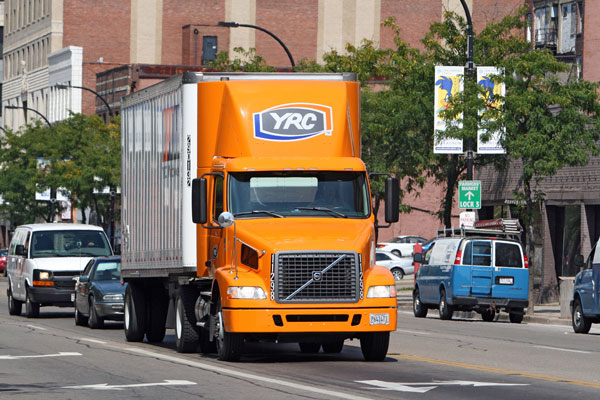 Two years into a reorganization that has sharply reduced net losses and led to operating profit, YRC Worldwide is confident enough to consider its first major public stock offering in years as a means of cutting long-term debt from its books.
In a preliminary prospectus, the $4.9 billion less-than-truckload operator outlined plans to offer up to $350 million worth of common stock or securities in what could be a series of offerings and to use the proceeds to reduce $1.37 billion in debt.
The idea of a public offering probably wouldn't have left the drawing board if not for a sudden and unexpected surge in the value of YRC Worldwide's stock following a first quarter in which the company cut its net loss 70 percent year-over-year to $24.5 million and reported a $2.4 million operating profit. YRC's stock rocketed 377 percent from $7.49 per share on May 1 to a $35.79 peak on July 11.
Multiple market factors, from Wall Street investors looking for a turnaround candidate or "short selling" stock to strengthening truck freight volumes nationwide, contributed to what some called an "overheated" surge in YRC's stock price. Overall, however, the gains likely reflect growing confidence that CEO James Welch and YRC Freight President Jeff Rogers are delivering on promises to revive a trucking concern many investment analysts declared was road kill in 2009.
Click Image to Enlarge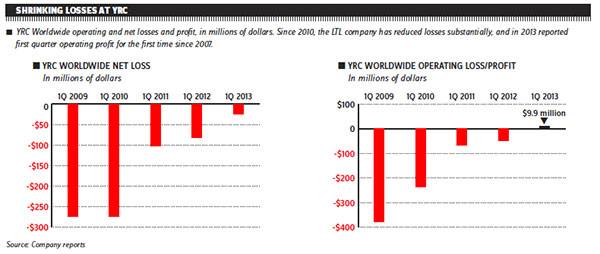 The prospectus, admittedly, is preliminary, filed with the U.S. Securities and Exchange Commission under the "shelf registration" process. That means it's basically a placeholder until YRC Worldwide decides it's ready for a public offering. The document sets no specific target date or amount in stone, but mentions potential offerings "from time to time" at "indeterminate prices."
Rather than one $350 million offering, the company may choose to pursue a series of smaller offerings of combinations of common stock and various securities, "not to exceed $350 million" — the maximum offering price registered with the SEC.
Nevertheless, the prospectus shows the company believes it's making significant progress in its drive to return to sustainable profitability after suffering $3.1 billion in cumulative annual net losses from 2007 through 2012. At the depths of the company's troubles in 2009 and 2010, speculation about a YRCW bankruptcy centered not around if but when. Last year, the $4.9 billion company reported its first operating profit since 2007 — $24.1 million.
And Welch is shooting for a bigger operating profit and smaller net loss in 2013. "We need to continue to move forward with the turnaround," he told The Journal of Commerce in April. "It's all about performance. We're finally, I think, over the hump from a performance standpoint."
The $350 million stock offering would be YRC Worldwide's first major securities deal since a $470 million debt-for-equity swap in 2009 and a $500 million restructuring in 2011 that marked the departure of the management team led by William Zollars and Welch's return to YRC Worldwide as CEO.
The last time YRC Worldwide filed a similar S-3 prospectus was in 2009, when it considered offering $200 million in stock under similar terms. Before that, in 2004, predecessor Yellow Roadway registered a public offering of up to $150 million in stock.
Company officials weren't available to comment on the prospectus last week, as YRC Worldwide prepared to report its second quarter earnings. Analysts expect continued improvement in the company's finances as its reorganization unfolds and if the freight demand holds, according to published reports.
Under Welch, YRC Worldwide has been streamlined and reorganized, with Rogers in charge of restructuring a renamed YRC Freight. The organization shifted focus from managing global supply chains for customers to moving LTL freight in North America. YRC's three regional LTL carriers increased their profits.
YRC Worldwide cut its consolidated net loss 70 percent and 59 percent year-over-year in the first quarter of 2013 and 2012's fourth quarter, after reporting a bare $3 million net profit in last year's third quarter — its first net profit based on operations, not financial restructuring or a debt-for-equity swap, in years.
Reports that YRC Worldwide, the nation's second-largest LTL operator after FedEx Freight, flirted with acquiring Arkansas Best, owner of the sixth-largest LTL carrier, this spring, and a profile depicting Welch as a turnaround CEO in the July 17 edition of The Wall Street Journal also kept a market buzz humming that certainly didn't hurt the company.
Analysts have differing views on where YRC's stock may wind up. In a note to investors, Thomas Albrecht of BB&T Capital Markets said YRC's share value is likely to grow, perhaps ranging from the upper $30s to the mid-$50s. "We believe YRCW's capital structure will see dramatic changes within the next few quarters, thereby seeing more of a balance in its (enterprise value) between debt and equity," he said.
Credit Suisse took a vastly different view on July 29, predicting YRC stock would drop back to about $7 per share and rating the company "underperform." YRC's stock price then dropped about 9.4 percent from $31.47 to $28.51 at the July 29 close.
In interviews, Welch has expressed his belief that the company's debt burden would ease substantially as YRC improved its earnings and attracted more investors.
"If we can move the company forward and make consistent progress, there will be opportunities along the way to convert additional debt to equity," Welch told the JOC last year. "That's when we will have an opportunity to really deleverage this company and start to build equity and start to attract a different kind of investor." 
Contact William B. Cassidy at wcassidy@joc.com and follow him at twitter.com/wbcassidy_joc.