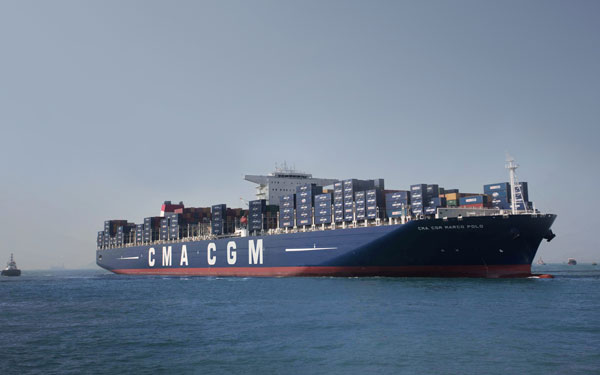 Thanks to an improving balance sheet and new financing from Chinese shipyards, CMA CGM is expanding the number of new 16,000 20-foot-equivalent unit container ships it plans to order.
"We are not planning any additional ship orders in 2013, but we have increased to nine the series of vessels of 16,000 TEUs, and these will most probably be delivered in 2015," said Rodolphe Saade, executive officer of the Marseilles-based carrier.
The first three ships of the Explorer mega-ship series, built by Daewoo Shipbuilding & Marine Engineering in South Korea, have been delivered to the French carrier — the Marco Polo, the Alexander von Humboldt and the Jules Verne.
The Marco Polo was delivered in late 2012, and the other two vessels earlier this year. All three ships are deployed in the carrier's FAL1 Asia-Europe service from China and Southeast Asia via the Middle East to North Europe.
"The Nos. 4, 5, and 6 (ships) were ordered a couple of months ago, and Nos. 7, 8 and 9 are still under review," Saade said in an interview with the JOC.
CMA CGM obtained financing some time ago to build the second three mega-ships, but delayed taking delivery of them until its finances improved.
"Some of the 16,000-TEU ships were already financed, and we have delayed delivery of those ships until better days. Now we have better days, so we are moving forward with the vessels we have already financed," Saade said.
CMA CGM is ordering the new mega-ships and other smaller vessels of 9,000-TEUs in China, where it is able to get financing from Chinese shipyards.
"When you order ships in China, you are in a position to get financing from the shipyards," Saade said. "They are being built in Shanghai."
CMA CGM has also ordered another 10 ships in a series of 9,000-TEU vessels in China. These will be delivered in 2014 under similar financing by the Chinese shipyards.
The carrier, the world's third-largest container line as measured by capacity, currently has an orderbook of 13 vessels with a combined capacity of 140,890 TEUs, or 9.4 percent of its existing fleet as of Aug. 1, according to Alphaliner.
Contact Peter Leach at pleach@joc.com and follow him at twitter.com/petertleach.