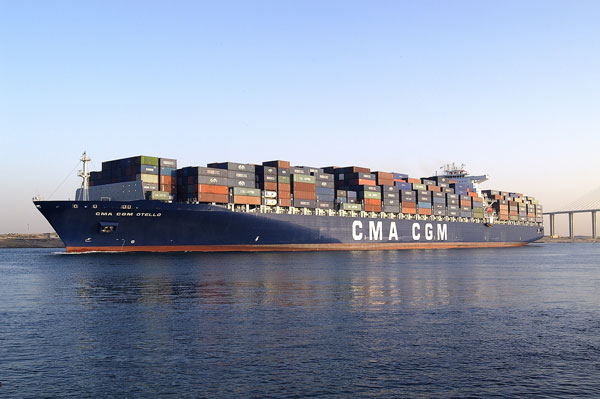 Ocean carriers are likely to retain more of their Aug. 1 general rate increases in the Asia-Europe trade than earlier this year as a result of tightening capacity on that route.
"On the Asia-Europe, especially North Europe, our ships are sailing full from Asia," said Rodolphe Saade, executive officer of CMA CGM.
"So we feel very comfortable that the Aug. 1 increase will be a success on Asia-Europe and Asia-Med, where we see ships sailing full and freight rates going up," he said in an interview with the JOC.
Many carriers are planning a general rate increase in the range of $500 per 20-foot-equivalent unit as of Aug. 1. Spot rates are already anticipating the GRI. The spot rate from Shanghai to northern European ports increased 9.7 percent or $120 last week to $1,360 per TEU.
The spot rate had fallen 12 percent, or $169 per TEU, over the previous three weeks as the influx of new vessel capacity in the Asia-Europe trade has eroded rates after every GRI earlier this year.
"The difficulty when we implement GRIs is that we know they go up on Day One, but we do not know how much they will last," Saade said.
He is not as sanguine about the Aug. 1 peak season surcharges of $400 per 40-foot container to all U.S. destinations that many carriers are planning in the trans-Pacific. "In the trans-Pacific, things are a little more difficult. We are unfortunately noting that the increases are being eaten up and that we are not being successful in the (trans-Pacific)."
He said overcapacity is starting to erode rates in the trans-Pacific trade. "There has been a lot of cascading of capacity introduced onto the TP, and this is causing some problem. At the same time, when you look at the U.S. economy, you see that the economy is recovering and that the U.S. is importing a lot from China, but because of this issue with supply and demand, we face difficulty with the increases."
Contact Peter Leach at pleach@joc.com and follow him at twitter.com/petertleach.