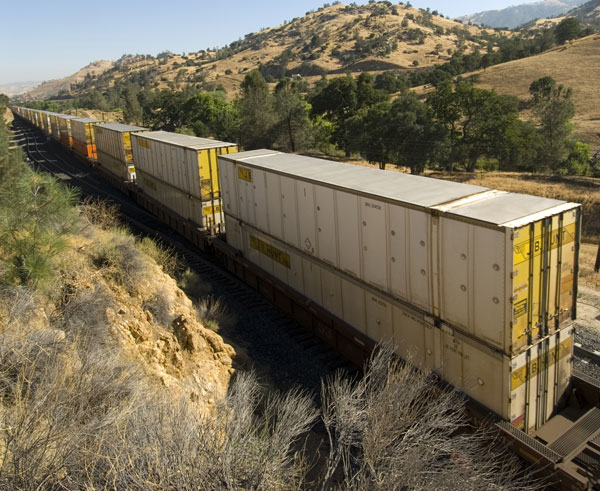 Domestic and international intermodal, the two dominant forms of the U.S. and Canadian containerized rail business, are heading down separate tracks, and the space between them is widening as weak import growth combines with shippers' growing penchant to transload goods into 53-foot domestic containers.
Domestic volume rose 7.8 percent year-over-year in the second quarter, an acceleration from the 6.2 percent gains in the first three months of the year, according to preliminary data from the Intermodal Association of North America. International intermodal volume, meanwhile, slipped nearly 1 percent year-over-year in the second quarter, a significant slowdown from the 3 percent expansion a quarter before.
"Supply chain manufacturers and retailers are continuing to thin out the supply chain and trying to squeeze out inventories. So you have actually seen lower volumes coming into all of the West Coast ports from Asia," Eric Bulter, Union Pacific Railroad's executive vice president of marketing and sales, said in a July 18 earnings call.
UP was the lone company among the seven North American Class I railroads to see total intermodal volume decline year-over-year in the second quarter, as a 3 percent increase in domestic traffic couldn't offset an 8 percent decline in international volume.
BNSF Railway's intermodal volume, which is also tied heavily to West Coast port traffic, inched up 1.8 percent in the same period.
Kansas City Southern Railway led the industry in intermodal growth with a 27.5 percent gain, thanks largely to its burgeoning cross-border network into Mexico. Canadian National Railway experienced the second-highest rate of growth, partly through its contract to deliver goods to Target's new stores in Canada. Its major rival, Canadian Pacific Railway, saw less than 1 percent growth, but the railroad stressed it was focusing on improving service and operating income.
Norfolk Southern intermodal traffic expanded 4.8 percent in the same period, as new services on the Crescent Corridor, the double-stack route between the Port of Virginia and Portsmouth, Ohio, came online. Traffic on the eastern railroad's Heartland Corridor, a 2,500-mile network connecting the mid-Atlantic and Gulf Coast, surged 18 percent year-over-year.
CSX's intermodal traffic growth lagged its eastern competitor, with a 4 percent increase in domestic traffic combining with less than 1 percent growth in international volume for a 2.4 percent gain in overall second quarter intermodal traffic.
With the peak shipping season under way, international intermodal could rally in the coming months, though retail and other shipper interests expect rather tepid growth.
Michael Ward, CSX's chairman, president and CEO, told investors he wasn't sure what type of peak season was ahead but said the railroad would get a better idea once it saw how many shipments were moving in the coming weeks ahead of the back-to-school shopping season.
CN expects "there will be a peak, and nothing to have a nosebleed, but there will be some kind of pickup in intermodal," Jean-Jacques Ruest, chief marketing officer and executive vice president, told investors on July 22.
New U.S. federal trucking regulations don't appear to be helping railroads attract business normally hauled by trucks. New hours of service rules for truck drivers that took effect on July 1 will tighten trucking capacity, likely resulting in higher rates, but NS hasn't seen the impact yet, Chairman, President and CEO Wick Moorman said in a July 23 earnings call.  
High trucking rates could help boost intermodal pricing, which has suffered from weak demand and a narrowing gap between truck and rail rates. An index tracking all-inclusive 53-foot door-to-door spot intermodal pricing inched up 0.6 percent, or about $11, to $2,030 in the week of July 22. Although New Jersey is experiencing some equipment shortages, pricing in West Coast-to-East Coast lanes is "holding steady, indicating 'peak' has not arrived," said Rick LaGore, executive vice president of Indianapolis-based IDS, the third-party logistics company that creates the index.
"There is still a lot of trucking capacity out there … so the pricing pressure in intermodal remains and is probably one of our more difficult markets in which to price in," Clarence Gooden, CSX's executive vice president of sales and marketing, and chief commercial officer, told investors.
Pricing in the East and transcontinental backhaul market has been particularly competitive, Mark Yeager, president and chief operating officer at intermodal marketing company Hub Group, said in a July 18 earnings call.
Underscoring the tightness in the transcontinental market was the number of 40-foot containers available for exports hitting the lowest point in early July since the U.S. Department of Agriculture began tracking the equipment a year ago.
Hub, which has walked away from some unprofitable intermodal business, expects growth in volumes to accelerate in the second half, following a 2 percent increase in the first six months.
"Everything we've seen from the bid results thus far, about 70 percent of our business has been re-priced, and we remain confident that we will see growth levels in the mid- to high single-digits in the second half of the year," Yeager said.
Contact Mark Szakonyi at mszakonyi@joc.com and follow him at twitter.com/Szakonyi_JOC.