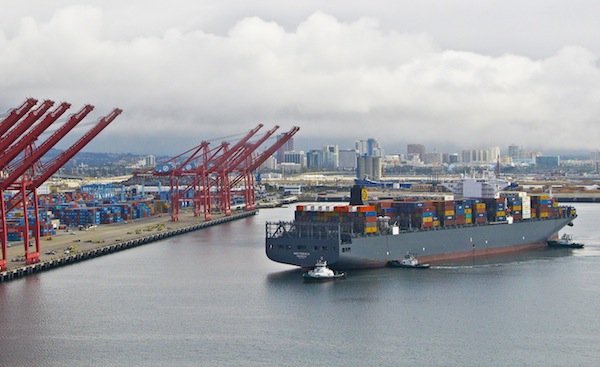 The peak season in the eastbound trans-Pacific is not what it used to be. As a result, ocean carriers should not count on a big revenue boost from the peak-season surcharge they are planning to implement in the trade on Aug.1, according to Drewry Maritime Research.
The carrier members of the Transpacific Stabilization Agreement are planning to implement a peak-season surcharge of $400 per 40-foot container to all U.S. destinations on Thursday.
"All the signs are that it will be little better than last year's disappointment, lending weight to the argument that retailers' usual requirement to stock up in the U.S. and Europe for the beginning of the school year, followed by Thanksgiving, Christmas and the New Year, is not what it used to be," Drewry said Monday in its weekly Container Insight.
It said industry feedback from ocean carriers also indicates some nervousness over the magnitude of this year's peak season, possibly because so much is at stake.
The general rate increases in the eastbound trans-Pacific have not had great staying power. Although spot rates have tended to jump on the day the GRIs have been implemented, they have eroded in the weeks that follow, with average rates falling to half or less than the amount of the GRI.
For example, carriers have been able to hang onto 24 percent of the July 1 GRI of $400 per FEU, according to SCFI data issued by the Shanghai Shipping Exchange on July 26.
Compared to pre-recession days of 2004-2007, when an average 27.1 percent of each year's total traffic was shipped from Asia to the U.S. between July and September, only 26.4 percent was shipped last year.
Drewry said that though the differences may seem small, it suggests consumers' buying patterns are changing, or traders have found a better way of meeting their needs, at a time when ocean carriers' usually inject additional vessel capacity and container equipment.
The seasonal transition from winter to summer cargo flows in the Northern Hemisphere has become more gradual, with stocking up for the summer in the second quarter gaining in importance.
"Peak-season surcharges will continue to diminish in importance, and be replaced by simpler GRIs," Drewry said.
Contact Peter Leach at pleach@joc.com and follow him at twitter.com/petertleach.