The most obvious conclusion when looking at data revealed in the launch of the JOC's Port Productivity project is neither surprising nor unexpected: Container ports and terminals in Asia, primarily China, and the Middle East dominate their global counterparts in getting a ship, regardless of size, in and out of port as quickly as possible.
As Senior Editor Bill Mongelluzzo notes in this week's JOC magazine Cover Story, however, what isn't revealed in pure statistics is often the more interesting, and telling, side of the story.
It's telling, for example, that transshipment ports dominate the Top 20 global ports as measured by berth productivity.
It's likewise telling that not a single South American port, among the world's most infrastructure- and labor-challenged, cracks even the Top 20 for productivity in the Americas.
Finally, it's telling that some of the world's largest load ports, backed by technologically progressive terminal operators — APM Terminals (Yokohama, Japan; Nhava Sheva, India; Rotterdam), for example — and 24/7 operations, rank high.
But, as important as the port productivity statistics revealed in the project are to shippers, carriers and other global supply chain interests, they also are just part of the challenge in moving consumer, industrial and agricultural goods from factory floor, farm or cold storage to market.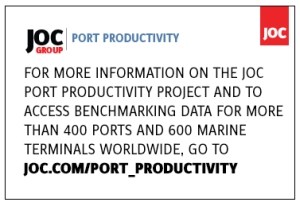 If we've learned anything over the last year — the last few months, even — it's that disruption large and small, natural or manmade can render even the most productive container terminal's turn times, if not meaningless, then certainly, well, just a statistic.
Consider what Hurricane Sandy did to cargo at Elizabeth, N.J. — the New York-New Jersey facility that ranks 13th among global ports by berth productivity — for a month last fall. What impact did the threat of a strike by the International Longshoremen's Association have on ports and terminals on all three U.S. coasts?
Within the last three months, labor actions have disrupted operations at Hong Kong, the world's seventh-largest transshipment port by berth productivity and third-largest by throughput, and at ports in Brazil, South America's largest importer and exporter.
Sometimes, efforts to improve productivity run amok, as Maher Terminals experienced in June and early July when it implemented a new Navis terminal operating system — with disastrous results that included miles-long truck lines that forced the terminal to send ships to competitors.
Emerging nations such as India and Vietnam are pouring billions of dollars into off-port infrastructure, but they're years away from approaching even the dilapidated and congested networks in the U.S. and other developed countries.
How much a role, then, does port productivity play when events often beyond a terminal operator's control conspire to slow shipments anyway? Well, a lot, according to carriers looking to keep to tight sailing schedules built around cost-saving slow-steaming, and shipper representatives such as Jonathan Gold, all of whom are looking for consistency and reliability in service and operations.
So if you're a shipper, terminal operator or port looking for just that, we hope you'll find the Port Productivity data a key KPI to help determine your best routing options.
But remember to keep it in perspective. After all, how important was the turn time at Singapore for shippers who had cargo on the MOL Comfort, when, ultimately, their goods ended up at the bottom of the Arabian Sea?