The JOC today formally introduces what we call the Port Productivity project, the result of a five-year effort to translate casual industry understanding into cold, hard numbers. 
The specific focus is berth productivity achieved at ports and terminals worldwide — a measurement of the speed at which container ships are unloaded, loaded and sent back to sea. It's one of many measurements of ports' effectiveness in moving containers — truck wait times being another — but it's the only one, thanks to carriers' willingness to share their data, that can now be measured globally based on the same criteria irrespective of where the port is located. 
That makes this data new, and we think it's a breakthrough, considering there has never been the ability to compare ports and terminals globally on any measurement other than known factors such as volumes. 
The release of this data, however, also makes a larger point: Marine terminal productivity in individual scenarios isn't an unalterable reality based on local circumstances of labor, capital, management, infrastructure and politics. Rather, productivity is elevated to a larger imperative, as ports themselves factor into trade facilitation — where effectiveness in productivity translates into spinoff benefits or bottlenecks in supply chains, availability of goods on store shelves, employment. 
The data we introduce today points to the broader opportunity higher productivity can yield, whether it be carriers slow-steaming their vessels and cutting fuel costs and emissions as a result, terminals achieving greater utilization at their facilities, or cargo interests seeing faster movement of their products to destination. 
All that said, however, the database isn't perfect or complete. The majority of the largest carriers are participating, but not all are represented. Although we will introduce additional data elements later, the measurement we're starting with — gross berth productivity between a ship's arrival and departure from berth, with no adjustments for labor or equipment down time regardless of the reason — is among the broadest definitions of productivity. 
No doubt, it's a harsh number that offers no consideration to legitimate local realities that have a huge bearing on productivity, as Senior Editor Bill Mongelluzzo describes in detail in this week's Cover Story. In ports such as those in the U.S., where high labor costs mean ships don't get worked at night, the numbers presented in the rankings in this issue reflect a reality that won't change any time soon. Berth productivity favors terminals with large volumes that can put multiple cranes to work on large ships. 
As Mark Sisson, senior port planner at AECOM, told Bill, "Ports like Hong Kong and Dubai work as close to 24 hours a day as possible." 
In other words, although we're starting with a broad, albeit imperfect measurement, a report such as  this needed to start somewhere. Only by doing so could it gain the traction needed to expand into other, more detailed measurements of productivity. 
We have made progress, for example, in measurements of operating time — that is, productivity achieved between first lift and last lift, which, among other things, exposes effectiveness in the period between arrival and the start of operations that involves customs and immigration procedures. 
We're also making headway in crane density, a measurement of how well stowage planners who work with the terminal can keep all cranes in operation and thereby raise overall berth productivity levels.
Other measurements could look at total port stay time, the time between when the pilot boards on the inbound leg, and when the pilot disembarks as the ship leaves port. 
But the goal, regardless of measurement, is the same: to create through data the benchmarks carriers, terminals and ports can measure themselves against to assess where they stand and whether there may be opportunities for improvement.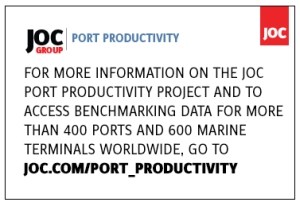 And it's improvement we're after, less so in specific situations but in the aggregate. The reason? Because according to many carriers and terminals, productivity stagnated years ago and hasn't improved despite the presence of larger ships and higher volumes that demand progress just to keep up. 
The losers aren't just the carriers that must wait for their ships to get turned and their customers who must wait for their cargo. It's the international trade system that, in a technical, in-the-trenches way, isn't keeping up with the growth of trade. The resulting bottlenecks create friction between ports and their local communities, which can further set back ports' effectiveness if onerous regulations are imposed. 
Improving productivity at the berth is just one way of addressing this challenge, but as far as data goes, it's as good a place to start as any.   
Peter Tirschwell is executive vice president/chief content officer at JOC Group. Contact him at ptirschwell@joc.com and follow him at twitter.com/PeterTirschwell.