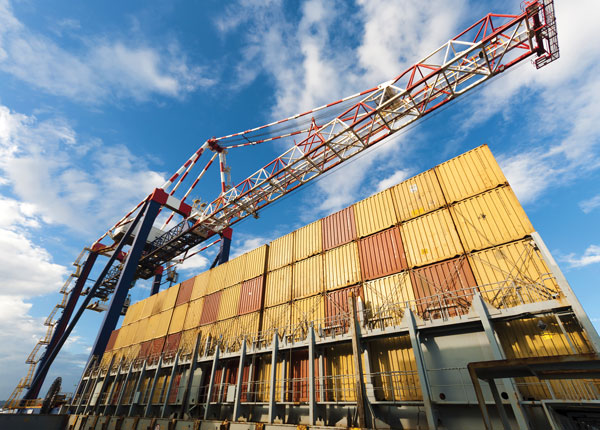 The debut of JOC Port Productivity research comes with a message that rings loud and clear: Marine terminal operators must do a better job of delivering the vessel productivity required by ocean carriers and those whose cargo is aboard their ships.
After a five-year effort, the JOC has achieved the support of 17 ocean carriers, representing more than 70 percent of the global container capacity as defined by Alphaliner, in building a database that directly compares terminal productivity performance across ports, countries and regions based on the standard measurement of gross moves per hour.
For this report, the JOC has used confidential data from more than 100,000 port calls at 600 marine terminals and 400 global ports during 2012 to rank the top 20 ports and individual terminals in three regions of the world: the Americas, Asia and Europe-Middle East Africa.
This exercise, which will continue on an ongoing basis, is intended to provide more visibility to ports, carriers and cargo interests into productivity at one of the global supply chain's most important service sectors: the marine terminal. It ultimately aims to help get ships in and out of port faster, cutting costs for carriers, freeing up terminal capacity, and supporting the fluid movement of containerized cargo.
Given the wide variation in numbers among just the top 20 ports and marine terminals, "there is no doubt that there are opportunities to improve productivity," said Dennis Olesen, head of global operations at APM Terminals.
The formula for improving productivity is fairly straightforward. The marine terminal needs timely and accurate information from the carrier about the container stowage on its vessel at least 24 hours before the arrival of the vessel, and it needs the ship to show up on time. The shipping line, which has built its schedule around the terminal's promised productivity, needs its vessels to be turned as quickly as possible to maintain its schedules, to maximize slow-steaming and to have its vessel assets deployed most efficiently. "It's a shared challenge," Olesen said.     
Although the formula is simple, putting the pieces together to produce superior productivity is a complex process involving a litany of factors: vessel stowage, vessel size, the volume loaded and discharged, the skills of the crane operators and other dockworkers, the cranes and other assets deployed in working the vessel, and the contractual price the carrier agrees to pay the terminal operator.
Improving terminal productivity is becoming more urgent, in large part because vessels are getting ever larger. The largest vessel afloat in 1990 could carry 4,800 20-foot-equivalent container units. Today, vessels in the major trade lanes typically carry 8,000 to 13,000 TEUs, and Maersk Line is phasing into service the world's largest container vessels, each with a capacity of 18,000 TEUs. Several carriers told the JOC that terminal productivity in the aggregate has seen little to no improvement over several years.
The rapidly increasing size of mega-ships places tremendous strain on all faces of the marine terminal, making productivity — and the industry's focus on it — all the more important.
JOC Port Productivity: Top Terminals
Vessel productivity is on the radar screen of shippers for whom terminals can be a major supply chain bottleneck. "This information is extremely valuable," said Jonathan Gold, vice president of supply chain and customs policy at the National Retail Federation. "It is the key factor in getting cargo delivered on time." The JOC Port Productivity data also may be controversial, especially among U.S. port and terminal interests, because it is based on gross container moves per hour with the clock ticking during the entire time the vessel is in port. A terminal's productivity, then, is lower if it doesn't work nights. Berth productivity is a more common measurement in Europe and Asia, where terminals operate round-the-clock with little down time.
"Ports like Hong Kong and Dubai work as close to 24 hours a day as possible," said Mark Sisson, senior port planner at AECOM, a marine engineering firm that designs terminals worldwide. The closer a port comes to 24/7 operations, the higher its berth productivity numbers become given that it handles large container volumes with little down time for its operations.
Contrast an Asian port — the Far East, especially China, dominates the Port Productivity rankings — with a U.S. port such as Oakland where cargo volumes are much lower. The normal work shift at Oakland is eight hours, and berth activity ceases for the remaining 16 hours in the day, Sisson said. That down time gets reflected in Oakland's numbers.
Los Angeles and Long Beach, the two busiest U.S. ports, are ranked highly in berth productivity, as well they should be, because terminals there work two full shifts a day. When necessary, they add a costly, five-hour third shift, with longshoremen being paid for eight hours at a premium overtime rate. Long Beach (along with Elizabeth, N.J.) is the top-ranked U.S. port and 13th globally, moving an average of 74 containers per hour while a ship is at berth.
Large amounts of down time is why the focus for U.S. ports tends to be on productivity during actual operations. Ports in the South Atlantic, for example, prefer to use moves per hour achieved by individual containers versus productivity measured across the full vessel. Charleston and Savannah regularly post crane productivity of 35 to more than 40 moves per crane per hour when the cranes are working, productivity considered at the top of the range within the U.S.
Vessels calling at East Coast ports, however, typically generate fewer total container moves than those calling Southern California. In Charleston or Savannah, for example, an Asian service may generate 500 to 1,000 container moves and can be worked in one or two shifts. In Southern California, the larger vessels generate 3,000 to 5,000 moves and are worked in five or six shifts over as many as three days. That results in fewer hours of berth down time and higher gross berth productivity, according to the JOC's definition.
JOC Port Productivity: Top Ports
Jim Newsome, president and CEO of the South Carolina Ports Authority, said the shipping lines that call at Charleston want their vessels turned in the window promised to them, at a competitive cost attained by working two cranes per vessel, each consistently producing about 40 container moves an hour. "That's what they are paying us for," Newsome said.
Likewise, Curtis Foltz, executive director of the Georgia Ports Authority, said that in measuring productivity in the South Atlantic, operating two or three cranes at 35 moves per berth hour is preferable to operating five or six cranes at 25 moves per berth hour. "It comes down to crane productivity and crane density," he said.
In their discussions with shipping executives, Newsome and Foltz said they're told their ports are the only ones in the U.S. that consistently achieve crane productivity rates that compare with those in Europe.
Nor is it wise, from a U.S. terminal operator's perspective, to add cranes in order to turn a vessel faster unless a carrier pays for the added service. Each crane requires a group, or "gang" of dockworkers, and labor costs at U.S. ports are "the highest in the world by a considerable margin," Sisson said.
Gang sizes differ on the East and Gulf coasts, where the International Longshoremen's Association contract has fixed sizes, from those on the West Coast, where the International Longshore and Warehouse Association contract requires the use of two crane drivers but states that other positions are manned as needed.
Gang sizes on the East Coast also can vary depending upon requirements for lashers and clerks, but the gangs generally range from 15 to about 20 dockworkers per crane. The total lift cost per container ranges from $250 for the most efficient ports to $450 for the most expensive. If a carrier is paying a terminal to turn the vessel in one eight-hour shift, it doesn't make sense to work more cranes than necessary to complete the work in five hours given the high costs involved.
In Southern California, however, working large vessels with six cranes in order to finish a vessel in five shifts rather than six makes sense, said Ed DeNike, chief operating officer at Seattle-based terminal operating company SSA Marine. Gangs comprise about 20 to 26 dockworkers, and the total cost of a shift is about $22,000, DeNike said.
Sometimes a crush of cargo demands that a terminal deploy more assets. Frank Capo, senior vice president and chief commercial officer at Total Terminals Inc. in Long Beach, which handles the largest vessels calling in the U.S., said TTI recorded 45,000 lifts in one busy mid-June week, compared to 25,000 in a normal week. These high volumes require the use of taller cranes, optical character readers and global positioning tracking and a computerized terminal operating system, Capo said.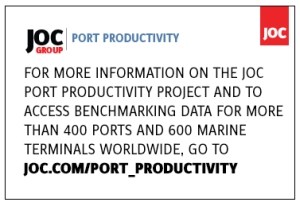 Ports and terminals worldwide are investing heavily in such technology for two reasons, said Dean Davison, senior consultant at Ocean Shipping Consultants. Terminals can't meet carrier needs for productivity without technology, and they can't achieve the financial results their own companies require without improving efficiency, he said.
Carrier executives agree. Francois Peigne, head of ports and terminal operations at CMA CGM, a supporter of the JOC database, said most ports that have the water depth to accommodate mega-ships are investing in large quay cranes and more efficient yard equipment, expanded container storage areas, more truck gates and computerized terminal operating systems, and the terminals cooperate closely with the operating departments of the shipping lines.
Peigne said the market dictates which ports a carrier will call, but if berth productivity statistics indicate CMA CGM vessels are receiving service that is less than what other carriers receive, "we shall take operational decisions to improve it."
Given carriers' need to slow-steam their vessels to reduce fuel costs, terminals must improve productivity continually, said Gene Seroka, president of the Americas at APL, another supporter of the database. That's why carriers welcome this first step to publish data on vessel berth productivity, he said. Carriers also would like to see the data expanded to include other meaningful measurements such as crane productivity, he added.
Still, when carriers and especially cargo interests look at what the berth productivity numbers mean and how they were derived, they have a good indication of the importance a terminal operator places on serving its customers, APM Terminals' Olesen said, adding "We are there for the customer." 
Contact Bill Mongelluzzo at bmongelluzzo@joc.com and follow him at twitter.com/billmongelluzzo.