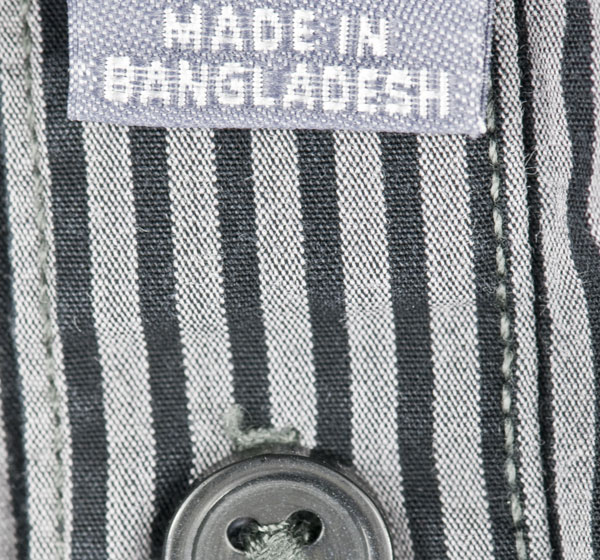 U.S. apparel importers are weighing whether the threat of bad publicity that could come from factory disasters in Bangladesh offsets savings gained by sourcing in the South Asian country.
Sourcing decisions are hard, even without the ethical dilemma. But importers will increasingly have to balance consumers' demand for low prices and growing concern over the conditions of those who make what they wear. Major retailers' decisions whether to maintain, increase or reduce apparel sourcing in Bangladesh will become apparent in the second half, as trade statistics will likely show if the April Rana Plaza garment factory collapse, which killed more than 1,200 people, will stop the country from gaining U.S. market share. 
"We will see if merchants want to stay in Bangladesh or say, 'I am going to punish (Bangladesh suppliers) and give someone else a crack,' " said Foster Finley, managing director of Alix Partners' Performance Improvement practice.
Bangladesh's share of U.S. containerized imports of apparel (not knitted or crocheted) rose to 10.7 percent in the first five months of 2013, according to PIERS, a Journal of Commerce sister company. The country was the source of 9.1 percent of all such U.S. containerized apparel last year, ranking second after China, the top U.S. apparel supplier, which has market share of 36.8 percent. How much retailers choose to source from Bangladesh will impact not only the apparel-industry-driven country but also all links in the supply chain, including drayage truck drivers, third-party logistics providers and container lines.
Journal of Commerce economist Mario Moreno expects Bangladesh apparel sourcing to be challenged for the rest of year. He said containerized apparel imports into the U.S. from Bangladesh grew about 7.4 percent year-over-year last month but wil shrink 3.5 percent this month compared to the same period in 2012. But because most apparel retailers sign contracts quarterly, not monthly, it will be several months before the ramifications of the collapse of the eight-story building in Savar, Bangladesh, on trade can be seen. 
Calculating Sourcing Costs
Retailers make their "hard" or qualitative decisions on sourcing based on six major factors, Finley said. Although labor and material costs tend to get the most attention, retailers also consider costs from factory overhead, including the impact of the regulatory environment and taxation; transport; inventory implications; exchange rates; and tariffs. 
Retailers can forecast some sourcing costs better than others. Gauging where tariffs are headed is "capricious," as even if the home government is focused on exports, as Dhaka and Beijing are, there are two parties involved. The U.S., for example, suspended Bangladesh trade privileges last month as a warning over labor and safety conditions in the country. This rescinding of privileges in response to the garment factory tragedy, however, isn't expected to impact apparel makers.
The future of labor and material costs can be better predicted, and Bangladesh is expected to remain one of the most competitive sites in regard to apparel production, Finley said. But Bangladesh's competitiveness as a low-cost apparel supplier has lessened in the last two years, although its competitors have also seen their material and labor costs rise, too, said David Bassuk, an Alix Partners managing director and retail expert.
The country's labor costs are set to rise more, as the government considers hiking the minimum wage for garment workers and recently changed its labor laws allowing workers to form unions more easily. The question is whether concerns over bad publicity, or for some companies ethical concerns, tip the pendulum toward other competitive countries for apparel sourcing, such as Indonesia, India and Vietnam.
Compared to footwear retailers, apparel sellers have more flexibility in shifting production as the market dictates. Most major retailers source from at least several locations already and thus have options available. The capital intensive and multicomponent nature of footwear production has allowed China, Vietnam and Indonesia to dominate the U.S. market, said Matt Priest, president of Footwear Distributors and Retailers of America. Bangladesh exported a little under 600,000 pairs of footwear to the U.S in the first five months of this year, compared with about 617,000 pairs in the same period in 2012, making the country the 16th-largest U.S. supplier of footwear.
Retailers' Responses to Consumer Concerns 
U.S. consumer blowback against retailers, including reportedly JC Penney and Wal-Mart, whose products have been found in the rubble of factory accidents, has been lackluster, said Jerry Peck, a Global Trade Management expert and JOC columnist. He noted the outcry was far louder in Europe.
"Wal-Mart is the world's largest company with vast resources," Peck said. "It should be paving the way for more ethical worker conditions."
The apparent differences between consumer attitudes on each continent could help explain why European and North American retailers are taking disparate approaches to improving safety and working conditions in Bangladesh factories.
Seventeen major North American retailers — including Wal-Mart, Target, Sears Holdings and Gap — said earlier this month they would spend at least $42 million on a five-year agreement to improve conditions. Some companies also have offered an additional combined total of $100 million in loans and access to capital to assist factory owners they work with in Bangladesh in improving factory safety.
Under the Bangladesh Worker Safety Initiative, common safety standards will be developed in the next three months, and factories used by alliance members will be inspected in the first year, with the inspection results to be shared. The initiative also calls for all alliance factories to actively support the democratic election and successful operation of "worker participation committees" at each factory, and includes a role for an independent chairman, who will be responsible for oversight. Under the initiative's inspection program, inspectors also will prioritize factory safety risks for remediation efforts and will be encouraged to report to the alliance, worker participation committees, building owners and the Bangladeshi government any dangerous safety conditions.
Labor and human rights activist have decried the initiative as a cynical ploy that allows North American retailers to deflect responsibility onto factory owners, according to reports. The European initiative, created by consortium of 70 retailers and apparel brands, puts more responsibility on the end buyers, as the plan will fund factory improvement directly. North American retailers have defended their plan, saying they face more legal liability than their European counterparts. Some in the legal community, however, have disputed the North American retailers' legal liability claim.
Contact Mark Szakonyi at mszakonyi@joc.com and follow him at twitter.com/szakonyi_joc.