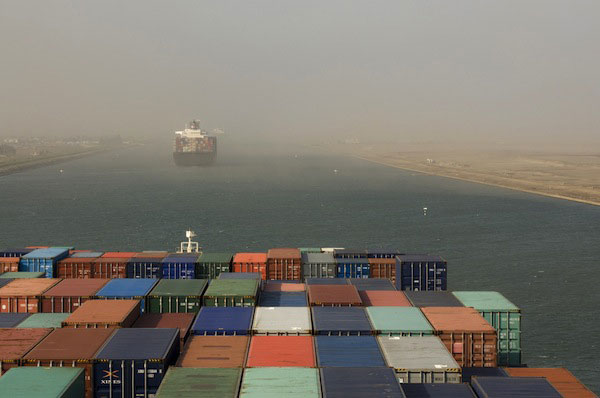 The Suez Canal remains open amid unrest in Egypt, but some transport operations around the country are closed.
Both sides in the turmoil that has led to the ouster of Mohammed Morsi from the presidency recognize the importance of the canal to Egypt's economy, CNBC reports. It cited the Egypt Independent for a statement by Mohab Mohamed Hussien Mameesh, head of the Suez Canal Authority, that navigation was normal on July 3.
A total of 45 vessels passed through the canal on July 4, according to figures on the canal authority's Web site. The container ship Eugen Maersk was the largest northbound vessel, and an LNG ship, UMM SLAL, was the largest southbound.
Concerns over a threat to shipping via the Suez Canal had sent oil prices higher this week, but they have retreated from those earlier highs. Much oil tanker traffic uses the canal, and container lines have been shifting more of their all-water services from Asia to the east coast of the United States to the route as well.
The Suez Canal Authority is, however, warning customers not to respond to e-mails sent from "@suezcanalauthority.com," as the official e-mail extension is "@suezcanal.gov.eg."
Disruptions have occurred elsewhere, however. According to BDP International, its Global Network partner in Egypt, Sea & Air International Shipping and Forwarding, has reported a curtailment of international cargo activity since June 30, and cargo operations at seaports and airports, as well as transportation authorities and government ministries, have been closed since July 3.
Industry sources in the country are said to expect operations to return to normal by July 7.