When container ships arrive in Santos, they sometimes have to wait two or three days to get into the Brazilian port's three container terminals because of port congestion and the tangle of traffic on nearby roads.
The delays got especially bad this spring when a drought devastated India's crops and fueled global demand for Brazilian sugar exports, according to Andreas Krueger, senior vice president and head of ocean freight Americas at DHL Global Forwarding.
Landside port access is a big problem in Brazil, which, like most countries in South America, failed to invest in infrastructure when times were good before the Great Recession. Brazil and the other countries south of Panama also failed to diversify their economies away from raw materials exports, so now that their major export markets in Europe, the U.S. and China are slowing, trade is suffering.
"The big driver of growth in South America over the last 10 to 15 years was China, which was drawing huge amounts of raw materials," said Walter Kemmsies, chief economist of the port engineering consultant Moffatt & Nichol. "China has decided to try to build a domestic consumer market, so construction has slowed way down and South America is struggling."
South America's container trade growth is still healthier than many other global trade lanes, but it's far slower than the torrid pace before the Great Recession and is slowing this year. "South America needs to do what Asia did — invest like hell in transportation infrastructure," Kemmsies said. "They're just not going to grow and develop their economies by finding ways to produce more raw materials for export to China. It's just not the right strategy." Colombia and Mexico are taking the right approach by improving their road and rail networks, while other Latin countries lag, he said.
Journal of Commerce Economist Mario Moreno is forecasting a 0.5 percent decline in trade volumes between the U.S. and South America's east coast markets this year. "It's all because of the Venezuela trade flows, where imports dropped 22 percent in the first quarter," he said.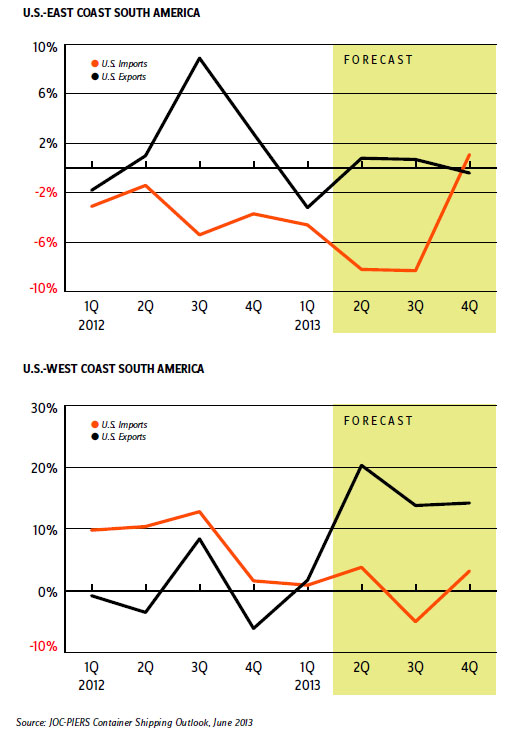 For the same reason, Moreno's revised forecast for U.S. exports to the east coast of South America shows a drop of 5 percent from the previous growth of 2 percent. U.S. exports to Venezuela declined 26 percent in the first quarter.
Moreno, however, expects U.S. imports from the west coast of South America to increase 12 percent because of a strong trade recovery in Peru and Chile, especially in shipments of refrigerated fresh produce. He forecast U.S. exports to west coast markets would grow by a relatively flat 0.5 percent year-over-year, but only because export volumes last year were so strong. "They will still be strong this year, but they are not growing as fast as last year," Moreno said.
Although South America's overall container trade is slowing, carriers have been cascading unneeded post-Panamax ships from the moribund Asia-Europe trade into the Asia-South America lanes. That has resulted in too much vessel capacity chasing slowing volumes, causing a rate war. Spot rates on the headhaul from North China to South America have fallen 25 to 30 percent in the last four months to slightly below $1,000 per 20-foot-equivalent unit, according to the Shanghai Containerized Freight Index.
"In the Asia-east coast South America trade, rates have been deteriorating rapidly since the first quarter to an unsustainable level, following announcements of new and upgraded direct capacity by other lines," said Sonny Dahl, head of Latin American trades for Maersk Line. "We will likely be seeing shipping lines looking at further consolidation opportunities, such as we've been doing on the east coast, or alternatively, we may start seeing lines disappearing again if they cannot find a profitable solution."
Low freight rates have been good for DHL Global Forwarding and its shipping customers. "We buy cargo space at fixed rates on an annual basis through annual contracts with our carriers, and buy more space at spot rates when demand warrants it," Krueger said. "We've benefited from falling spot rates this year."
Maersk this month will start a new vessel-sharing agreement in the Asia-east coast South America trade with Hamburg Sud, CSAV, CMA CGM, China Shipping Container Lines and Hanjin Shipping, which will replace four existing services with larger ships on three joint services. "The main purpose of the new cooperation is improved product offering to our customers and a reduction in costs," Dahl said. "It is not a matter of adding capacity as we are looking to maintain share in this trade, rather than grow it."
Maersk has no plans to extend the recently announced P3 Network collaboration in the east-west trades with Mediterranean Shipping Co. and CMA CGM to serve the Asia-South America trades.
Although Maersk's VSA with five other carriers in the trade won't add much capacity, freight rates are likely to fall further this year because other carriers also are consolidating services and increasing vessel sizes, according to Drewry Shipping Consultants. The launch of MSC's Ipanema service in mid-April and the subsequent announcement that rival carriers will deploy 8,000-TEU vessels will boost capacity on the route by 33 percent between April and July. When all the new deployments are completed and vessel sizes are upgraded to 8,000 TEUs, capacity will grow from the 28,500 TEUs a week in the Asia-east coast South America trade to 38,000 TEUs.
Maersk expects overall trade on the South America routes to grow 2 to 4 percent on average for 2013. "Some individual countries are pulling this average up, others down, but overall we are seeing quite moderate growth for South America in 2013," Dahl said.
Trade growth with countries on the west coast will come in at the higher end of that scale, while those with the east coast will be weaker. "On specific trades like that between the east coast of South America and Europe, we are actually seeing a market drop this year," he said.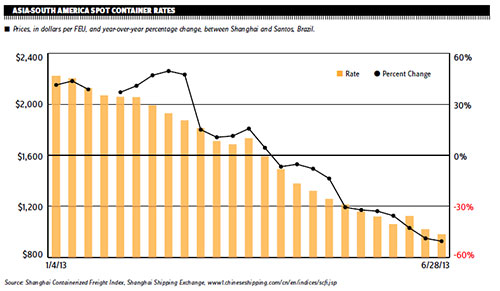 Maersk economists also see a slight drop in the trade between South America's east coast and the U.S. East Coast, although the Danish carrier isn't active in that trade. Dahl said trade with South America's east coast is slowing because of an increasingly difficult operational and political situation in Argentina and to a lesser extent in Brazil.
The recent outbreak of widespread anti-government protests throughout Brazil hasn't affected DHL's logistics operations there, Krueger said. But landside distribution to destinations in Brazil and Argentina remains a problem. DHL Global Forwarding arranges for inbound deliveries of the cargo it handles by truck over the often-congested roads to destinations on the landside, while shippers handle other deliveries themselves.
On the west coast, however, most inland distribution is handled under merchant haulage, meaning the cargo owners themselves arrange for deliveries.
The imminent opening this year of two more container terminals in Santos may help ease some of the congestion, at least in the port, if not over the roads, Dahl said. DP World owns a majority stake in Embraport near Santos, which will have annual capacity of 1 million TEUs under Phase 1 and expand to 1.5 million TEUs in Phase 2. APM Terminals owns a 50 percent stake in Brasil Terminal Portuario, a new deep-water terminal that will have a capacity of 2.2 million TEUs when fully built out.
Despite slowing growth in China, South America's trade with Asia is growing faster than trade with Europe and the U.S. "The east-west trade with China, Southeast Asia and the subcontinent continues to be stronger than the north-south trade with Europe and the U.S.," said Efrain Osorio, APL's managing director for Latin America. APL, which serves South America's west coast and Central America from Asia, sees that trade growing 5 percent on the inbound lane and 4 percent on the outbound.
Osorio's estimate of 5 percent growth on the inbound lane to South America is lower than in previous years because the container trade multiplier on a country's GDP growth rate, which used to be three times GDP and was running at 1.8 percent over the last five years, has slowed to 1.2 percent this year. "So the container trade is likely to be only slightly better than the country's economic growth," he said.
APL estimates volumes on South America's north-south trade with Europe and North America are growing at about 3 percent.
South American exports to Asia are growing slower than inbound volume only because of weight limitations. "It's not because the demand is not there in Asia, but because the cargo mix on the backhaul commodities carries a lot of heavy cargo — scrap commodities, heavy reefers and forest products, which tend to deadweight out ships before we can fully provide enough TEU capacity," Osorio said. "That hinders the ability to grow more."
APL, which now only serves markets on the west coast of South and Central America, is considering starting services from Asia to the east coast at some point, but has made no plans.
The fastest growth on the west coast is occurring in Peru, where investors are taking advantage of low labor costs to grow fresh produce and ship it in refrigerated containers to the U.S. and Asia. APL's Peru volumes now equal those of Chile, the largest economy on the west coast, because rising labor costs in Chile and the availability of land have spurred more production in Peru of out-of-season vegetables and fruit for the U.S. and Asia.
"On the import side, both Chile and Peru are equally big for us, north-south as well as east-west, but the reefer component, which is a growing piece of the trade, is mostly seasonal commodities and complements each other in both countries for us," Osorio said.
APL plans to expand reefer shipments from Peru to North America, Europe and Asia. "A lot of our Chilean customers are developing further operations in Peru, so there is that component of technology transfer from Chile to Peru," he said. APL's inbound volumes in Peru and Chile are growing at 5 percent on the east-west trade and 3 percent on the north-south leg.
APL and Maersk are seeing some growth in volumes from Asia to Mexico and Central America because increasing Chinese labor costs are fostering growth of near-sourcing of production to Mexico and Central America. APL is handling more shipments of automotive parts and electronics components from Asia to Mexico for assembly into finished products there for export to the U.S., Canada and South America. Both are seeing some increase in inbound shipments of textiles for fabrication into apparel for those markets.
"We are seeing some effect of near-sourcing," Dahl said, "which means a growth above average between North America and Central America."
Contact Peter Leach at pleach@joc.com and follow him at twitter.com/petertleach.