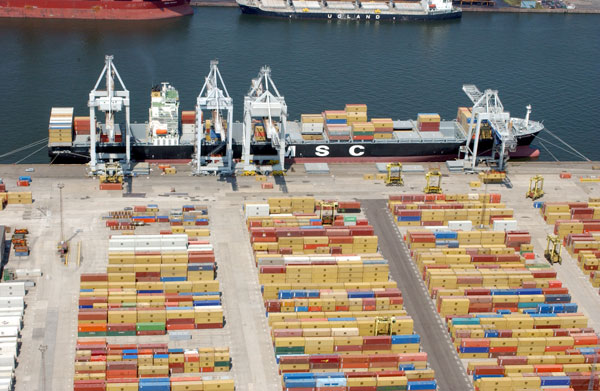 The planned alliance between Maersk Line, Mediterranean Shipping Co. and CMA CGM poses a major challenge for ports and container terminals in Europe, the U.S. and Asia serving the carriers' pooled network of 255 ships on 29 service loops, according to shipping consultant Drewry.
"The ramifications of the consolidation for the port industry are enormous," London-based Drewry said.
Each of the three carriers, the world's largest, already operates more very large container ships than any other lines, "so catering for their combined cargo-handling requirements will be on a scale never seen before."
The carriers, which plan to launch the P3 Network in the second half of 2014, have "family connections" with terminal operators, "so choosing the best port and terminal will not only come down to the best for each job."
Maersk is linked to APM Terminals, CMA CGM part owns Terminal Link, and MSC has a stake in Terminal Investment Ltd.
APM Terminals has a presence in Bremerhaven, where Maersk calls more than 10 times a week, but not in Hamburg, and MSC prefers Antwerp over Rotterdam.
Drewry questions whether the carriers will consolidate or rationalize their port calls. "While economies of scale are there for the taking, it will result in tampering with the well-established berthing windows of each schedule, and the feeder/intermodal connections of each carrier, which will, presumably, remain separate," it said in the latest container weekly insight.
The carriers will offer better coordinated schedules and improved turnaround times, but rationalization of ports and terminals within the P3 Network "may be a bridge too far, at least initially."