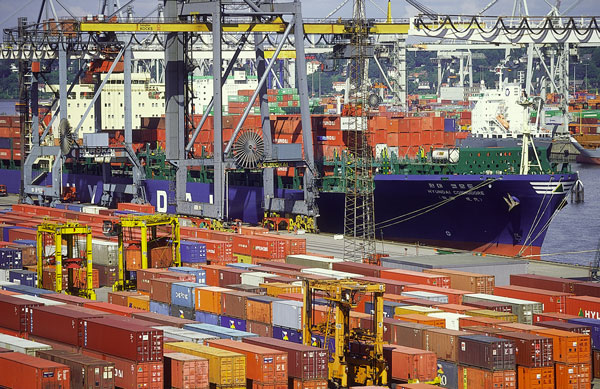 Ocean carriers are bracing for a make-or-break summer in the Far East-North Europe trades as they attempt to push through general rate increases of up to $1,000 per 20-foot container on the key westbound leg on July 1 against a backdrop of free-falling spot rates and stalling cargo flows.
The industry is sailing into uncharted waters on the world's biggest trade route. The planned $750 to $1,000 hikes are the highest ever, amounting to 180 percent for some carriers, while the collapse in spot rates since March is the steepest ever recorded, according to industry analyst Alphaliner.
All this as the first of Maersk Line's 20 giant 18,270-TEUs Triple E ships, the world's largest, begins sea trials following a naming ceremony at South Korea's Okpo shipyard this morning before it enters service on the route on July 15.   
Carriers are betting the July rate hikes and more modest increases in the Far East-Mediterranean trade, will hold, unlike five failed attempts to increase rates since January, because they coincide with the start of the peak shipping season when European importers stock up with Christmas goods from Asia.
Trouble is the peak season is no longer a certainty. It failed to materialize last year because cash-strapped European consumers tightened their belts. And with eurozone governments intensifying austerity programs and unemployment rising rapidly across the continent, this year's peak season also risks being a damp squib.
To be sure, traffic will pick up in the third quarter from first half volumes, and most well-managed carriers should at least break even or minimize losses on a route that has a major impact on their bottom line.   
Rates also will rise from today's low levels, but how long they will hold in the current volatile trading conditions is anybody's guess. Spot rates for a Shanghai-Rotterdam shipment have plunged to just $533 per TEU this week from a peak of $1,800 last year and $1,300 a few weeks ago.
Alphaliner reckons that despite the oncoming peak season and a slight tightening of capacity in June, carriers will only secure an increase of around $430 per TEU based on forward rates for July. "Current freight rates are patently unsustainable, with base freight rates falling to negative levels since mid-May after deduction of carriers' average bunker adjustment factor."
As usual, much will depend on the tactics of Maersk Line, the Far East-Europe market leader, which is about to up the ante with the arrival of the first Triple E vessel, Maersk Mc-Kinney Moller, in the trade. The Danish carrier has adopted an uncharacteristically aggressive public stance recently, suggesting it is ready to engage in an all-out rate war to protect its " very high" Asia-Europe market share unless its competitors match its capacity cuts — some 14 percent over the past year — rather than boosting their uplift and refrain from tit-for-tat price cutting.
"Maersk Line is much more competitive and has gained strength to deal with the challenging shipping markets," Nils Andersen, CEO of Maersk parent A.P.Moller-Mearsk warned rivals after the carrier posted a $204 million operating profit in the first three months of 2013, the fourth successive quarter in the black that was driven by cost savings.
"Our competitors have all lost money. When we have a tough time ... our competitors have a bad time," according to Anderson. Maersk took out capacity to achieve "relatively high" utilization rates because it had read the market better than some of its rivals who "are paying the price ... (for) doing something different."   
The Danish carrier trimmed unit costs per 40-foot container by 7.1 percent in the first quarter, giving it an edge over rivals that will increase going forward as it steps up the deployment of 18,000-TEU ships on the Asia-Europe route.
Maersk will be able to turn a profit, or at least cut its losses, on a lower rate than its competitors, because it can progressively slash its unit costs as it brings these big vessels into service. And this might just convince other carriers to accept its role as a price leader — at least for now.     
There are currently no signs that carriers are ready to cull capacity, even in the event of a weak peak season. In fact, the G6 and CKYK alliances will boost their weekly capacity by 15 percent and 8 percent, respectively, in July compared to January.
Making good on its frequent assurances the Triple Es will not destabilize the trade, Maersk reportedly plans to operate the new ships at 14,300-TEU capacity, the same as its E-class vessels, for the rest of the year. 
Capacity management is key to restoring rates and profitability on the Far East-Europe routes, and shippers should brace for sudden service cancellations and rejigged schedules, according to Lars Jensen of SeaIntel Maritime Analysis.
The GRI model "is becoming broken," Jensen told the recent Global Liner Shipping conference in London. "The GRI has become a tool to get rates up to the level they were when the GRI was announced. GRIs are no longer a means of increasing rates but of slowing the rate of erosion." If carriers manage to push through the July hikes, this will only restore rates to where they were a year ago.   
Shippers hoping the forthcoming GRIs will flop should think again because low freight rates come at price, Drewry warns. "Carriers will be forced to curb their losses somehow. Service quality might be forsaken as some operators might ask what benefit they get from offering reliable port-to-port services," said Simon Heaney, research manager at the London-based consultancy.
"We expect the first step to be further slowing down on ship speeds, which in itself should not lessen reliability, but will lengthen transit times even more."   
Faced with escalating losses and the imminent deployment of the Maersk giants with their significantly lower slot costs, carriers likely will cease hostilities in the trade to maximize the benefit of a pickup in demand, however modest, through the summer months.
Maersk's rivals will also have to accept playing second fiddle to the Danish carrier as it phases in its armada of 20 cargo hungry Triple Es.
The competition is fighting back with several carriers signing contracts for 18,000-TEU-plus vessels in recent months at way below the $185 million to $190 million Maersk paid back in February 2011. China Container Shipping Line ordered five 18,400-TEU vessels in April at $136.6 million apiece, about the same price United Arab Shipping Co. is reported to be paying for five 18,000-TEU vessels it is buying alongside five 14,000-TEU units. The ships won't be delivered until early 2015, giving Maersk ample time to consolidate its market leadership.
But right now, carrier executives aren't looking much beyond the first couple of weeks in July.
Contact Bruce Barnard at brucebarnard47@hotmail.com.