Shipping lines operating in the westbound trans-Pacific trade are carrying fewer loaded containers to Asia these days, but they're enjoying it more because average freight rates in the trade are higher.
Westbound rates for the lowest-value scrap commodities plunged as low as $175 per 40-foot container early this year. Rates had dropped so low on some commodities that carriers simply walked away from the business.
In February, China's new president, Xi Jinping, made the shipment of extremely low-rated commodities even more difficult with his Green Fence decree, which is intended to keep contaminated plastic, metal and paper scrap out of the country.
Lamont Petersen, vice president of marketing at Hyundai Merchant Marine, said Chinese authorities have been inspecting virtually all containers of scrap products and are rejecting any shipments that don't meet the government's grade specifications. Containers can be held up for weeks. "This is problematic for carriers," she said.
As U.S. exports of low-value plastic, metal and paper scrap products declined over the past three months, the average freight rate in the trade increased because shipments of higher-value agricultural products, machinery, chemicals and electronics goods suddenly comprised a larger percentage of the westbound trade.
According to the World Container Index, the average freight rate for shipping a 40-foot container from Los Angeles to Shanghai peaked at slightly above $1,000 in April. The average rate declined to about $900 per FEU by the end of May, but that was still above the average rate of about $850 that prevailed during much of 2012.
U.S. exports of all kinds to Asia were virtually flat in 2012 as the recession in Europe hit Asian economies as well. Exports to Asia appear ready to rebound later this year, however.
The U.S. Department of Agriculture is forecasting higher export volumes for the 2013-14 crop year beginning this fall. Barring unforeseen weather events, most crops will rebound from the damaging drought of 2012. Exports of non-agricultural products also could increase if China's economic stimulus plans succeed. In other words, carriers should begin to feel good about the westbound trade.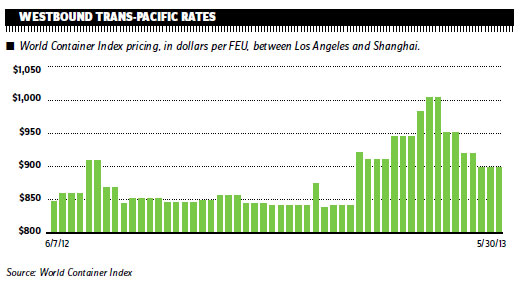 Agricultural exports will be a key factor in any rebound. According to the westbound division of the Transpacific Stabilization Agreement, agricultural products account for about 25 percent of the volume moving in the westbound Pacific.  
Agricultural products for human consumption and animal feed are expected to increase this year. With moderate to heavy rainfall in the nation's midsection this spring, the USDA is projecting strong growth in production.
In terms of value of shipments, even the drought-impacted fiscal year has been a winner. Agricultural exports in fiscal 2013, which will end on Sept. 30, are expected to total a record $142 billion, said Oliver Flake, economist at the USDA's Foreign Agricultural Service. Volume was down because of the drought, but prices were higher because of strong demand.
The 2012 drought hit corn production the hardest among agricultural products, Flake said. Production dropped so dramatically that the U.S., the undisputed leader in global corn exports for years, ceded the top spot last year to Brazil, he said.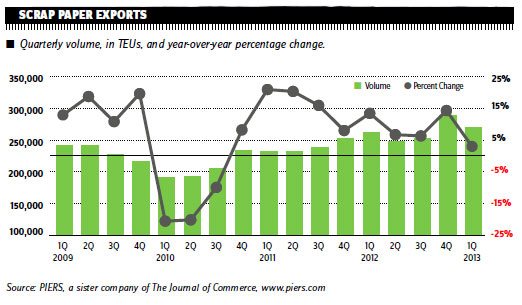 The U.S. should return to the top spot in global corn exports, with shipments projected to increase 73 percent in the coming fiscal year, according to the latest USDA report in late May.
Soybean production didn't suffer as much as corn last year. Even with a good export crop last year, soybean exports in the coming year are projected to increase another 7.4 percent. China, as it's been for much of the last decade, is a major driver of this market as the country's growing middle class seeks to increase its protein consumption.
Frozen beef and pork are higher-rated agricultural exports. Herds were thinned last year when feed grain prices increased because of the drought. The USDA expects exports to decline somewhat this year.
Beef exports this year are a "mixed bag," Philip Seng, CEO of the U.S. Meat Export Federation, said at a May 20 press conference. Total beef exports in the first quarter of 2013 declined 4 percent from the same quarter in 2012. Exports to Japan, an important U.S. market, surged 80 percent, however, as that country lifted certain restraints on U.S. beef. Beef exports increased 106 percent to Hong Kong and 56 percent to Taiwan.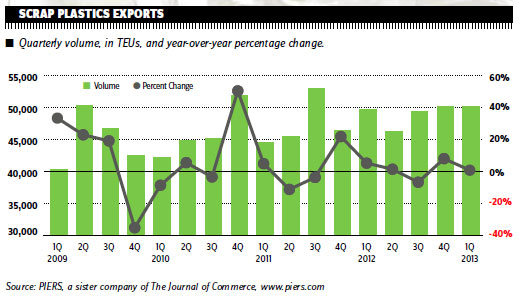 If corn rebounds as projected, ethanol production will likewise increase. Corn is the feedstock for ethanol, and the mash that results from the production process, which is known as distillers' dried grain, is used in animal feed. DDG exports could set a record in the coming fiscal year, Flake said.
The wide variety of nuts, tree fruits and other horticultural products that are important exports in the westbound Pacific also will continue to grow in volume. U.S. exports of horticultural products consistently increase at an 8 to 9 percent clip year after year, Flake said.
Although agricultural products are important exports to China, U.S. exports are actually varied. China is the third-largest market for U.S. exports after Canada and Mexico, and one of the fastest-growing markets, according to a report by the US-China Business Council.
Agricultural products are the highest category, with sales of $21 billion last year, followed by transportation equipment, at $16 billion; computers and electronics,  $14 billion; chemicals, $12 billion; and machinery, $10 billion, according to the council.
Although carriers will continue to benefit from the movement of higher-value exports to Asia in the coming months, the increase in capacity that is scheduled to come on line will restrain carrier ability to increase rates on these shipments.
Carriers this year will increase capacity in the trans-Pacific by 5 to 6 percent as they introduce ever-larger vessels into the trade. Carriers can be expected to seek general rate increases during the late fall to spring peak months in the westbound Pacific, but sustained rate hikes aren't likely.  
Contact Bill Mongelluzzo at bmongelluzzo@joc.com and follow him at twitter.com/billmongelluzzo.