Avian flu has been unleashed in Mexico. Millions of birds suffering from the H7N3 virus were killed off last July, and the government slaughtered another 2.1 million chickens in February.
Unlike in China, however, where consumers are shunning all domestic and imported poultry, Mexican consumers are clamoring for U.S. poultry meat and eggs.
The Mexican egg industry was devastated by the outbreak last summer, and government officials changed regulations allowing more U.S. eggs and egg products to enter the country. Sales of U.S. eggs soared 626 percent, to 6,151 metric tons in 2012 from a year earlier. The increased pace is continuing this year with sales of chicken leg quarters up 7 percent in January and February over the same period in 2012 and egg volumes 57 percent ahead of 2012 during the two-month period.
Despite those rising numbers, a black cloud hangs over the trade relationships. Last year, a department in the Mexican federal government formally decided U.S. producers were dumping chicken at below-market prices, setting anti-dumping duties ranging from 64 percent to 129.5 percent.
Citing inflation and food security concerns, a different agency of the Mexican federal government has blocked the duties from being collected, at least now, but U.S. producers don't like having the duties on the books.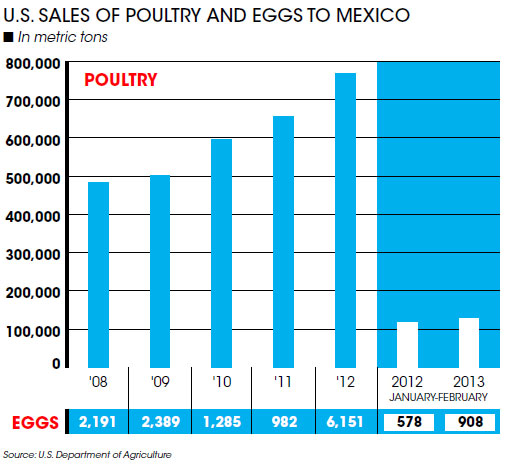 The industry, working through the USA Poultry and Egg Export Council, filed a complaint with the North American Free Trade Agreement board, saying the decision is faulty. NAFTA officials are having trouble finding enough panelists qualified to deal with such a complicated issue, but a hearing is expected in late summer, council spokesman Toby Moore said.
The case was originally filed by Mexico's largest poultry producers, including industry giant Bochoco.
U.S. industry representatives say Mexican consumers prefer leg quarters, a part of the chicken U.S. consumers don't favor. "U.S. consumers want skinless, boneless chicken, and the cost per pound is much higher than for leg quarters sold here," Moore said. "They just treated it as if it were all equal."
Several years ago, China imposed anti-dumping and counterveiling duties on U.S. poultry, using the same single valuation argument. The Obama administration has challenged that action at the World Trade Organization.
The duties imposed by China slashed demand for U.S. poultry. The Asian giant accounted for 19.9 percent of all U.S. poultry exports in 2009 and 6.5 percent in 2012. Over the same time period, Mexico went from holding a 10.4 percent share of the U.S. poultry export market to becoming the largest customer for U.S. producers, accounting for 15.4 percent of all U.S. poultry exports in 2012, according to the Poultry and Egg Export Council. 
Contact Stephanie Nall at stephnalljoc@gmail.com.