Ocean carriers this spring entered negotiations with their customers in the eastbound trans-Pacific trade, determined to secure increases from the low rates they charged to beneficial cargo owners in 2012 service contracts. Their gains turned out to be minimal.
That means carriers in 2013, like they did last year, will attempt to make up for their losses with BCOs by charging higher rates to non-vessel-operating common carriers, smaller companies that consolidate cargo.
"It's still the same dance from year to year," said Steve Aldridge, president of Hong Kong-based third-party logistics provider Encompass Global Logistics.
Last year, carriers dug themselves into a hole in the eastbound Pacific by signing BCO contracts for hundreds of thousands of containers at what they admitted were non-compensatory rates. As the year progressed, carriers announced, and in many cases implemented, a series of general rate increases and surcharges. Because many BCOs have "no-GRI" clauses in their contracts, the rate hikes fell mostly on NVOs and smaller BCOs.
The strategy worked to a degree, as Drewry Shipping Consultants' benchmark rate for spot shipments by NVOs from Hong Kong to Los Angeles peaked at $2,880 per 40-foot container in the week of Aug. 6.
NVOs and smaller shippers last year ended up paying as much as $1,000 per FEU more than BCOs did, a gap the trade community generally recognized as being a bad business model for carriers and unsustainable. Carriers also know their ability to hit NVOs with another series of rate hikes this year will be compromised by an anticipated 5 to 7 percent increase in capacity in the Pacific this summer and fall.
Although service contract negotiations are confidential, word inevitably leaks out as to general benchmark rates. Contract rates for the largest retailers and BCOs last year were about $1,400 to $1,600 per FEU to the West Coast. This year, carriers bumped up the rates a bit, to approximately $1,700 or $1,800 at most. Carrier executives, however, confidentially report that some shippers secured rates as low as $1,400 per FEU.
Medium-sized importers that last year had contract rates of $1,850 to $1,950 per FEU kept those rates this year, or even negotiated slight reductions, Aldridge said. Smaller shippers this year came in at the $1,950- to $2,000-per-FEU level that most carriers consider break-even.
The environment for all-water services from Asia to the East Coast is even more complex, and less favorable, for ocean carriers. Shipping lines simply can't make money on all-water services through the Panama Canal, given the canal's limitation on vessel size to slightly less than 5,000 20-foot-equivalent units, Maersk Line CEO Soren Skou told The Journal of Commerce's TPM Conference in March.
Maersk's solution this year is to replace some of its Panama Canal services with Asia-East Coast services through the Suez Canal, and to deploy vessels as large as 9,000 TEUs on the Suez route. The G6 carrier alliance also is expanding its presence on the Suez route, with three services, and other carriers are shifting a smaller amount of capacity there.
Although there will be fewer services through the Panama Canal this summer, and East Coast importers generally prefer the Panama route because transit times are shorter by at least a day or two compared to the Suez route, rates have deteriorated on the Panama route. Service contract rates have fallen to as low as $3,000 to $3,100 per FEU, with some importers getting slightly lower rates, Aldridge said.
The jury is out on how successful carriers such as Maersk and the G6 lines will be in filling the large vessels they are deploying via the Suez Canal to the East Coast. A Maersk spokeswoman said it's too early in the contracting process to tell, but the carrier anticipates that customers will support the Suez route.
Given that much larger vessels are deployed on the Suez routes to the East Coast — 8,000-TEU ships versus 4,800-TEU vessels through the Panama Canal — carrier slot costs through the Suez are about $850 per 20-foot container vs. $1,250 per TEU through the Panama Canal, a JOC analysis shows.
Transit times from South China to the East Coast, however, are longer through the Suez Canal than via the Panama route. Dave Arsenault, vice president of Hyundai Merchant Marine in Southern California, said carriers try to keep the difference to two days.
The G6 and other carriers also offer different options to customers, he said, such as by making New York-New Jersey the first call inbound on some services and a South Atlantic port such as Charleston or Savannah the first call inbound on others. "They can find an option that works for them," Arsenault said.
Some Suez services to the East Coast, however, contain multiple stops in the Middle East or the Mediterranean as carriers seek to maximize vessel utilization on the long voyage from China. As a result, a transit time difference of a week compared to the Panama route is possible for the first East Coast call.
For a just-in-time shipper of higher-value appliances such as Voxx International, a transit time differential of even two days is too much, so Voxx ships on the Panama Canal route, said Pat Moffett, vice president of global logistics.
Importers, then, may need to be convinced to use the longer Suez route, and lower rates offer a powerful form of persuasion. Dave Akers, managing director of the Toy Shippers Association, said he doesn't see shippers flocking to the Suez route unless there is some financial incentive to do so.
That doesn't seem like it will happen. Carriers say they're losing money on their Panama Canal rates, so lowering the Suez prices below the Panama rates to attract cargo makes no sense.
Carriers, however, are charging rather high rates on intermodal services through West Coast ports to inland destinations, but that doesn't necessarily mean they are making money on those services. Rather, it means the railroads are getting good intermodal rates on the intermodal portion of the move from the West Coast to the inland destinations.
With through rates from Asia to Chicago hitting $3,300 to $3,400 per FEU, importers will do better by transloading their cargo at West Coast ports from 40-foot marine containers to domestic 53-foot containers. The contents of three marine containers can be loaded into two 53-foot containers. "Transloading works," Aldridge said.
In fact, logistics providers such as Pacer Distribution report continued growth in transloading on the West Coast as smaller and medium-sized shippers begin to join the large retailers who have been the mainstay of the transloading trade.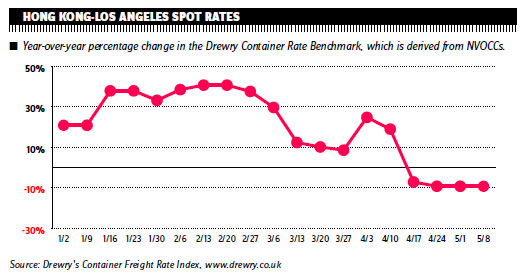 NVOs such as Encompass are adjusting to the environment in the trans-Pacific by committing more of their cargo volume to service contracts and holding less of their volume back to play in the spot market.
Encompass's strategy this year is to shrink its carrier base and make higher-volume commitments to those carriers with which it is contracting, Aldridge said. There is still a gap between what the NVOs are paying and the cheaper rates being paid by BCOs, but the gap is narrowing, he said.
Another anomaly in the eastbound trans-Pacific this year is found in the rates charged on services to Pacific Northwest ports. Normally, carriers charge higher rates to Seattle and Tacoma than they do to Los Angeles-Long Beach because shipping lines deploy smaller vessels in the PNW, and carriers have less trouble filling the ships.
This year, though, shippers report rates to Seattle-Tacoma are $100 per FEU lower than to Los Angeles-Long Beach on shipments transloaded in the Pacific Northwest. Arsenault said this development demonstrates that carriers are operating smarter.
Unlike in Southern California, where there is always a surplus of empty containers because of the high volume of transloading, there is a perpetual shortage of empties in the PNW, where a higher percentage of the containers move intact inbound.
The region, however, is attracting more exports, especially from agricultural shippers. Importers in the Pacific Northwest willing to transload their shipments to domestic equipment, therefore freeing up the marine containers for exporters, are finding the port-to-port rates to be favorable, Arsenault said.
Carriers not only get backhaul cargo from the Pacific Northwest to Asia, but they also don't have to price a repositioning move of an empty container from the Midwest to Seattle-Tacoma into the import rate as they do for containerized imports that move inland intact, he said.
In short, carriers this year are showing an increasing tendency to look at their total system requirements and to concentrate on those routes offering opportunities for match-backs. They're charging very high rates, or simply walking away from business that loses money. For example, one carrier executive said, "I don't even want to quote a rate on Panama."
What strategies carriers will deploy in the months ahead as cargo volumes build for the summer-fall peak-shipping season will be determined largely by how much capacity they deploy in the Pacific, and how quickly they enter the bigger ships being cascaded there from the Asia-Europe trade.
For now, the environment isn't positive for carriers. This is especially evident in the Asia-Europe trade, where service contracts are of shorter duration and rates are more volatile than in the trans-Pacific. According to the Shanghai Containerized Freight Index, spot rates on the Asia-North Europe route declined for the seventh consecutive week in the week ending May 3, dropping 2.7 percent, or $22 per 20-foot container, from the previous week, to $796 per TEU. Rates declined
44 percent, or $627 per TEU, during the seven-week slump.
Drewry reported trans-Pacific spot rates from Asia to the U.S. West Coast in late April were $2,104 per 40-foot container, down 13 percent from the same time last year.
The spot rate to the U.S. East Coast for the week ending May 3 slid 1.2 percent from the week before to $3,213, according to the SCFI.
BCOs and even NVOs wrapping up negotiations in this environment of declining spot rates have leverage.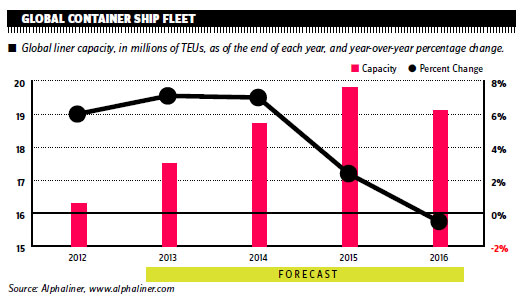 Carriers believe this will be the last year for a while in which they will negotiate service contracts in the major east-west trade when new capacity significantly exceeds growth in container volume. Total capacity in the global container fleet this year will increase almost 10 percent, while growth in the global container trade may be 5 to 6 percent. Much of the new capacity will be ships of 10,000 to 18,000 TEUs, and the Asia-Europe and Asia-North America trades are the logical routes in which to deploy those big ships.
Beginning next year, vessel deliveries will drop considerably. If Europe emerges from its deep recession by then, and the U.S. economy continues to experience slow, steady growth, equilibrium could be reached in 2014-15.  
Contact Bill Mongelluzzo at bmongelluzzo@joc.com and follow him at twitter.com/billmongelluzzo.