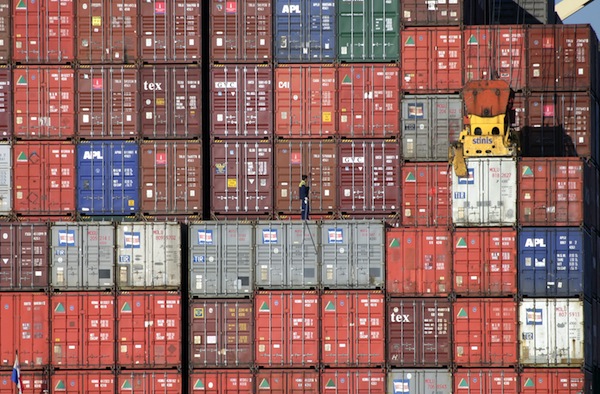 Global economic prospects fell below ocean container lines' expectations in March, according to the latest monthly report from Container Trade Statistics.
CTS said the lower volumes signal the economic recovery, particularly in the eurozone, remains bumpy and continues to be afflicted by complicated policymaking targeting national deficit reduction.
The latest CTS aggregated volume data survey shows that global containerized exports in March fell on a year-over-year comparison by 1.67 percent, down to 10,945,700 20-foot-equivalent units. CTS said the decline "was not completely in line with the ocean carriers' seasonal expectations."
CTS aggregates container volumes from TEU data supplied by many of the world's major container shipping lines. CTS uses the TEU data provided to estimate total trade volumes for 447 global trades.
Total exports from Asia (including intra-Asia) to all overseas markets monitored by CTS dropped 2.71 percent in March year-over-year to 5,989,900 TEUs. "Much of the dip, particularly to Europe, can be attributed to the unusually prolonged cold weather conditions which kept buyer spending at lower levels, according to official retail figures for the month," CTS said.
At the same time, the pace of growth momentum in Asian (including intra-Asia) containerized imports was undermined again in March, with purchasing activity tailing off compared to the previous year. Total imports to Asia (including intra-Asia) from all overseas markets fell 7.21 percent to 4,102,700 TEUs.
Total exports from North America (including intra-America), declined 1.85 percent to 1,326,800 TEUs from March 2012; they were up 7.89 percent from February.
The only bright spot in the latest CTS data is that total imports into North America (including intra-America), rose 8.58 percent to 1,907,800 TEUs compared to March last year, and were also up 25.68 percent from February, reflecting a strengthening in demand.