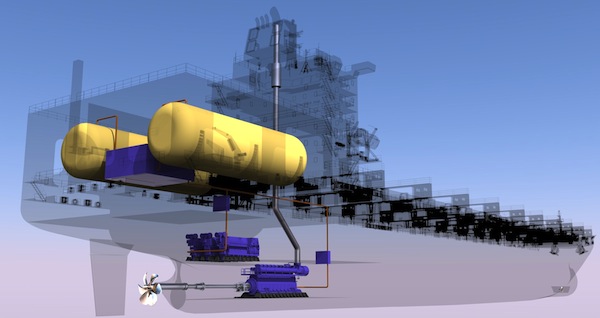 Liquefied natural gas may soon be the fuel of choice for shipping lines that operate largely in environmentally sensitive sulfur emissions control zones, but replacing traditional bunker fuel with LNG could make economic sense, as well.
TOTE Inc. is the poster child proponent of LNG-powered vessels in North America. The domestic shipping company is converting two vessels to LNG for use in the trade between Tacoma and Alaska.
TOTE has also placed orders at the NAASCO shipyard in San Diego for two new LNG-powered container ships, with an option to build three more. The vessels, with a capacity of 3,100 20-foot container units, will be used in the trade between Florida and Puerto Rico.
Environmental requirements are a main reason why TOTE decided to go with LNG, said Ben Christian, project manager for LNG. The North American Emissions Control Area that took effect last year under the MARPOL convention requires that vessels operating within 200 miles of the coast line must burn fuel with a sulfur content of no more than 1 percent. That restriction drops to 0.10 percent on Jan. 1, 2015.
Vessels operating in long trade lanes such as Asia to the U.S. meet the North America ECA requirement by switching to low-sulfur fuel within 200 miles of the coast. The vessels burn lower-cost bunker fuel until they reach the 200-mile zone.
Vessels operating in TOTE's domestic services "are in the ECA the whole time to Alaska, and most of the time to Puerto Rico," Christian told the International Association of Ports and Harbor's World Ports Congress Wednesday in Los Angeles.
LNG meets current and future ECA requirements for low-sulfur fuel, and it significantly reduces other health risks and carbon emissions, as well. Nitrogen oxide emissions from TOTE LNG-powered vessels will be slashed 91 percent, with carbon emissions reduced 71 percent. Sulfur and diesel particulate emissions will virtually be eliminated, dropping by 98 to 99 percent. "It was the cleanest of our options," Christian said.
The domestic trades are ideal LNG routes because the same vessels will serve those trade lanes for many years. Therefore, an upfront investment in LNG fueling infrastructure does not entail as much risk as it would, say, in the trans-Pacific trades, where vessel deployments change constantly.
Given the rapid development of natural gas reserves, especially from the shale plays in the U.S., the cost of LNG has come way down. The price of LNG today is about half the cost of bunker and distillate fuel, said Dana Lowell, senior consultant at M.J. Bradley and Associates.
Although LNG causes severe burns when it comes in contact with skin, and is highly flammable, LNG-powered vessels over 50 years have had an almost unblemished record, said Andrew Clifton, general manager and COO of the Society of International Gas Tanker and Terminal Operators. Total spillage over that period has been 40 cubic meters, which equates to about one tanker truck of LNG.
Industry experts said LNG-powered vessels are not suited for long international trade routes, but could become quite common on domestic routes or in shorter international routes such as the North Sea in Europe. Erik Neandross, principal in Gladstein, Neandross & Associates, said LNG-powered vessels are expected to increase "exponentially" by 2020 to more than 1,000 vessels.
The IAPH has established a working group to recommend development of international regulations for ports that handle and fuel LNG vessels. The working group will also promote increased awareness of the advantages of LNG, said Tessa Major, senior technical manager at the Port of Antwerp. "LNG is a proven technology. It is already in use," she said.
Contact Bill Mongelluzzo at bmongelluzzo@joc.com and follow him at twitter.com/billmongelluzzo.