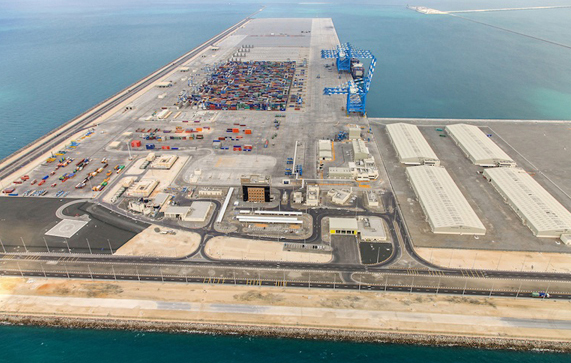 Abu Dhabi's new Khalifa super port could eventually rival DP World's neighboring Jebel Ali for Middle East container shipping hub status.
In December, the first phase of the United Arab Emirates' new port was opened offering state-of-the-art container-handling facilities, 2.5 million TEUs of capacity and the ability to serve the world's largest ships.
With only six cranes currently in operation, Khalifa is not ready to handle a major container carrier's entire Middle East volumes. But its modular design is geared toward rapid expansion of up to 15 million TEUs, with capacity additions only limited by the time it takes to receive and install superstructure such as cranes.
This means it could rapidly be scaled up to offer carriers dedicated transshipment services, although Khalifa currently lacks the free trade value-added options available at neighboring Jebel Ali, a short drive up the road on the way from Abu Dhabi to Dubai.
Read more about Middle Eastern trade and logistics
Omar Shamsie, chief executive of Maersk Line's West and Central Asia region, admits Khalifa's layout is impressive and believes it could become a viable option for gulf transshipment operations in the future.
"When Port Khalifa has expended and constructed Phases 2 and 3, it could potentially become the regional hub, although one also needs to take into account terminal developments in Kuwait, Qatar, etc.," he added.
For its part, DP World's Jebel Ali hub is also expanding. Current capacity of 14 million TEUs will rise by 1 million TEUs this year, and the opening of Terminal 3 will take total capacity to 19 million TEUs in 2014. A spokesperson for DP World downplayed the threat posed by Khalifa, pointing out that shipping lines' port decisions were influenced by numerous factors, including cargo origin and destination and capacity to receive the world's largest ships of more than 15,000 TEUs.
"The new facility is a welcome addition to the marine industry infrastructure in the UAE — efficient infrastructure supports and drives economic growth, which benefits everyone," she said. "Lines look for ports that can handle these giants efficiently so they, in turn, can realize economies of scale. Jebel Ali handles these giants already today, and, with the expansions, will be the only port in the region capable of handling 10 of the 18,000-TEU mega vessels simultaneously."
Speaking before his appointment as chief executive of Abu Dhabi Airports Co. in late March, Tony Douglas, who delivered the opening of the $7 billion Khalifa port on time and on budget in his role as chief executive of Abu Dhabi Ports Co., insisted there was no active plan to persuade liner customers to transfer hub and transshipment activities from Jebel Ali.
However, although emphasizing that the port's success was not dependent on such a deal, he said that if a major line offered a lucrative arrangement, Khalifa's long-term strategy could be modified. "We'll get some transshipment traffic by default as the port grows, but if a stellar deal comes along, and it makes sense and is consistent with our growth plans, then we'd look at it," he said.
"But we're not trying to seduce lines, and no lines will say we've opened talks with them, or that we've offered them the opportunity to operate their own terminal at Khalifa. We haven't, and we wouldn't."
In the meantime, Khalifa is primarily being used as a gateway to Abu Dhabi and the United Arab Emirates, with particular emphasis on serving Kizad, the huge new industrial zone adjacent to the port.
Last year, Mina Zayed handled 767,000 TEUs, a minor increase on a year earlier. Now traffic has been transferred to Khalifa; Douglas said some 1 million TEUs would be handled this year. "We filled up straight away so there was obviously natural leakage from Zayed as there wasn't the space," he said. "Abu Dhabi's industry is growing fast, and they want to use Khalifa."
Contact Mike King at mikeking121@gmail.com.