Sustained nationwide growth in the construction and absorption of warehouse space indicates that the recovery in the industrial real estate market is here to stay.
In fact, the boom can no longer be described as the industry recovering from the 2008-09 economic recession. Rather, declining vacancy rates and steady expansion of distribution warehouses and e-commerce fulfillment space are the new normal, said Craig Meyer, president of the logistics and industrial services group at Jones Lang LaSalle.
In a conference call May 1 with The Journal of Commerce to discuss the release of first quarter 2013 industrial real estate numbers for key U.S. markets, Jones Lang LaSalle indicated that activity is broad-based.
Growth is led by the premier hubs such as Southern California, northern New Jersey and Chicago, where the Class-A big-box distribution facilities and e-commerce fulfillment centers are king. However, growth has also filtered down to secondary markets such as Phoenix, Las Vegas and eastern Pennsylvania, and it includes Class B properties and smaller facilities of less than 400,000 square feet.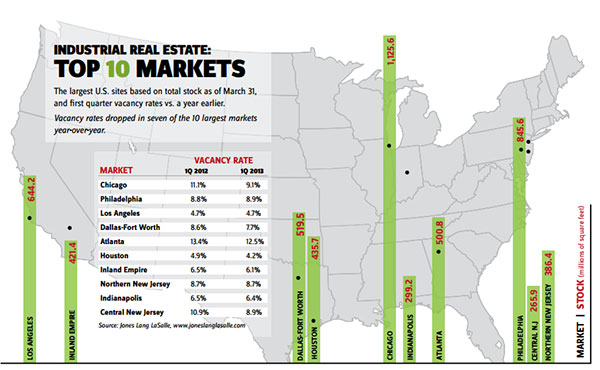 "We are detecting macro-scale industrial real estate on a long, continued growth pattern," Meyer said.
The numbers tell a story of growing prosperity in the industry and in the U.S. economy. The industrial real estate vacancy rate nationally at the end of the first quarter of 2013 was 8.6 percent, which is down 10 basis points from the previous quarter. Vacancies had exceeded 12 percent during the depths of the recession.
About 37 million square feet of industrial real estate space was absorbed nationally during the first quarter of 2013, a 41 percent increase from the fourth quarter of 2012. Over the last six months, 95 million square feet of warehouse and distribution space was absorbed by retailers and cargo interests of all sizes.
Retailers expect the growth to continue. Meyer noted that 62 million square feet of industrial real estate space is under construction, which is a five-year high. Consumers are spending, and national as well as regional retailers are responding by building large, modern warehouses or re-absorbing space in smaller warehouses and Class B properties.
While there is some speculative building under way, much of the new construction is build-to-suit for specific retailers and importers. This is true even in Dallas-Fort Worth, which in the past was known to build heavily on spec. Two-thirds of the deliveries nationwide are pre-committed, Meyer said.
Traditional import, transload and cross-dock activity is driving much of the expansion in the distribution sector. In the major seaport and inland markets, modern facilities with 36 feet of clearance or more, covering 400,000 square feet to more than 1 million square feet, continue to be in vogue.
Growth is also occurring rapidly in the e-commerce fulfillment sector, which includes pure e-commerce retailers such as Amazon.com as well as traditional retailers expanding into e-commerce and multi-channel retailing.
Meyer said the e-commerce facilities at present are large and labor intensive, with two or three work shifts. They are located close to major consuming markets, usually offering one day, but certainly no more than a two-day delivery of merchandise.
Click to view the 2013 Warehouse Directory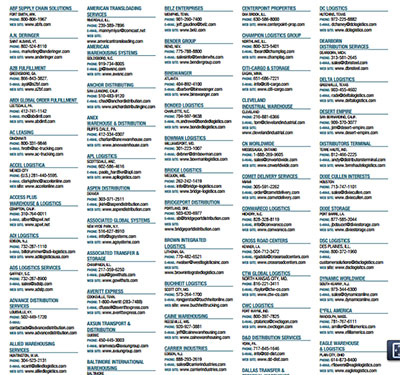 However, Meyer anticipates that the e-commerce sector will soon expand into a second phase marked by smaller facilities located in the heart of cities where consumers can pick up merchandise they ordered online, or drop off merchandise for returns. These in-city centers are already popular in Europe.
Jones Lang LaSalle considers the burst of activity in secondary markets to be a strong sign that growth is broad-based and will continue for sometime. Daniel Fenton, research manager for industrial, said the major markets led the market out of recession, but now there is a "trickle down" to secondary markets.
For example, the Inland Empire 40 to 60 miles east of Los Angeles is the primary region serving the metropolitan area, but Phoenix and Las Vegas are also serving the Southern California market. In some cases, retailers are moving to those locations in search of cheaper land and labor while still being within a day's delivery time of Los Angeles, he noted.
According to Jones Lang LaSalle, the top five locations in the first quarter in terms of square feet of net absorption were the Inland Empire, 4.2 million; Chicago, 3 million; Atlanta, 2.3 million; Dallas-Fort Worth, 2.1 million; and Houston, 1 million.
Space continues to be tight in Los Angeles County, where the vacancy rate is 4.7 percent. The vacancy rate is 6.1 percent in the Inland Empire, 7.7 percent in Dallas, 9 percent in Chicago and 12.5 percent in Atlanta.
Rents are going up almost everywhere. Meyer said any company looking to lease warehouse space should expect rates to be 5 to 10 percent higher than last year. Even with the brisk building activity, rents will continue to increase. "By no means are we over-built," he said.
However, despite rapid growth in both traditional warehousing and e-commerce activities, memories of the recession are still fresh, so Meyer does not expect the industry to go on a crazy building spree. "This is a disciplined market," Meyer said.
Contact Bill Mongelluzzo at bmongelluzzo@joc.com and follow him at twitter.com/billmongelluzzo.