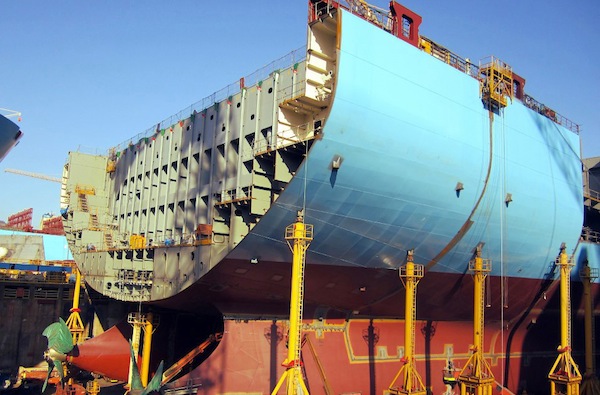 LONDON — Maersk Line vowed the imminent deployment of the world's largest container ships in the Asia-Europe trade would have a neutral impact on capacity as it warned of the risk of an all-out rate war on the westbound leg of the biggest liner route.
Maersk will offset the increased capacity of the 18,000-TEUs Triple-E vessels scheduled to arrive on the trade from late June by downsizing its large fleet of chartered ships when they come off hire, said Soren Skou, the Danish carrier's CEO.
Skou also held out the prospect of renting out space on the ships to rival carriers under vessel sharing agreements.
Chartered ships account for around 400 of Maersk's fleet of 675 vessels and approximately 50 percent of total capacity. "The Triple-Es provide an opportunity to get rid of ships we charter … we have lots of room for maneuver," Skou said in an interview at Informa's Global Liner Shipping conference.
"We will deploy these Triple-Es in a way that we will not have to grow our market share to fill them," he told delegates to the conference in London.
"It's a really stupid strategy to deploy more capacity," Skou said, adding that Maersk has reduced its Asia-Europe capacity by 14 percent over the past year.
When asked if Maersk would consider vessel sharing agreements for the Triple-Es, Skou said, "It's a tool we have in the tool box."
Nothing has been decided, but "we have nothing principled against VSAs," Skou said.
Maersk has signed VSAs on most of its trades except the Asia-North Europe route.
The odds of Maersk signing VSAs for big new container ships, the Triple-Es, shortened last month after the head of the its Asia liner operations, Brian Noe Kristensen, said the carrier does not expect to fill its ships at the start of their deployment. 
Skou denied reports, attributed to ship brokers, that Maersk had sought to cancel eight of the 20 Triple-Es it ordered at $180 million each in 2011 or had attempted to convert the contracts to offshore oil vessels.
The Maersk CEO said there is a risk of a full-fledged rate war in the Asia-Europe trade unless the industry comes to its senses and stops slashing prices for westbound shipments.
Maersk delayed from April 15 to May 1 a general rate increase of $500 per 20-foot container for shipments from Asia to Europe amid weakening market demand that pushed spot rates to a 14-month low of $940 per TEU. Rival carriers also canceled or postponed rate hikes to mid-May.
Skou declined to comment on whether the delayed May 1 rate increase would be successful.
Contact Bruce Barnard at brucebarnard47@hotmail.com.