When Ng Yat Chung took over as group president and CEO of Neptune Orient Lines at the beginning of 2012, the Singapore-based carrier was coming off a year in which it lost $478 million with little relief in sight.
Ng faced the daunting task of reforming the operating model of the company's prime asset, container line APL, which had always differentiated itself by offering high-quality and high-priced premium services targeted at U.S.-based beneficial cargo owners. The old model, which served the company well for years, was no longer working, especially on the trans-Pacific, which accounts for 42 percent of NOL's revenue. In the sputtering recovery from the Great Recession, importers were — and still are — looking to cut every possible cost out of their supply chains. Premium service was one of the areas they looked to first.
With bunker fuel prices rising sharply, Ng was starting behind the eight ball, because APL had been slow to order the bigger, fuel-efficient post-Panamax container ships that could help it cut fuel costs. The world's seventh-largest container line by capacity could only begin replacing its aging fleet last year, when it took delivery of the first of 34 new ships it ordered as part of a $4 billion fleet-replacement program.
But that kept it saddled with older ships among its 132-ship fleet. To save fuel and cost, it slow-steamed its ships, reorganized its services to make up for the time loss and found other ways to gain efficiencies. But APL also had to resolve another quandary: how to hang onto its long-term retail import customers who were used to premium service, while cutting costs enough to stay competitive in an environment where carriers couldn't nail down rate increases.
"Rates have been flat to declining over the last five to six years," said Gene Seroka, president of APL in the Americas. "Carriers such as ourselves have had difficulty with our operating income during that time, so all through this we are trying to find our best way to position ourselves as a leader in the cost area of this business."
NOL's cost-savings program and the delivery of the first new fuel-efficient ships weren't enough to turn its bottom line black last year, when it posted a net loss of $419 million. Still, most of that loss resulted from the first quarter's $255 million in red ink and $108 million in one-time restructuring charges, including from scrapping some older ships. The 2012 loss also represented a 12 percent improvement over $2011's $478 million bloodbath.
Now, the Singapore-based carrier appears poised for a turnaround as it takes delivery of more new ships and reorganizes its global network to take advantage of the vessels' lower slot costs.
APL's 34-ship order includes two capable of carrying 8,100 20-foot-equivalent units, 12 of 9,000 TEUs, 10 of 10,000 TEUs and 10 of 14,000 TEUs. The 10 new 10,000-TEU ships were delivered last year. They replaced 30 older chartered ships that APL returned to their owners. That cut the carrier's total fleet capacity by 8 percent and enabled it to save 10 percent on its total fuel consumption. 
This year, APL is scheduled to take delivery of six 14,000-TEU ships, seven 9,200-TEU vessels and the two 8,100-TEU ships. The remaining four 14,000-TEU and five 9,200-TEU ships are due for delivery next year. All these new ships will replace 27 less fuel-efficient ships with charters expiring this year and next.
The carrier in March took delivery of the APL Temasek, the first of the 14,000-TEU series and named after NOL's majority owner, the Singapore government's sovereign wealth fund. The ship's specially designed bow and broader hull form improve operating efficiency at various speeds, especially for slow-steaming. NOL estimates the design will help to improve fuel efficiency 20 to 30 percent per TEU for a speed range of 15 to 18 knots.
"The investment in newbuild vessels was very important to us," Seroka said. "The improved fuel efficiencies are a key driver for us. With bunker fuel floating in the area of $630 per ton, it represents a high percentage of the variable cost per vessel voyage."
As a member of the G6 Alliance between the Grand Alliance and the New World Alliance, APL will benefit from the group's decision last month to move more of its cargo from Asia to the U.S. East Coast via the Suez Canal, where the carriers can use their big fuel-efficient post-Panamax ships, rather than through the Panama Canal, where they can't make money on the smaller, fuel-burning Panamax ships (story, page 10).
Fuel savings aren't the only area of cost reduction. APL is trying to wring cost out of its service network in the U.S. by aligning import shipments with areas where it can pick up exports. That's because APL, like other carriers, brings imports into major metropolitan consumption areas and picks up exports out of more remote agricultural and manufacturing locations. "It's about avoiding repositioning costs, which have become extremely expensive," Seroka said. "If we can drive the inbound box to where the export business is, it speeds velocity and avoids expensive repositioning."
APL is trying to do this by asking its long-term customers if it can deliver their imports through alternate points. "We look at a customer's entire book of business and then say, 'If it's OK with you, we would prefer City X over City Y,' " said Ken O'Brien, senior vice president of APL's trans-Pacific trade. "Because of the relations we've built with our customers over 160 years, most of our customers know that a win-win will get them a better deal."
APL also is eliminating unprofitable services. For example, it pulled the plug on its much-ballyhooed 53-foot ocean container service, which it introduced in 2007 in its South China-to-Los Angeles service. "We couldn't make the economics work," Seroka said. "The import and inter-U.S. part was coming along, but there was no market for the box on the backhaul to Asia."
APL, however, isn't dropping, at least not entirely, its premium model. "What we are trying to do is match service and price," O'Brien said. "In the pricing model we had, we had a very high service model, but we also had a higher cost model. As we realign our cost basis, it allows us to realign some of our prices, which allows us to attract cargo that historically we were not able to get at in a profitable way."
APL still can offer expedited handling and delivery, because it operates its own terminals in Los Angeles, Oakland and Seattle and its own intermodal services. "We have a dedicated rail network of focus trains to some of the key inland hubs," O'Brien said. "That allows us to do block stowage on our ships, which allows us to figure out which boxes come off first and go to a train car first, or can get out the gate first. So we do still have the ability to offer premium product." 
APL also continues its OceanGuaranteed service, a time-definite delivery service it operates with Con-way Freight, which picks up containers in Los Angeles for over-the-road delivery to customers who pay premium freight charges.
But APL won't be able to claw its way back to profitability just by cutting costs. It has to boost revenue through increases in freight rates, increases in volume, or, in a best-case scenario, both. "It should be a decent year of volume growth," O'Brien said. "We have seen a significant rise in exports, driven by demand for agricultural products in China, and we've had a strong first quarter on the export leg."
Import demand is about where expected, with a strong run-up to the Chinese New Year and a slackening in its wake before it picks up again. But freight rates are the big question mark. APL is in the middle of contract negotiations with customers for the 2013-14 shipping season starting May 1. "It's too soon to tell, but we are optimistic we will get some increases in the contracts," O'Brien said.
But any increases in freight rates under spot or contract rates probably won't happen in the first quarter. Jefferies shipping analyst Johnson Leung expects NOL to turn a profit this year, but not until the second quarter when higher freight rates kick in with the April 1 general rate increase, which got off to as good start with a 15 percent jump in the Drewry benchmark for spot prices.
"After a first quarter of operating losses, we think it could generate $33 million in 2Q13 and a $149 million profit for the full year at the operating level," Leung said in a research note.
But he added a cautionary note: "Market optimism on a turnaround in the trans-Pacific, which is NOL's bread and butter, is high, but we think there is a fair chance of disappointment as trans-Pacific volume has been tracking below the broader economy in recent years and competition among the carriers has been fierce."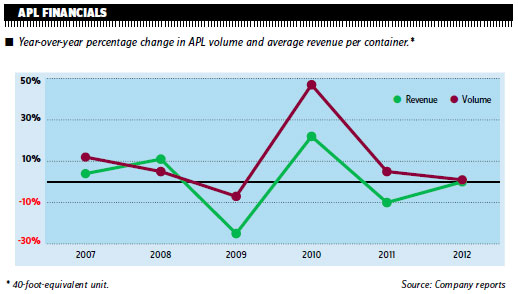 Contact Peter Leach at pleach@joc.com and follow him at twitter.com/petertleach.