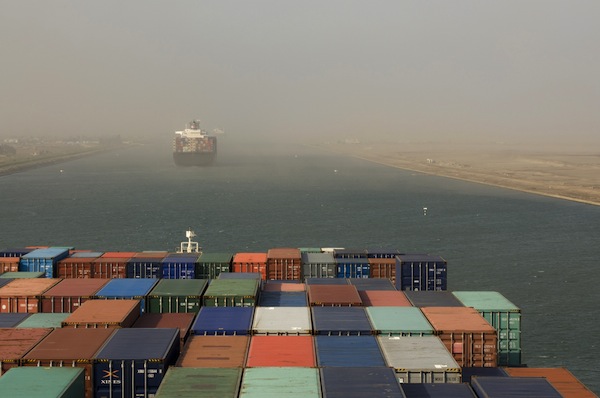 In one of the more renowned Aesop Fables, the tortoise's slow and steady pace leads it to victory in a race against the frenetic hare. In the world of maritime commerce, a similar race is playing out between the Panama and Suez canals.
In the maritime version, the tortoises, or the fuel-efficient ships transiting the slower Suez Canal route, are winning the race for cargo because they can carry a lot more containers on their broad backs at a lower cost.
In the long run, however, the hares going through the Panama Canal will catch up because they'll get big enough to carry more cargo and take less time to reach East Coast ports from Asia.
In the meantime, while ocean carriers race to take advantage of the economies of scale afforded by mega-ships capable of carrying 8,000 20-foot containers or more, U.S. importers and exporters aren't yet flocking to the tortoises carriers are starting to run through the Suez Canal. Instead, they're waiting to see the rates and transit times liner companies offer for their new Suez services from Asia to the U.S. East Coast. Only then will many beneficial cargo owners decide if it's worth the extra transit time to shift away from Panama Canal services.
"Am I hearing our members are going to use the new routes through Suez? No," said Casey Chroust, executive vice president of retail operations for the Retail Industry Leaders Association. "They are going to be watching the pricing of the Panama Canal route compared to Suez and other routes. If the pricing can stay competitive, they are going to try to take the time advantages through the Panama Canal."
Maersk Line and the six carrier members of the G6 Alliance are introducing their new Suez services this spring to take advantage of the lower slot costs they can realize on the big post-Panamax ships cascading onto the route from the Asia-Europe trade, where overcapacity is eroding general rate increases.
The average round-trip cost of a slot on a 4,800-TEU ship steaming from Hong Kong to New York-New Jersey via the Panama Canal is approximately $1,250 per TEU, 47 percent higher than the $850 cost of a slot on an 8,000-TEU ship between the same two points via the Suez Canal, according to Chaim Sacham, a former senior executive with Zim Integrated Shipping Services who is now an independent consultant. Actual slot costs vary from ship to ship and carrier to carrier, he noted.
Bunker fuel accounts for about half of carriers' slot costs, so the fuel efficiency of the newer post-Panamax ships that can use the Suez route accounts for this savings.
Importers who maintain just-in-time inventories and can't afford to wait even an extra day or two for containers coming through Suez aren't going to switch. "I'm only going through the Panama Canal because the transit time is critical and I'm willing to pay more for it," said Pat Moffett, vice president of international logistics at Voxx International, which imports components from China through Jacksonville, Fla., to make speaker headrests for automobiles at its Orlando plant.
Other shippers are waiting to see how the carriers price their new Suez services. One large shipper who requested anonymity said he would continue to import finished products from suppliers in Southeast Asia through Los Angeles, but plans to look at the new Suez services for exports of raw materials from East Coast ports to those suppliers. The shipper currently ships those exports through the Panama Canal.
"Our exports of raw materials to Southeast Asia will gain an advantage from the new Suez services, depending on the rates," he said. "We'll find out in about three weeks when all our tenders are in. If you are shipping to or from China, the transit differential is going to be neutral or negative, but for Thailand or Malaysia, I think it's a gain."
Depending on where the cargo originates in Asia, the ocean voyage may be about the same distance on the two routes. The route from Hong Kong to New York via the Suez Canal, for example, is 11,589 nautical miles, only 383 nautical miles longer than the route via the Panama Canal, according to one major carrier executive. He said it would take a container ship slow-steaming at an average rate of 16 knots only 24 hours longer to travel that route via Suez than via Panama.
But that would be nonstop.
"For some carriers, but not for all, transit times through Suez can take 10 to 14 days longer," said an East Coast port executive who asked not to be identified. "Depending on the carrier, some of the Suez services can really jack up the days on the water. Everybody is trying to call more ports with fewer ships, so there's slower transit time."
Canal tolls, which carriers usually pass along to shippers in the form of surcharges, are larger at the Suez Canal. A fully loaded 4,800-TEU container ship would be assessed a toll of about $450,000 at the Panama Canal, while it would cost as much as $480,000 in Suez Canal tolls, Sacham estimated. The Suez route has other, less-direct costs, such as the cost of war-risk insurance some shippers pay for cargo transiting the pirate-infested Gulf of Aden and the risk that political unrest in Egypt could impact canal operations.
Suez tolls will increase 2 to 5 percent on all vessel segments on May 1, the first hike since a 3 percent bump in March 2012. The Panama Canal Authority, which exempted container ships from the toll increase it imposed in two stages starting last October, is in discussions with all vessel segments about the structure of a new set of tolls it plans to introduce in 2015, after it opens to commercial traffic its new set of much-larger locks that will be able to accommodate container ships of up to 13,000 TEUs.
Despite the pending Suez Canal toll increase, carriers are switching more of their services to that route because "it's impossible to be profitable on service from Asia to the East Coast via the Panama Canal, simply impossible," Maersk Line CEO Soren Skou said in an interview at The Journal ofCommerce's TPM Conference in March.

Because they burn more fuel and have higher slot costs than the big new ships being delivered this year, Maersk and other carriers are likely to idle or scrap more of their Panamax and smaller ships. "We expect to accelerate the scrapping of smaller ships this year," Skou said.
This, in turn, could create a tighter supply of Panamax ships that can transit the Panama Canal and give the carriers more pricing power on that all-water route from Asia to East Coast ports.
Starting this month, Maersk is upgrading its TP-7 service of 10 vessels averaging 4,900 TEUs from North Asia to the U.S. East Coast via the Panama Canal to 12 vessels averaging approximately 8,000 TEUs. The new TP-7 pendulum route will replace Maersk's suspended AE9 Asia-Europe service with calls linking China, South Korea and Japan to the U.S. East Coast ports of Savannah, Charleston and Miami. The last of the Panamax vessels on the old TP-7 service passed through the Panama Canal in early April.
In May, the G6 Alliance that joins the members of the New World Alliance and the Grand Alliance will add an extra Suez service to the two it already operates from Asia to the U.S. East Coast, matching the three that travel via Panama. These new Suez services join long-established Suez services such as Mediterranean Shipping Co.'s Golden Gate service, which connects Shanghai and other ports in North China with New York-New Jersey, Baltimore, Norfolk and Charleston.
Until this month, 16 services connected the Far East and the U.S. East Coast through the Panama Canal, all of which used Panamax ships of 4,500 to 5,500 TEUs, the maximum size the Panama Canal can currently accommodate.
The Maersk and G6 changes mean there will be eight strings of vessels via Suez, ranging from 6,500 to 9,000 TEUs, Sacham said. Most of the new services will operate ships of 8,000 TEUs.
For the Panama Canal, the shift is a progression it anticipated. "Our whole proposal of expanding was because we knew this was eventually going to happen," said Jorge Quijano, administrator of the Panama Canal Authority. "What Maersk is doing is probably what I would do, too."
The canal authority, he said, had to expand the canal to accommodate the growth of the container sector, which generates half of its transit revenue. "We are betting on getting all of that back, or most of that back, by the time we are done with the expansion," Quijano said.
He expects the new locks to open to commercial traffic in mid-2015, with the project itself wrapping up that April. "We are adding a buffer of additional time because we are having to do some test transits of our own before we start going commercial," Quijano said. "If we can come on line earlier, we are definitely going to do it."
The completion of the locks can't come too soon for the authority, which gets more than half of its
$1.5 billion in annual toll revenue and more than a third of the ships by tonnage transiting every year from the container sector. The shift of cargo from Asia to the Suez route will cost the Panama Canal some business this year and next after the last two record years.
"It has had an impact on tonnage. We see less tonnage for the rest of the year, probably 3 million less than we expected, but it should still be above 2011, though not above 2012," Quijano said. The canal posted record transit tonnage in 2012, when it increased 10 percent year-over-year, and in 2011, when it was up 7 percent.
The loss of Maersk's TP-7 service may not be as severe as expected, because the Panama Canal stands to gain a new all-water service to and from Asia in June by another unnamed carrier group. "There will probably be no net loss because there is another group that is going to add a service in June," Quijano said. "One replaces the other to the U.S. East Coast.
Quijano is traveling to Asia this month to talk with Asian carriers about the structure of a toll regime the authority wants to introduce after the expansion is completed in 2015. He'll meet with container lines, car carriers, and dry and liquid bulk lines. "We don't have any number of how much it (the increase) is going to be, but we're working on how to deal with the post-Panamax services in future," he said.
The authority also has been holding meetings to discuss the new tolls with the International Chamber of Shipping and the World Shipping Council. "We will continue to do this all year, so we can come up with a final toll structure at the earliest in the first quarter of 2014 and at the latest the second quarter to be implemented after the locks are open," Quijano said.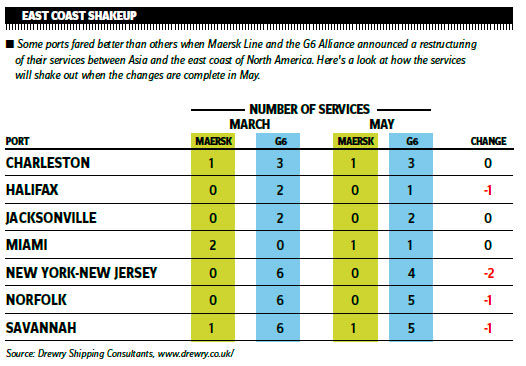 While in Asia, Quijano also will try to drum up more container business for the canal this year and next. "I'm also trying to see if we can get more interest in using the Panama Canal because of the void that is being created by Maersk," he said, while noting the world's largest ocean carrier remains one of the canal's biggest customers. "I hope they continue to increase in the future when we can give them the full service."  
Contact Peter Leach at ptleach@joc.com and follow him at twitter.com/petertleach.