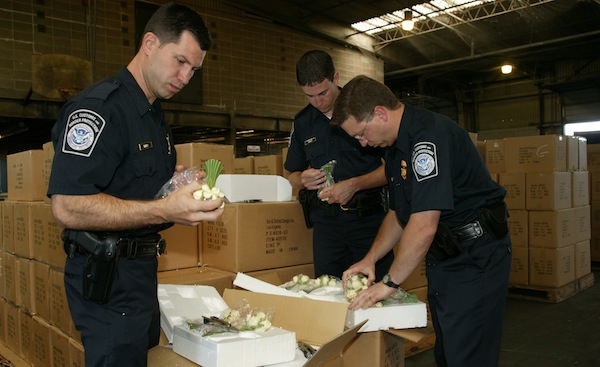 NEWPORT, R.I. — Customs and Border Protection hopes a stopgap spending bill will clear the way for the agency to shift enough funds to minimize the impact of furloughs and other budget cuts under the sequestration, a top Customs official said.
Customs "is still really in a good state" despite the sequestration, which reduced the agency's $11 billion annual budget by $700 million to $800 million, said Alan Gina, assistant commissioner of Customs' Office of International Trade.
The stopgap spending bill that Congress passed and President Obama signed to keep the government operating through September "has possibly given us some flexibility, and you note I chose the word 'possibly,' " Gina said.
He spoke by teleconference to the annual Newport, R.I., trade and transportation conference of the Coalition of New England Companies for Trade.
Gina emphasized that Customs officials still haven't determined exactly what the stopgap bill would mean for the agency, and that Customs needs approval to shift the money in a way that will avoid furloughs.
"There's still a lot of discussion that has to ensue … but I'm feeling very optimistic," he said.
Learn more about the impact of sequestration.
Gina said the agency expects by June to complete the launch of its Centers for Excellence and Expertise. The regionally based centers are designed to concentrate agency resources on specific industries, and provide a single point of contact.
The first centers to be launched were in New York for pharmaceuticals, health and chemicals, and Los Angeles for electronics, Detroit for automotive and aerospace, and Houston for petroleum and natural gas.
Others are set to open April 15 in Chicago for base metals, Buffalo for industrial and manufacturing materials, and Laredo, Texas, for machinery.
The remaining centers are scheduled to open in June in Miami for agricultural and prepared products, San Francisco for apparel, footwear and textiles, and Atlanta for consumer products and mass merchandising.
Gina said Customs also is moving ahead with a new strategy for "agile development" of the Automated Commercial Environment, the agency's long-delayed omnibus automation system.
Customs' new program emphasizes simpler ACE components that can be completed more nimbly and quickly than a marble-floored mansion. The revised product "may be just a moderate, cost-effective house," but will be completed and accomplish its purpose, Gina said.
He listed other Customs priorities as simplified entry, which he said has handled 69,000 entries by more than 800 importers, coordination of government agencies' border protection efforts, clarifying the role of customs brokers, development of the trusted-trader program, and more effective trade enforcement and revenue collection.
Contact Joseph Bonney at jbonney@joc.com and follow him at twitter.com/JosephBonney.