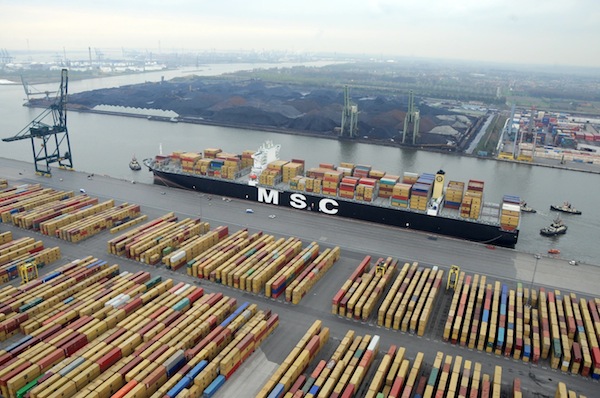 Mediterranean Shipping Co.'s sale of a 35 percent stake in its port operating arm Terminal Investments for just over $1.9 billion was good business for the Aponte family that owns the world's second-largest ocean carrier.
But it could turn out to be an even better deal for the purchaser, Global Infrastructure Partners, which is buying into a business with solid growth prospects thanks to its link with a carrier in pole position to exploit the anticipated rebound in global trade.
The deal also testifies to the renewed appeal of cargo terminals to private equity funds that moved into the sector a couple of decades ago when governments began to privatize ports, led by the U.K., which sold the country's biggest port operator ABP to a consortium led by Goldman Sachs.
Private investors' interest peaked when Deutsche Bank's investment arm paid a reported $2.7 billion for Maher Terminals, which was handling a relatively modest 1.5 million 20-foot-equivalent units a year at its New York terminal, and then waned when traffic started slow — and then decline for the first time ever in 2009 — in the wake of the 2008 global financial crisis.
Private investors are returning to the sector because handling containers on the quayside is a more profitable business these days than transporting them across oceans. Terminal Investments has stakes in 30 terminals handling around 17 million TEUs a year, of which MSC's equity share, based on its shareholdings in individual facilities, is 8.2 million 20-foot-equivalent units.  

Private equity's enthusiasm is a boon for terminal operators seeking to unload non-core assets as they consolidate their operations and focus on faster-growing emerging markets. DP World, for example, sold a 75 percent stake in its Australian terminals to Citi Infrastructure for $1.5 billion in 2011.
Global Infrastructure Partners already has inside knowledge of the industry through a portfolio that includes a joint controlling 27 percent interest in Australia's Port of Brisbane, 50 percent of Trade Logistics in Buenos Aires, and 100 percent of the U.K. east coast port of Yarmouth, which will remain separate from its Terminal Investments holding.
Private equity investors often are sleeping partners, allowing professional managers to run the business. Some are more hands-on and take a long-term approach, such as the institutional investors that have built Luxembourg-based Euroports into a leading $780 million-a-year bulk and breakbulk stevedore with 22 terminals in Europe and two in China handling around 61 million tons of cargo annually.
Despite the eye-catching deals, and bids, such as J.P. Morgan's $3.1 billion pitch for Virginia International Terminals, private equity is a relatively small player in the global terminal operating industry. The MSC transaction came just weeks after French carrier CMA CGM sold a 49 percent stake in its Terminal Link ports unit to China Merchants Holding, a fast-growing terminal operator, for around $540 million.
The CMA CGM sale was part of a deal with bankers that are restructuring the carrier's $4.5 billion of debt and followed the disposal of a 50 percent stake in its Malta Freeport transshipment hub to Turkey's Yildirim group for around $300 million in 2011. MSC isn't thought to need the funds from Global Infrastructure Partners for restructuring, but as a cash buffer to ride out a deep downturn in the notoriously cyclical container shipping market. 
This leaves A.P. Moller-Maersk as the only company with an ocean carrier, Maersk Line, and a global terminal business, APM Terminals. And while the Danish company slows spending by its shipping unit, the world's biggest, it is sanctioning mega investments by APM Terminals — including a ground-breaking $900 million acquisition of a 37.5 percent stake in Russia's Global Ports Investments in September. It's a no-brainer strategy: Maersk Line's $461 million profit in 2012 represented a return on capital invested of a paltry 2.4 percent, while APM Terminals achieved a return of 13.1 percent with its $723 million profit.
The MSC and CMA CGM terminal units are still essentially bolt-ons to their core ocean container operations. But APM Terminals is a genuine stand-alone business with non-Maersk Line containers accounting for 48 percent of its total volume in 2012 and growing. China's Cosco is also involved in container shipping and terminals, but it has a long way to go to match the Maersk model.
The MSC and CMA CGM deals represented a further dilution of carriers' presence in the terminal business, though they and their new partners can be expected to boost volumes in the coming years.
The real action centers on the fight for market share between the big international players, Hong Kong's Hutchison Port Holdings, the industry leader; PSA International of Singapore; APM Terminals; Dubai-based DP World; and the would-be big players such as China Merchant Holdings, which spent more than $760 million on terminal assets in the first quarter of the year as it moves beyond its domestic market.
APM Terminals is expected to make most of the running as it chases its public goal of becoming "the leading port and inland operator in the world by 2016," when it also targeting a $1 billion profit.
It's game on.
Contact Bruce Barnard at brucebarnard47@hotmail.com.