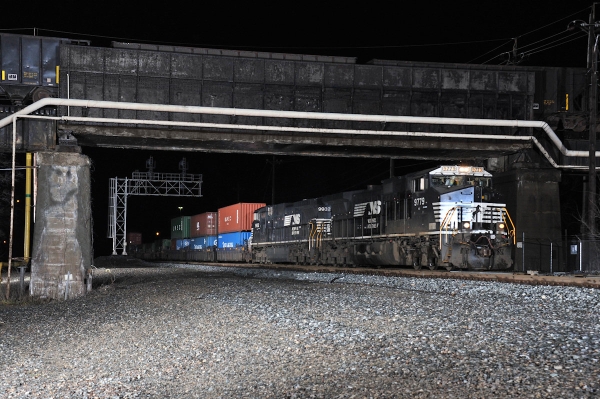 NORFOLK, Va. — For Norfolk Southern Railway, this is the year in which its major initiative to grab domestic truck freight, a result of hundreds of millions of dollars and more than a decade of planning, gains steam.
The first three intermodal terminals on the Crescent Corridor — Memphis, Tenn.; Birmingham, Ala.; and Greencastle, Pa. — have come online in the last six months. And roughly $718 million worth of investments on the 2,500-mile network connecting the mid-Atlantic and Gulf Coast has paved the way for 34 new intermodal services that were launched in January.
"The Crescent is really about creating truck competitive lanes," said Michael McClellan, NS vice president of intermodal and automotive marketing. "One of the goals of all our services is getting within zero to 20 hours of what a single driver transit time looks like."
NS already has a 34-hour service from Memphis to Greencastle, in southern Pennsylvania, showing the railroad is closing in on its target.  Ongoing network improvements on the corridor, paralleling Interstate 81 from Louisiana to New Jersey, will help. The railroad plans to open an expanded intermodal terminal in Harrisburg, Pa., and a new facility in Charlotte, N.C., this year.
The last part of the first phase of the Crescent initiative, the expansion of an intermodal terminal in Rutherford, Pa., likely won't be complete until 2014.  The expansion of domestic intermodal terminals also frees up capacity for the railroad's international intermodal services and has sped up transit for 14 existing domestic intermodal services.
NS's focus on building direct train service via the corridor, rather than creating a major hub, differs from the strategy of its archrival, CSX Transportation. "We try to engineer hubs out of our service as much as we can," McClellan said. CSX is using its Northwest Ohio hub to create load density and expand intermodal connections, while NS works to run longer trains by connecting to smaller hubs along the Crescent Corridor. He said the NS is always looking at how to add nodes, or pick up and drop-off ramps, along the network in order to reduce shippers' drayage and gain density.
The differing intermodal strategies by the two carriers "punctuates that intermodal is effectively in its early innings of its development because mature industries tend to have a confluence of strategies," McClellan said.
NS's strategy is still developing, as the railroad hasn't yet determined what the second phase of the Crescent Corridor will be. NS has already spent about $718 million on the public-private partnership that will ultimately cost about $2.5 billion.
"As we feel we have these lanes properly marketed and out there, then we will start looking at other lanes within our existing infrastructure," McClellan said. "Once we feel we have maximized them, then will start talking about new terminals."
NS has seen an increase in intermodal traffic in the last three months, thanks partly to the corridor improvements and new services.  The railroad's other major intermodal infrastructure initiative, the Heartland Corridor, is also helping drive volume growth. NS intermodal traffic rose 4.5 percent year-over-year to 3.35 million units in 2012.
Through the Heartland initiative, NS expanded tunnels on the route from the Port of Virginia, in Hampton Roads, to Portsmouth, Ohio, so the railroad could double-stack trains on the corridor running through the Appalachian mountains. In addition to cutting a day, or 250 miles, off transit, the project, completed in fall 2010, also ensures that NS shippers have double-stack service to all major East Coast container ports.
The Port of Virginia is one of the few East Ports with a deep enough harbor to handle the larger ships that will be able to pass through the expanded Panama Canal in 2015. Although the majority of intermodal traffic on the Heartland Corridor is of international nature, some legs, such as from Chicago to Charlotte and Greensboro, are used by domestic shippers, said James Bolander, group vice president of domestic intermodal.
The second phase of the initiative, the clearance of track between Columbus and Cincinnati for double-stack trains, was finished in early 2012. The final phase of the initiative is in the hands of the states of West Virginia and Virginia, as they haven't brought the funding to build new terminals at Pritchard and Roanoke, respectively.
The railroad is benefiting from its improved access to the burgeoning Mexican market and Western markets via the Meridian Speedway, a joint venture between NS and Kansas City Southern Railway.  The 320-mile route between Meridian, Miss., and Shreveport, La., has cut time out of shippers' transcontinental routes, opening up new markets for NS. The railroad also provides access to Mexico via KCS's cross-border networks through St. Louis and Chicago.
Business tied to Mexico "is the next great market for intermodal," Bolander said.
Contact Mark Szakonyi at mszakonyi@joc.com and follow him at twitter.com/szakonyi_joc.