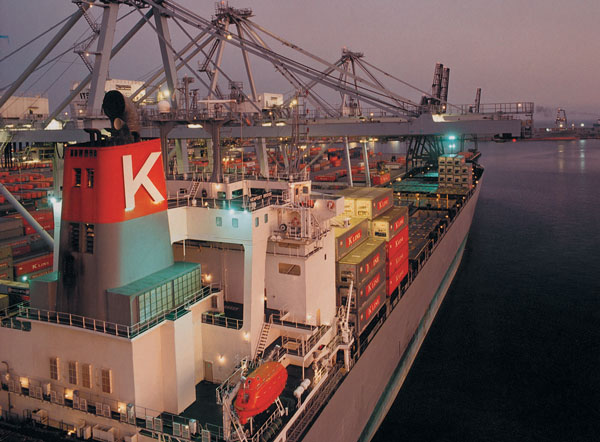 The ability of ocean carriers to nail down their scheduled April 1 general increases in the eastbound trans-Pacific trade appeared somewhat shaky this week after average spot rates fell for the fifth consecutive week.
The declines of the last five weeks more than wiped out all the gains carriers got from their Jan. 15 general rate increase, as the average spot rate has fallen by $347 per 40-foot-equivalent unit, or 13.7 percent since that date.
"Supply and demand are out of balance, so GRIs have been less and less successful," said Lars Jensen, CEO and partner of SeaIntel Maritime Analysis. "Trans-Pacific GRIs have been more of a holding action, as rates have been dropping before GRIs," he said during a March 20 JOC Webcast on the trans-Pacific market.
Trans-Pacific carriers have been pinning their hopes for a profitable second quarter on the April 1 GRIs recommended by the Transpacific Stabilization Agreement — $400 per FEU for shipments from Asia to West Coast ports and $600 per FEU to all other destinations.
But the GRIs are being undermined by the growing influx of new vessel capacity, despite carrier efforts to manage capacity by slow-steaming and returning tonnage to charter ship owners. The problem is that carriers are deploying their newly delivered ships of 13,000 to 14,000 20-foot-equivalent units in the Asia-Europe trade and are cascading older 7,000- to 10,000-TEU vessels into the trans-Pacific. "The trans-Pacific will bear the brunt of cascading," Jensen said.
He expects the container fleet to grow 9.9 percent this year, after 6 percent growth in 2012. As a result of this overcapacity, "carrier discipline is waning and becoming more and more short-term," Jensen said. "Carriers are spinning their wheels." Even if carriers succeed in bringing freight rates up to "compensatory" levels, "capacity will flow in and rates will fall," he said.
Complete coverage of trans-Pacific maritime trade
The Drewry benchmark for shipping a 40-foot-equivalent container from Hong Kong to Los Angeles dropped 1.8 percent, or $40 per FEU, this week, which puts it at a level that is $36 per FEU below where it was the week before the TSA carriers' Jan. 15 GRI.
The April 1 GRI is supposed to set the stage for the better rates carriers will seek in ongoing negotiations with beneficial cargo owners for the 2013-14 annual contracts that are supposed to kick off May 1, although that date has been sliding in recent years.
Contact Peter Leach at pleach@joc.com and follow him at twitter.com/petertleach.