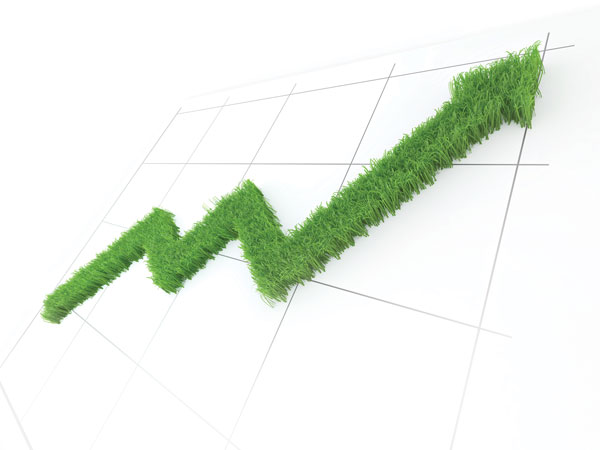 Remember the great "green shoots" craze? In 2009, economists used that buzz phrase to describe the much-hoped-for signs of economic revival before those shoots turned brown. Well, four bumpy years later, companies throughout the global supply chain are still looking for signs of the type of revival that will help their businesses thrive.
Are we seeing enough green shoots this spring to support growth in volumes of U.S. containerized import and exports? Economists certainly see some green shoots, especially in the U.S., but the spring is still looking pretty chilly on a global scale. In the U.S., housing starts and employment are up, but much of southern Europe is mired in recession and growth in emerging Asian markets is slowing.
On the whole, a global recovery is under way, but there are plenty of risks that could cause growth to sputter, especially if it encounters another "black swan" event in the form of an unpredictable catastrophe such as the tsunami and nuclear disaster that struck Japan in 2011.
Any recovery in Europe could be upset by eruption of a fiscal crisis in southern Europe. "Optimism has started to take hold in recent months, but the economic hangover is still very much with us," said Nick Kounis, head of macroeconomic research for ABN Amro Bank. He also sees improvement in investor confidence in the eurozone.
But the recovery is so uneven that global trade will increase at far slower rates than before the Great Recession. The days of double-digit growth in the container trade are over. "We won't see that again for the foreseeable future," Michael Kasti, senior director of treasury and finance for German ocean carrier Hapag-Lloyd, told the Capital Link Shipping Forum in New York last month.
Yet trade volumes are likely to get stronger this year and even stronger by the second half of 2014 when the global recovery takes hold. Global trade volume, which increased 3 percent in 2012, is likely to grow 3.3 percent this year and 3.9 percent in 2014, Kounis said.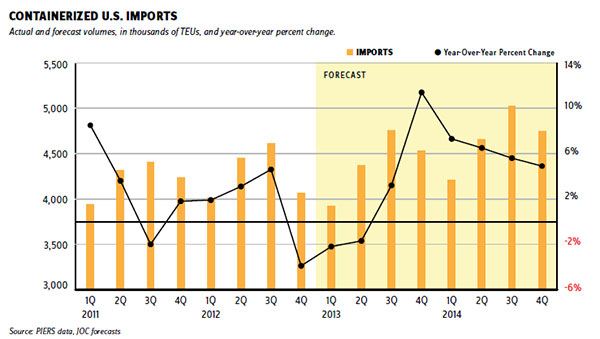 But persistent global economic clouds are causing some economists to cut their forecast of U.S. trade growth. Journal of Commerce economist Mario Moreno in March reduced his forecast for the growth of U.S. containerized exports this year to 2 percent, to a total of 12.1 million 20-foot-equivalent units, compared with his previous forecast of 4.1 percent, "in light of the fourth quarter's weak performance, the general deceleration of volume growth during 2012, and less optimistic economic forecasts across the globe."
Moreno also cut his forecast for 2014 export growth to 3.4 percent from the 4.4 percent rate he estimated in December. "While fiscal uncertainty in the U.S. has been largely contained, in Europe, questions remain on how solid the commitment to austerity is, especially in Italy, where anti-austerity candidates made progress in the last election," he said. "Such an outcome makes already nervous investors less willing to commit capital to projects and could delay the economic recovery across the European continent."
Moreno expects import volumes to grow 2.6 percent in 2013 to a total of 17.6 million TEUs, compared with just 1.5 percent in 2012. But he remains cautious in view of the 3.9 percent dip in total U.S. import volumes in the final quarter of 2012, which capped a disappointing 2012 for U.S. inbound container trade. Annual containerized import traffic expanded just 1.5 percent during the year, decelerating from the 2.7 percent pace set in 2011 and a far cry from the 14.5 percent increase posted in 2010. 
He said the 2012 performance was significantly below the two-year moving average of 10.4 percent, which indicates further sluggishness going forward. Although the fourth quarter 2012 performance can be partially attributed to Hurricane Sandy and labor disputes at U.S. ports, he said the slowdown was primarily due to worsening U.S. economic conditions, particularly fiscal uncertainty and its impact on private investment, which was keeping a tight lid on containerized import growth. "I do not see these conditions appreciably improving during 2013 and am therefore compelled to revise lower our projection to 2.6 percent growth," Moreno said.
The sluggish growth of U.S. trade last year was amply illustrated by the 31 percent decline in FedEx's profit in the quarter ended Feb. 28. FedEx CEO Alan Graf attributed the decline to the $100 million drop in international revenue, which was "primarily due to accelerating customer preference for lower-yielding international services."
Although the growth of Asian economies is slowing as European demand for Asian exports slows, one bright spot in global economic growth this year may come from China's shift in economic policy from growth driven by exports to one driven by a growing domestic consumer market.
"China is trying to become more dependent on domestic demand and less on exports," said Walter Kemmsies, chief economist of port design at engineering and consulting firm Moffatt & Nichol. "This could slow GDP growth for a while, but we must be careful not to confuse a high level of GDP growth with the quality of GDP growth. The GDP numbers that have been slowing in China are positive in my view because they reflect an emphasis on rebalancing the economy in order to become more self-dependent," he said during a presentation in a March 20 Journal of Commerce Webcast on the trans-Pacific maritime market.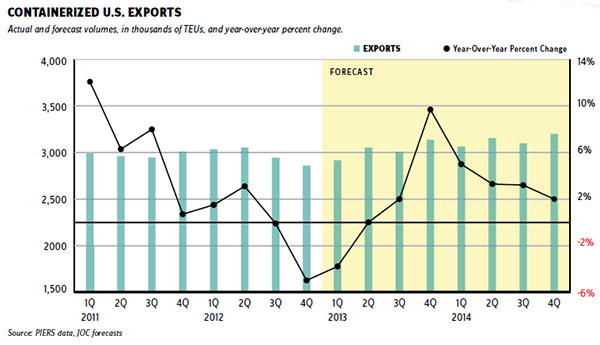 But at least one economist is still wary of another downturn. Lakshman Acuthan, co-founder and chief operations officer of the Economic Cycle Research Institute, said the global economy is entering what he calls the "yo-yo years," characterized by more frequent recession in most developed economies of the West.
 He said the incipient global economic recovery might be an illusion driven by central banks' move to boost liquidity.  "A key point to consider is that it isn't so much economic fundamentals that are boosting stocks and other risk assets; it's mostly central bank quantitative easing," Acuthan said.
To illustrate this, he pointed to The Journal of Commerce-ECRI Industrial Price Index, which is a leading indicator of global industrial activity. When the IPI increases, it indicates that demand for the raw materials that go into industrial production is increasing. Although the IPI has been increasing since November, its growth rate has slowed since the beginning of the year.
Acuthan said the rise since November had been driven by the increase in prices of commodities traded on public exchanges, which he termed "misleading" as indicators of economic performance. "Once again, the implication is that current central bank 'money-printing' can help boost economic performance, but that has not translated into improved economic fundamentals," he said. In other words, only time will tell whether the green shoots start to blossom.  
Contact Peter Leach at pleach@joc.com and follow him at twitter.com/petertleach.