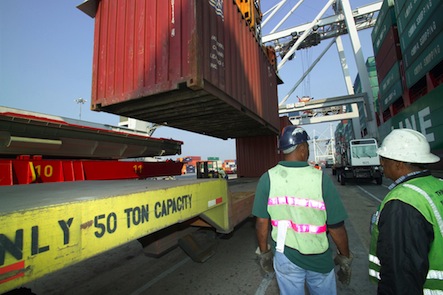 International Longshoremen's Association President Harold Daggett said he plans an aggressive effort to transform the union into a "New ILA" that will cultivate closer links with other unions in the U.S. and abroad.
Daggett said a new steering committee will re-evaluate the ILA's relationship with the AFL-CIO and its maritime and transportation trades departments "to make certain we are equal partners among unions as members of these labor organizations."
With the completion this month of negotiations on a Maine-to-Texas master contract for dockworkers, Daggett said the ILA will turn its attention to bolstering its finances, reviewing the union's relationships with other labor organizations, and expanding organizing efforts.
Daggett said the ILA steering committee will evaluate the union's strengths and weaknesses, including its structure, finances, its political and public affairs agendas and its affiliations with other labor and maritime organizations.
"This will be the new ILA," Daggett said in a statement. "Out of our difficult negotiations on a new master contract, the ILA has come to understand how important it is for us to be strong in our structure, strong in our finances, and strong to face the multitude of challenges that we'll face in the future. Our ILA steering committee will examine ways to get us there."
Daggett said the ILA spent heavily on research, travel and other costs during its protracted negotiations with United States Maritime Alliance on an East and Gulf Coast dockworker contract that's awaiting an April 9 ratification vote.
"With the protections and improvements we achieved in this new master contract, the investment was well spent," Daggett said. "Now we have to stay ahead of our management counterparts at USMX when it comes to knowledge about our industry."
Complete coverage of ILA-USMX negotiations
Daggett said the steering committee will seek to strengthen ILA organizing efforts. He said the union sees opportunities in the Caribbean and Central America as well as on the East and Gulf coasts.
"Our organizing mission will go global," Daggett said. "We will really make our union an international one like we've never seen before."
The ILA president's announcement of the union's planned steering committee emphasized the cultivation of closer relationships with other labor organizations.
The ILA and International Longshore and Warehouse Union have discussed forming a maritime labor alliance with other unions to combat incursions on their traditional jurisdiction.
The ILA and ILWU have been embroiled in several jurisdictional disputes in recent years, and longshore unions have been dissatisfied with the AFL-CIO's response.
Daggett said the ILA was aided in its just-completed contract negotiations by the International Transport Federation, the global organization with which the ILA has been affiliated for decades, and the International Dockers Council, which the ILA joined last year.
Contact Joseph Bonney at jbonney@joc.com and follow him at twitter.com/JosephBonney.