Washington appears to be finally waking up to the growing need to speed up the movement of goods across the U.S.-Mexico border.
Long and capricious wait times for trucks cost both economies billions of dollars annually and hinder the advantages — shorter supply chains and cheaper transportation costs — manufacturers have gained by sourcing south of the border. The U.S. and Mexico do more than just export and import with each other; companies from both countries build products together by shipping materials and parts between the two countries. Roughly 40 percent of the content within the average finished product imported to the U.S. from Mexico is of U.S. origin, according to a National Bureau of Economic Research report.
Booming U.S.-Mexico trade, which expanded an average of 24 percent annually between 2009 and 2012, heightens the importance of speeding cargo clearance at the border. The value of trade shipped via rail and truck between the two countries in 2012 jumped 10 percent year-over-year to $387.8 billion, according to the Bureau of Transportation Statistics. But it's becomingly increasingly clear to politicians and policymakers that Uncle Sam can't give Customs and Border Protection the funding it needs to expedite the movement of trade while maintaining high security.
"Crisis creates a moment for opportunity. We can't do things with our current business model," said Thaddeus Bingel, a former CBP chief of staff. "If there is a silver lining, this forces us to shake up our thinking."
The latest alarm bell rang when Customs warned earlier this month that shippers should expect cargo-clearance delays because of reduced manpower. The federal sequestration trims the agency's budget by $955 million, forcing the agency to reduce overtime and furlough workers up to 14 days, starting in late April. It's unclear whether extra Customs funding — provided through recently passed legislation to keep the federal government going through the end of September — could prevent these furloughs, said Colleen Kelley, president of the National Treasury Employees Union.
"While the bill requires that CBP maintain certain levels of staffing, those provisions actually worsen the impact of furloughs because they hinder the agency's ability to save money through attrition and a planned hiring freeze," she said.
It's been only recently that the U.S. government has begun adding cross-border capacity; no points of entry were added in the first decade of the 2000s, said Christopher Wilson, an associate at the Woodrow Wilson Center's Mexico Institute. Three crossings opened in 2010, and seven new lanes went online in 2011 at the largest U.S.-Mexico trade corridor, the World Trade International Bridge, connecting Laredo, Texas, and Nuevo Laredo, Mexico. But those additions fall short of the roughly $6 billion worth of port of entry modernization the agency needs. 
Now, however, Washington is displaying a greater willingness to let the private sector take on more of the burden. Through legislation introduced in both chambers, the agency would be allowed to forge public-private partnerships to fund infrastructure projects. The General Services Administration also would have to come up with a way to evaluate cost-sharing plans to maintain or build ports of entry through the Senate bill. The GSA, an independent body that supports federal agencies, leases or owns 125 of the 168 land ports Customs oversees.
The Department of Homeland Security, the overseer of Customs, also appears open to leaning on the private sector. The DHS tasked the Border Infrastructure Task Force with creating a regulatory framework for public-private partnerships this fall. The group is exploring what legislative and regulatory changes might be needed, how to evaluate proposals and by which standards, and how to cope if partnerships fail.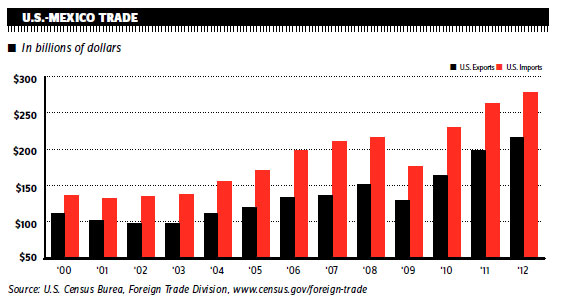 Customs also must consider creating a user-based fee concept where shippers could pay the agency for increased staffing during busy times or for extended hours, said Bingel, a principal at Command Consulting Group. Shippers also could take on some of the border inspection tasks. He pointed to how the Transportation Security Administration relies on trusted air cargo shippers to conduct the scans according to the agency's standards and then share the images with government officials.
In the meantime, Customs is ironing out details for three pilot programs that later this year will begin to provide pre-inspection — the rough equivalent of primary inspection at the border — before shipments are exported, said Ana Hinojosa, the agency's lead executive of border initiatives.
The first pilot will pre-inspect air cargo out of Laredo, and the second will handle agricultural goods shipped by truck from Otay Mesa, Calif. Details of the third pilot have not been announced, but it's likely to be a pre-inspection station for the Foxconn facility in San Jerónimo, Mexico, providing the Taiwan-based computer and electronics manufacturer with a dedicated lane across the border to Santa Teresa, N.M., Wilson said.
Through the pilots, Customs plans to gauge how the agency could expand them to target other commodities and what other locations could work.
The agency also is working with its Mexican counterpart, the Tax Administrative Service, to gain mutual recognition of their respective trusted trader programs, said Daniel Baldwin, executive director of cargo and conveyance security at the Office of Field Operations. The goal is to gain mutual recognition of the Customs-Trade Partnership Against Terrorism and the New Certified Companies Scheme in about two years. More than 1,000 Mexican manufacturers and roughly 900 Mexican carriers are certified under C-TPAT, reducing their chances of Customs inspection in exchange for proving to the agency that they secure their supply chains.
"We have conveyed to the Mexicans that we really need them to step up their work with NEEC (Nuevo Esquema de Empresas Certificadas) highway carriers. It is very important that they have a very tight security protocol" for their truck operators, Baldwin said. "That is going to be the most important step to reaching mutual recognition."
In addition to gaining more C-TPAT members, the agency needs to attract more truck drivers to its Free and Secure Trade, or FAST, program, Memberships shrank about 16 percent to 78,000 drivers between 2008 and 2012, suggesting that for many carriers the costs of the program outweigh the benefit of expedited clearance.
Because the U.S. and Mexico face budgetary constraints, Customs is working "to address the traffic situation without more bricks and mortar," Hinojosa said. Some of those ways include posting times when there is minimal border traffic, expanding trusted trader programs and informing shippers about underutilized crossings.
The Commercial Operations of Customs and Border Protection, or COAC, recently formed a subcommittee to identify export chokepoints from a global standpoint, Baldwin said. The larger goal is to help the agency determine if the chokepoints are caused by IT issues, processing regulation, a lack of staffing or a combination of such factors.
Nelson Balido, president of the Border Trade Alliance, wants the agency to be even more aggressive by adopting Lean Six Sigma practices so it can evaluate the time and processes involved between the time a truck leaves a plant and the shipment hits its destination. Gaining a better understanding of the supply chain, with the help of localities, shippers and carriers, would help the agency target inefficiencies in technology use, basic processes and staffing.
So why wasn't this done five years ago? "We had a free flow of money," Balido said. "Now there is a need, and we need to invest money where we get the best bang for the buck."  
Contact Mark Szakonyi at mszakonyi@joc.com and follow him at twitter.com/szakonyi_joc.