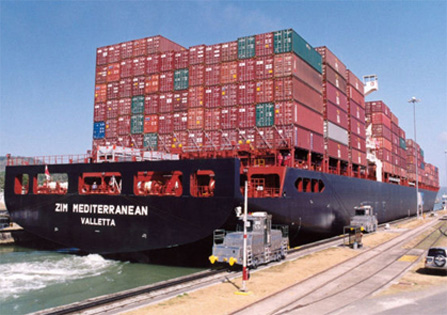 Zim's net loss widened to $239 million in the fourth quarter of 2012 from $151 million a year earlier as the Israeli ocean carrier took a $133 million hit for cancelling orders for five large container ships.
Revenue rose 9 percent to $981 million $899 million in the final three months of 2012, driven by a 6.3 percent year-on-year rise in the average freight rate to $1,364 per 20-foot-equivalent unit.
There was a full year net loss of $433 million, against a $397 million loss in 2011, on revenue 5 percent higher at $3.96 billion. Traffic dipped 1 percent to 2.4 million TEUs.
The carrier, ranked 17th in the world, earned $107 million before interest, tax, depreciation and amortization in 2012, compared with a year-earlier loss of $82 million.
Zim said a restructuring agreement with its banks, including the deferment of principal payments due in 2013 to the end of 2014, will improve cash flow by about $166 million and allow additional flexibility in its current operations.
The carrier claimed its 2012 operational results were "above average" for the industry and average for the fourth quarter.
Zim said that by April 30 it will present a five-year business plan to its banks, which have agreed to concessions on its debts and adjusted financial covenants on its loans.