The Shanghai Containerized Freight Index was affected by a general rate increase from Asia to Europe on March 15, with rates on both European lanes jumping 42 percent per 20-foot container mark, according to data issued by the Shanghai Shipping Exchange. Carriers achieved 61 percent of the proposed $700 rate to northern Europe ports, while achieving 59 percent of proposed hikes to Mediterranean ports. Asia-Europe carriers, including APL, CMA CGM, OOCL and Hapag-Lloyd, had announced plans to put a general rate increase, ranging from $600 to $700 per TEU, into effect in mid-March. 
Rates to northern European ports rose 42 percent or $424 per TEU to $1,423 this week. This brought the rate to $5 above where it had been before the past seven consecutive weeks of decline when it stood at $1,418. This rate is 3.2 percent higher than it was at the same point of 2012 and 12 percent higher than it was in the first week of 2013.
Rates from Shanghai to Mediterranean ports increased 42 percent or $406 this week to $1,366. This increase brought the rate to $10 above where it was before its seven-week decline when it stood at $1,356. The Mediterranean index is currently 1.4 percent lower year-over-year but 18 percent higher than it was at the beginning of 2013.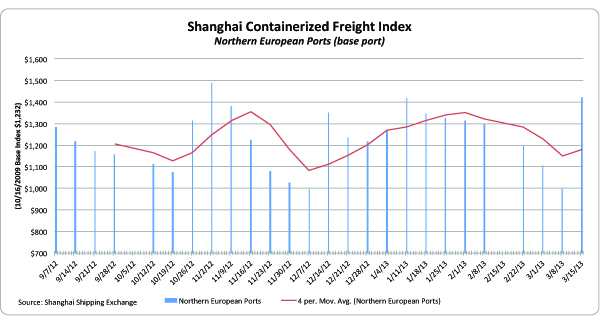 David Barnes, freight derivatives broker at Clarksons Securities, explained,"Given that larger physical movers have been able to extend 'cheap' rates through into Q2, this current increase is being carried through by the smaller spot market players. That said, even with the surprising amount that has been gained, it seems hard not to see rates being eroded down again in the coming weeks as there has not yet been a sizable enough adjustment to capacity to offer support (and which is currently forecast to increase moving into April)."
Richard Ward, research analyst for container derivatives of ICAP plc, also mentions the future of the GRI, noting, "Early reports suggest that the spread between carrier's rates is as high as US$300 per TEU. Of course, if this is correct, then it would not be unreasonable to assume that discounts to the GRI will soon follow, as history would suggest when fundamentals remain this weak. Carriers therefore may be reluctant to show the discipline required to maintain rates at higher levels at the expense of losing cargo to their competitors."
Rates to the U.S. continued to fall this week. Spot rates to the U.S. East Coast slipped nearly 2 percent or $53 per 40-foot container to $3,279. During the past seven weeks, rates have fallen 11 percent or $391. Rates are up 5 percent from the same week in 2012 but down 2 percent since the beginning of 2013. Rates to the U.S. West Coast slid 3.1 percent or $67 to $2,122 per FEU. In this lane, rates have fallen 16 percent or $398 over the past seven weeks. The current rate is a 6 percent increase over the same week in 2012, but is down 4 percent since the beginning of 2013.
"Early reports on the U,S, routes suggest that some of the planned GRI for the 1st of April will come into force," Ware said. "In the meantime, rates have continued to slide. On a positive note, with the U.S. housing market starting to show signs of recovery, there are expectations that this could lead to a slight increase in cargo demand; as of yet, though, this has not materialized."