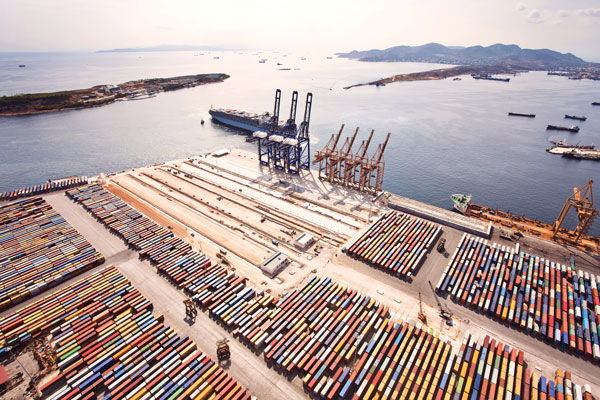 Container terminal operators worldwide agree that as vessels get larger, survival depends on terminals' ability to increase productivity and reduce costs through automation. Whether to implement automation, however, is a decision based on the annual container volume, the costs of land and labor from region to region, and the time required to achieve payback on what can be a major investment. 
Industry experts addressing the JOC's 13th annual TPM Conference in Long Beach this month outlined a range of automation options available to terminal operators, including computerized crane technology, automated horizontal transport and automated stacking cranes. Costs range from $8 million for a computerized ship-to-shore crane to as much as $600 million for a fully automated terminal.
Carriers are flooding the industry with ships capable of carrying 8,000 to 18,000 20-foot-equivalent container units — mega-ships that burn cash while sitting idle. A 12,600-TEU vessel costs the owner $61,321 a day in port, said Andrew Penfold, project director for Ocean Shipping Consultants.
Operators, therefore, must turn these vessels quickly and efficiently, deploying the right combination of automation and longshore labor to satisfy the customer while earning a profit for the terminal operator. Ed DeNike, chief operating officer at SSA Marine, summarized the goals of terminal operators: "Make money and keep alive."
A terminal operator must adjust to the unique conditions in each region in which it operates. The same company's operations can vary greatly for its terminals in Europe, Asia, North America and in developing nations, based on local land and labor costs.
European terminals face high labor costs, medium-high land costs, labor unions that accept automation and government pressure to run an environmentally sustainable operation, said Mark Sisson, senior port planner for engineering firm AECOM. European terminals are marked by a high degree of automation.
In Asia, land costs are quite high, labor costs are low and there isn't much pressure to run a green terminal, so terminal operators there run dense operations to squeeze as much throughput per acre as possible from the terminal. Asian terminals run traditional, manual operations and assign a large number of workers to each task.
Container terminals in North America have medium-high land costs, with the highest labor costs in the world "by a considerable margin," Sisson said. When space is available, terminal operators prefer to store containers on chassis. This reduces the number of touches by dockworkers and lowers labor costs. Until recently, dockworker unions have opposed the introduction of automation.
The latest labor contracts, however, give employers more flexibility to introduce automation, leaving it to each terminal in North America to determine the level of automation that is right for its operations.
Southern California terminals such as Middle Harbor in Long Beach and TraPac in Los Angeles have plans for fully automated operations that will include automated guided vehicles or automated straddle carts and stacking cranes. Such automation, including high-speed ship-to-shore cranes, can cost $400 million or more.
Scott Axelson, vice president of business development at TraPac, said the company must operate in a more automated environment to reduce skyrocketing labor costs. The hourly assessment to fund longshore benefit programs is $37.07, up from $11.34 in 2000, and the TEU assessment is $37.87, up from $7.35 in 2000, he noted. 
Jim Devine, president and CEO of Global Container Terminals in New York, views automation not as a means of reducing longshore jobs, but rather to improve vessel and gate performance while improving safety.
SSA Marine has a different approach to automation that incorporates information and computer technology systems at the terminal gates, within the yard and alongside the vessel. SSA is getting its greatest bang for the buck with its computerized crane systems, DeNike said.
Each ship-to-shore crane is controlled by two computers, one on the ground that positions the container under the crane spreader, and a second on the ship. Computerized technologies and lasers instruct the crane precicely where to place each container in the cell guide, or, during unloading, to place the container onto the yard tractor, all within inches of the required spots.
The computer and laser technologies greatly speed crane performance. DeNike is confident SSA will increase average moves per crane per hour to 40 from 30 now, resulting in huge savings. Increasing crane productivity one move per hour adds $5 directly to the bottom line. The busiest of SSA's three terminals handles 1 million containers a year.
SSA has completed crane projects at three terminals in Southern California, installing the technology on existing cranes at a cost of $8 million to $12 million each, DeNike said. The company expects to recover its investment in just 2 ½ years. "This is what we call automation. This is what we can pay for," he said.
Increased yard and gate productivity must accompany improvements in crane operations, so the cranes don't flood the terminal with more volume than the yard and gates can handle, said Felix Kasiske, partner and head of terminal planning and design at HPC Hamburg Port Consulting.
A series of complex tasks must be integrated through the use of a terminal operating system designed for that facility, he said. The cost of computerized terminal operating systems and automated cargo-handling equipment represents a large capital investment that requires a high volume of container moves to cover those costs.
Industry experts disagree on the container volume needed, however. DeNike said an investment of $400 million to $600 million for a fully automated terminal requires about 2.5 million TEUs a year to pay for automation. Sisson believes the number is closer to 1 million. Still, he sees terminal operators in North America gradually phasing in automation, starting with smaller-scale projects and progressing to more costly automated options as volumes increase. 
Contact Bill Mongelluzzo at bmongelluzzo@joc.com and follow him at twitter.com/billmongelluzzo.