The number of 20- and 40-foot containers available for export in Chicago declined significantly in the week of March 13, according to the U.S. Department of Agriculture's weekly Ocean Shipping Container Availability Report. Carrier data used in the report indicates the availability of 612 20-foot containers this week, down more than 50 percent from 1,270 the week before and the lowest number available for any week so far in 2013. In seven out of 10 weeks this year, there were more than 1,000 20-foot containers available in the Chicago area, according to the report.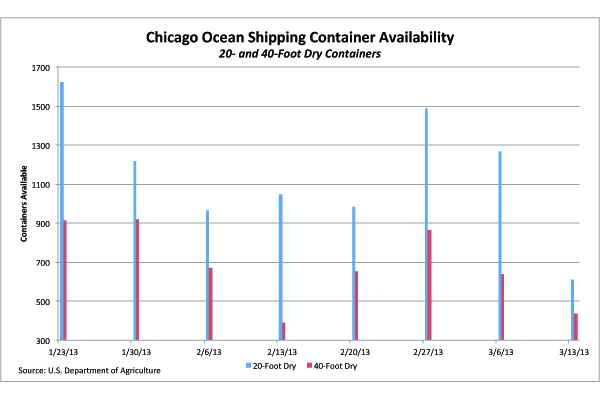 There were an estimated 437 40-foot containers available in Chicago the week of March 13, down from 640 the week before. In the first 10 weeks of 2013, 40-foot container availability in Chicago ranged from the upper-300s to lower-900s.
"Among the reported inland locations, Chicago, Dallas, and Memphis are expected to have the most containers available over the next the weeks," the USDA said.