Trans-Atlantic eastbound rates continued to decline sharply while westbound rates remained stable this week, according to the latest release of the World Container Index.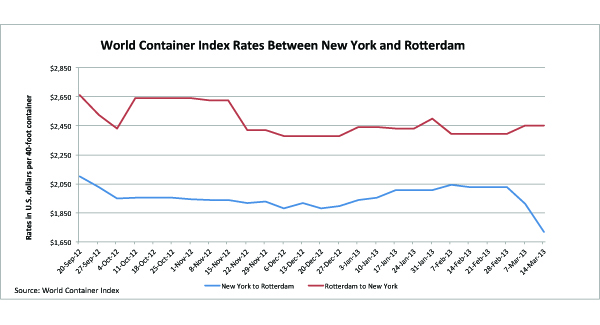 Rates from New York to Rotterdam fell 10 percent or $192 this week to $1,719 per 40-foot container. This following last week's 5.8 percent drop led to a 15.2 percent or $309 decline in the past two weeks. The index is now 11.4 percent lower than it was at the beginning of 2013 when it was $1,940, and 12.2 percent lower year-over-year.
Rates in the westbound Rotterdam-to-New York trade lane remained flat at $2,451 per FEU this week. Last week's increase of 2.4 percent followed four straight weeks of the rate standing at $2,393. The westbound index remained 0.3 percent higher than it was at the beginning of 2013 when it was $2,443. It is 1.3 percent higher than it was at this point in 2012.
The Transpacific Stabilization Agreement plans to enact a $600-per-FEU increase to the U.S. East Coast on April 1. Shipping companies such as OOCL, CMA CGM and Maersk Line followed by announcing their own rate hikes for trans-Atlantic routes for the same day.